Siena y su Palio/ Siena and its Palio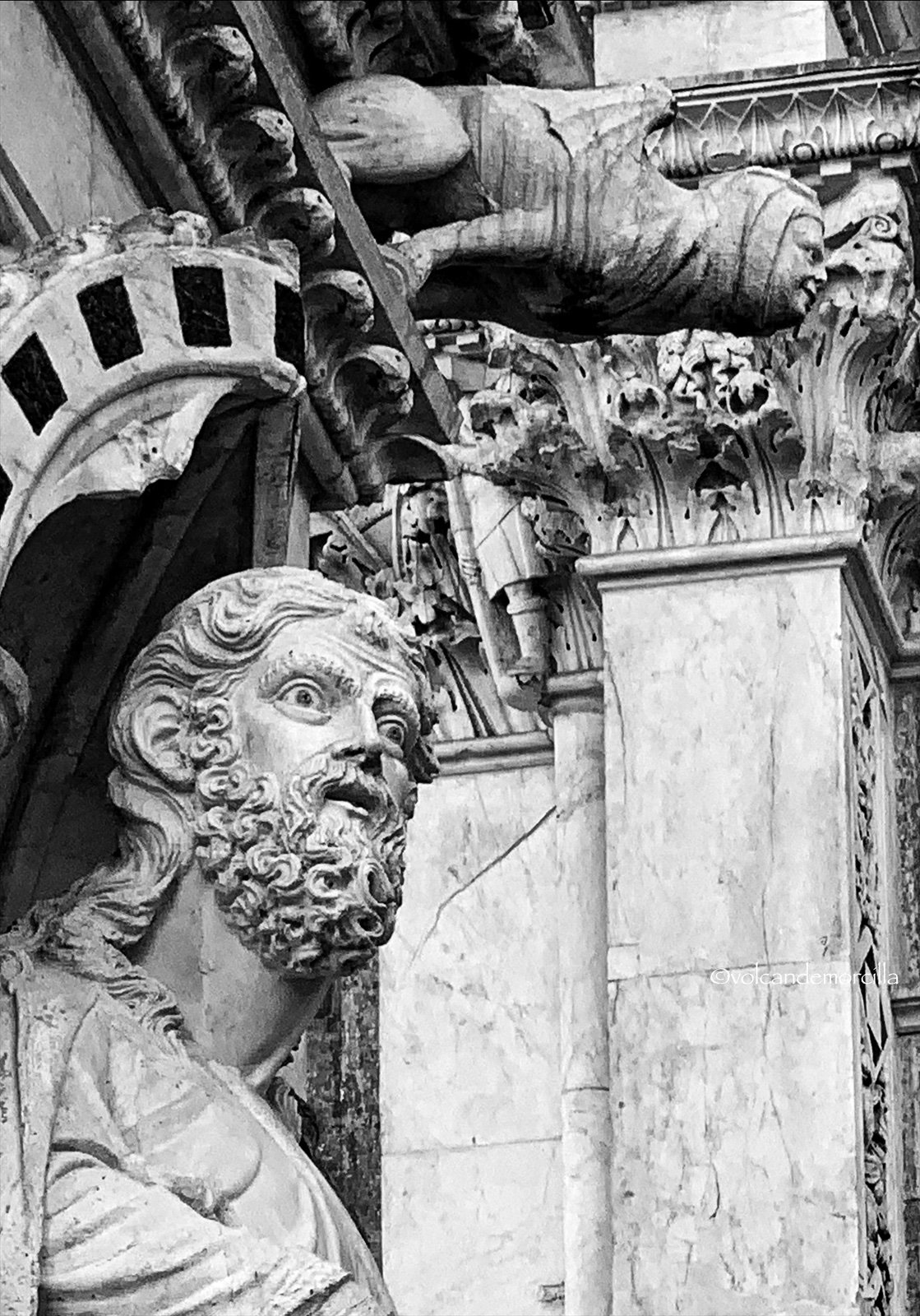 Quisiera daros una visión rápida de Siena. Una ojeada a vista de pájaro, de forma que podais tener una sensación global de lo que es Siena después de leer esta publicación.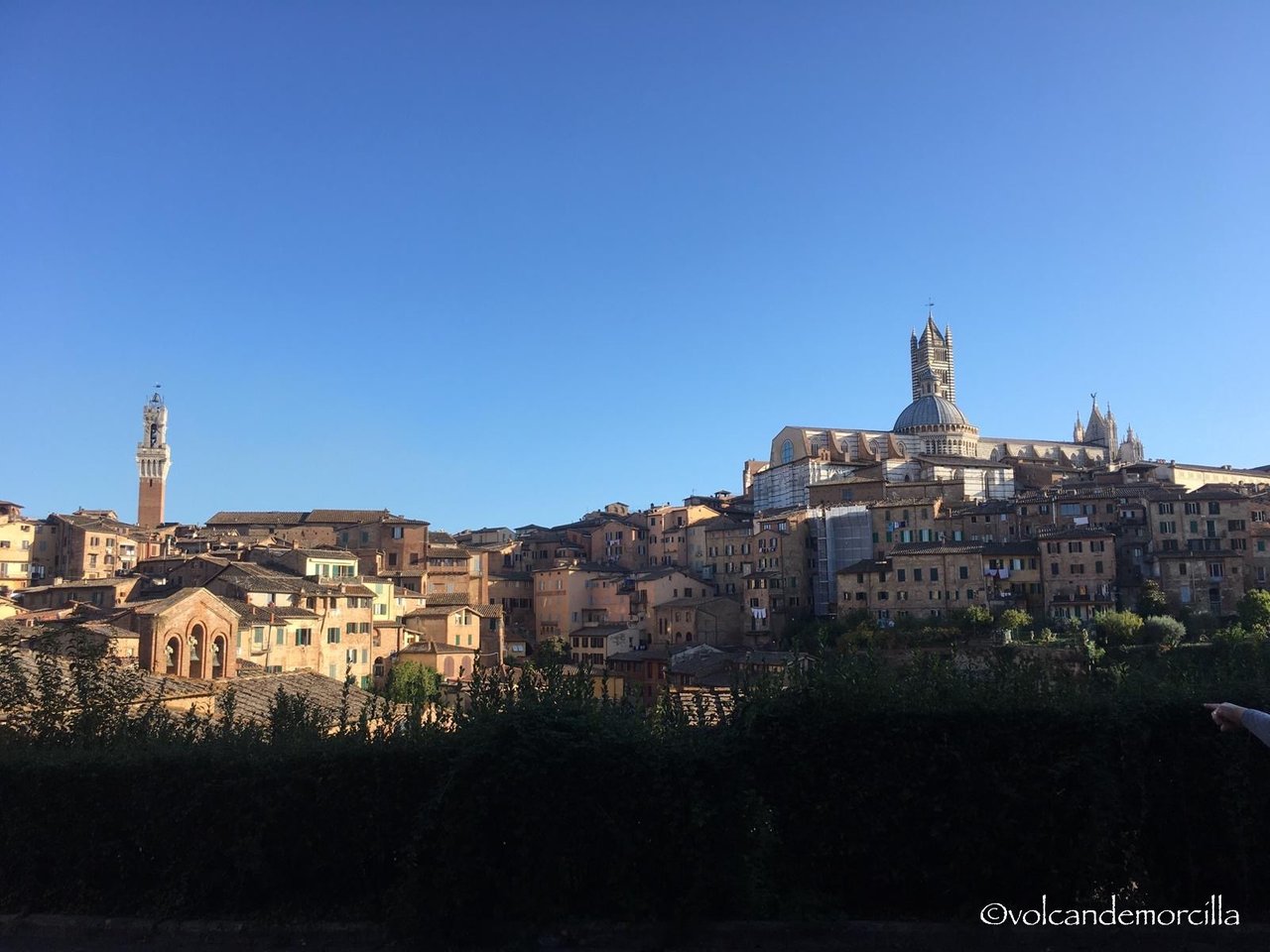 A Siena fuimos en tren desde Florencia. Es un medio de transporte rápido y cómodo que funciona muy bien en Italia. Viendo el paisaje diáfano de la región de la Toscana, recorrimos 80 kilómetros en poco mas de una hora.
La Toscana pudimos observarla mientras viajábamos. Lo que vimos fue una zona bastante llana con algunas montículos. Encima de las colinas están edificadas las ciudades y las construcciones. Me llamó mucho la atención la gran cantidad de cipreses que se veían. También , pude ver muchos pinos y plantaciones de olivos. Aunque lo que más me sorprendió fue que la Toscana es una región muy llana. Comentamos lo divertido que sería caminar por esta región.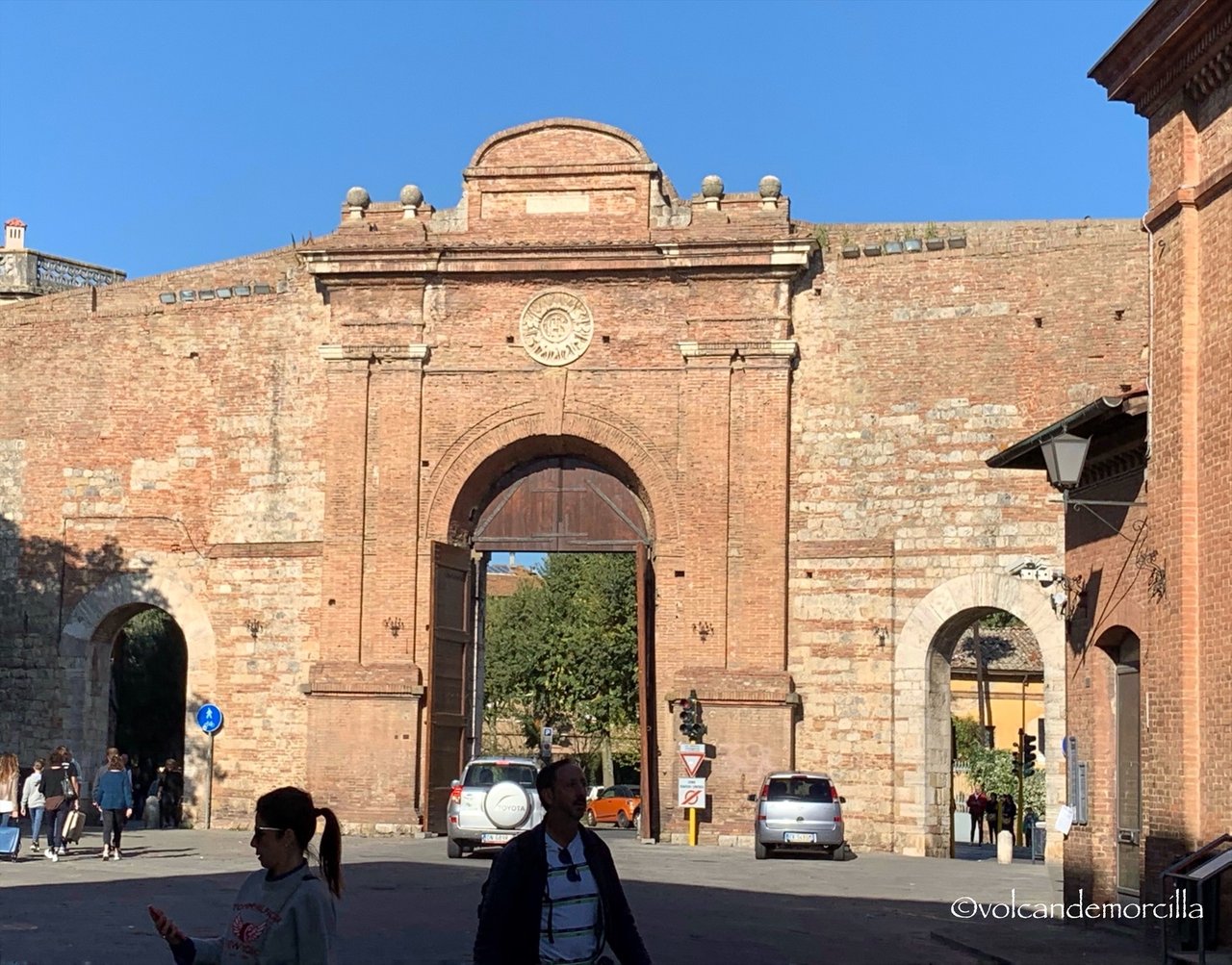 Siena está construida sobre tres colinas. Desde la estación subimos por unas escaleras mecánicas muy largas. Se me hizo eterno el ascenso porque fueron ocho largos tramos.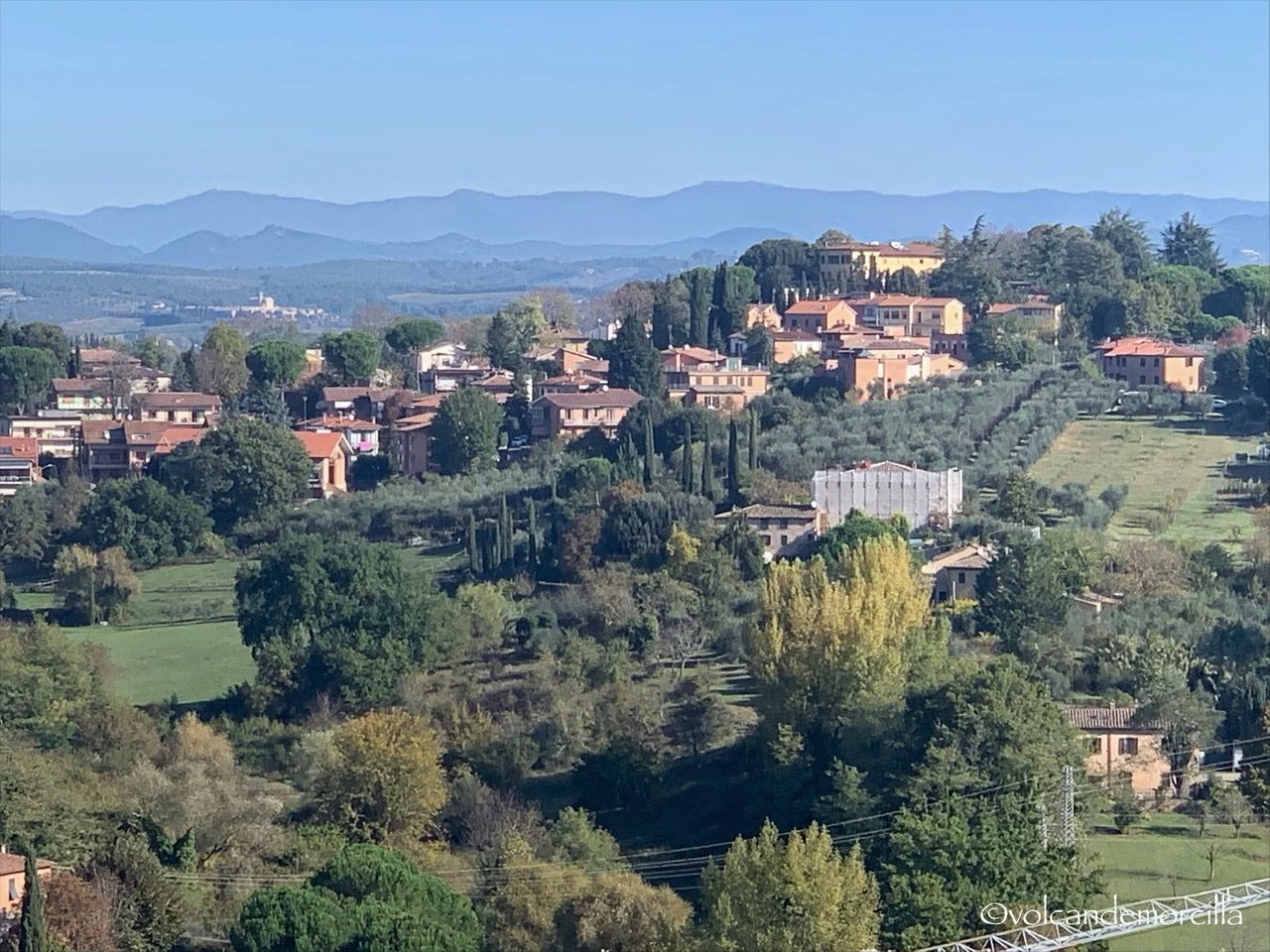 Siena estaba amurallada y todavía quedan grandes restos de ese muro. Una vez arriba, entramos por la Puerta Camollia y nos paramos a hacer unas fotografías de las vistas desde arriba. El panorama resume muy bien lo que es el paisaje toscano. Qué agradable debe ser caminar por aquí, entre pinos, olivos, cipreses...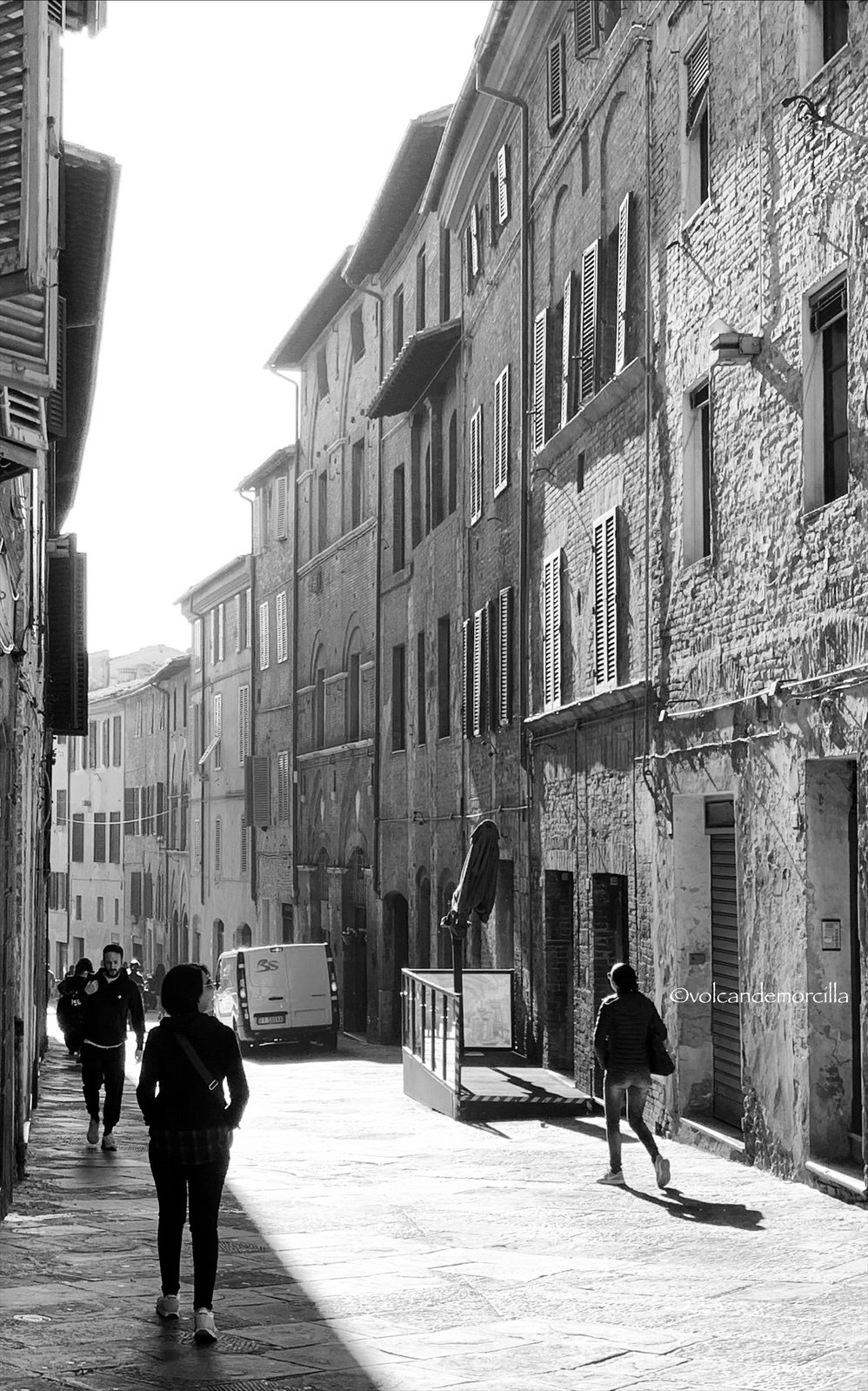 Luego seguimos rectos hasta la Piazza del Campo donde esta el ayuntamiento y donde se celebra el famoso torneo ecuestre "El Palio".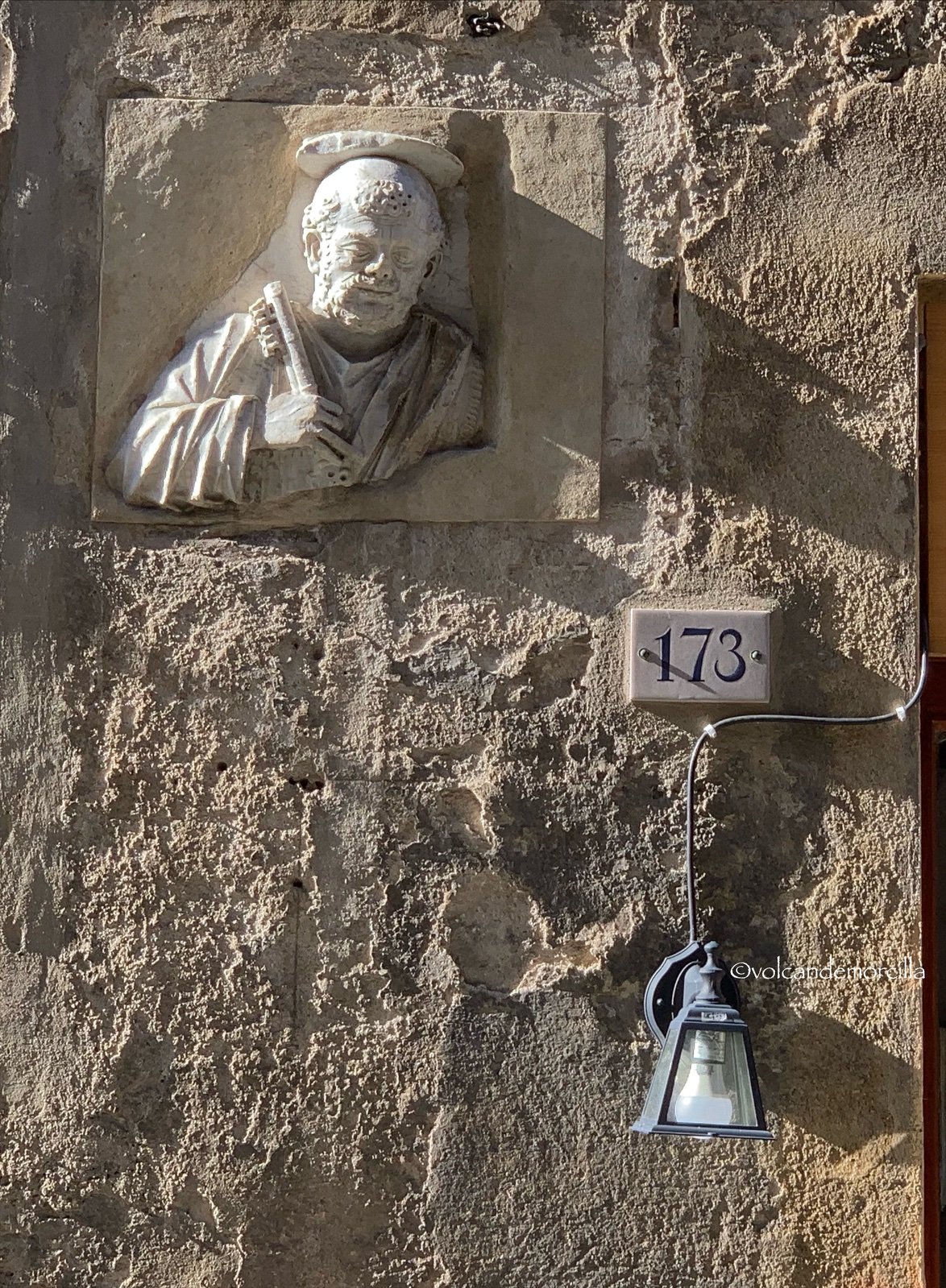 Como era temprano, todavía no habían llegado muchos turistas, por lo que pudimos disfrutar de las calles solitarias de piedra entre los edificios altos renacentistas. Las sombras alargadas en las calles limpias y frescas aumentaron lo agradable del paseo.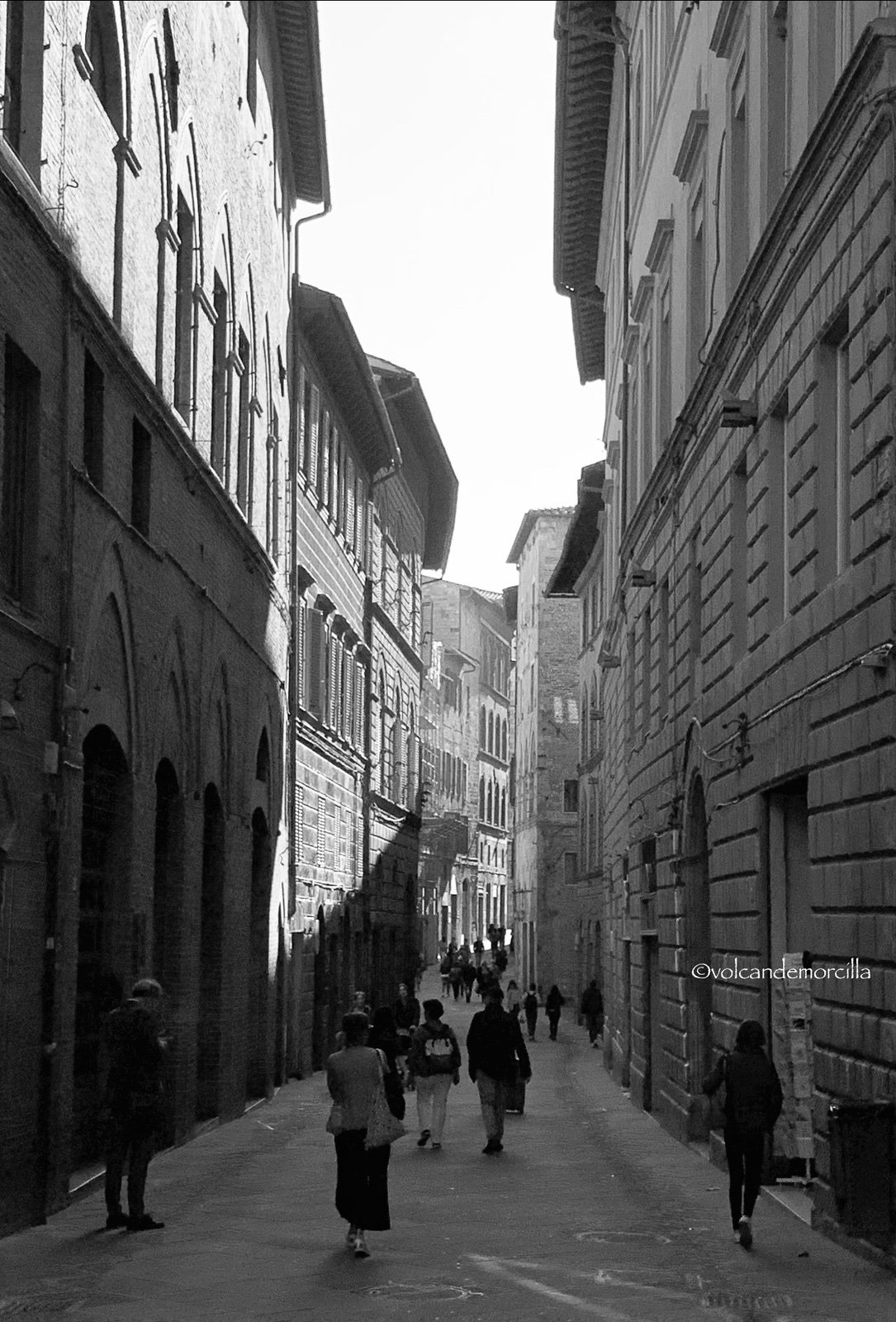 Siena es una ciudad que se ha conservado con su estilo medieval. Tiene mucho sabor y por eso no es extraño que sea muy visitada.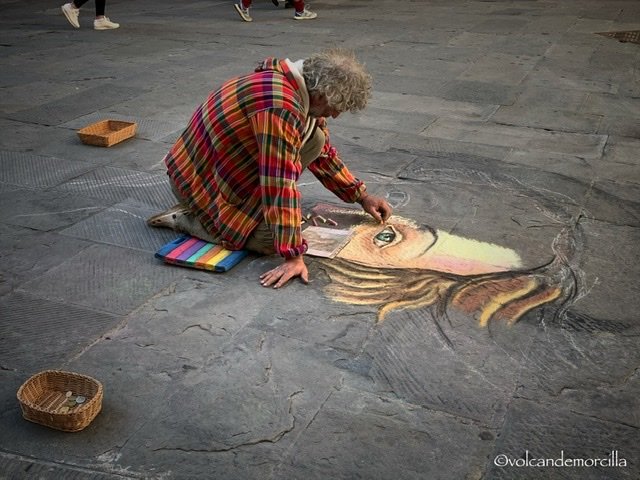 Con frecuencia, vemos a Luperca, la famosa loba que amamantó a los hermanos gemelos fundadores de Roma: Rómulo y Remo.
Esto se debe a que hubo una rivalidad entre Siena y Roma por la capitalidad. Para entender esto hay que conocer un poquito de historia.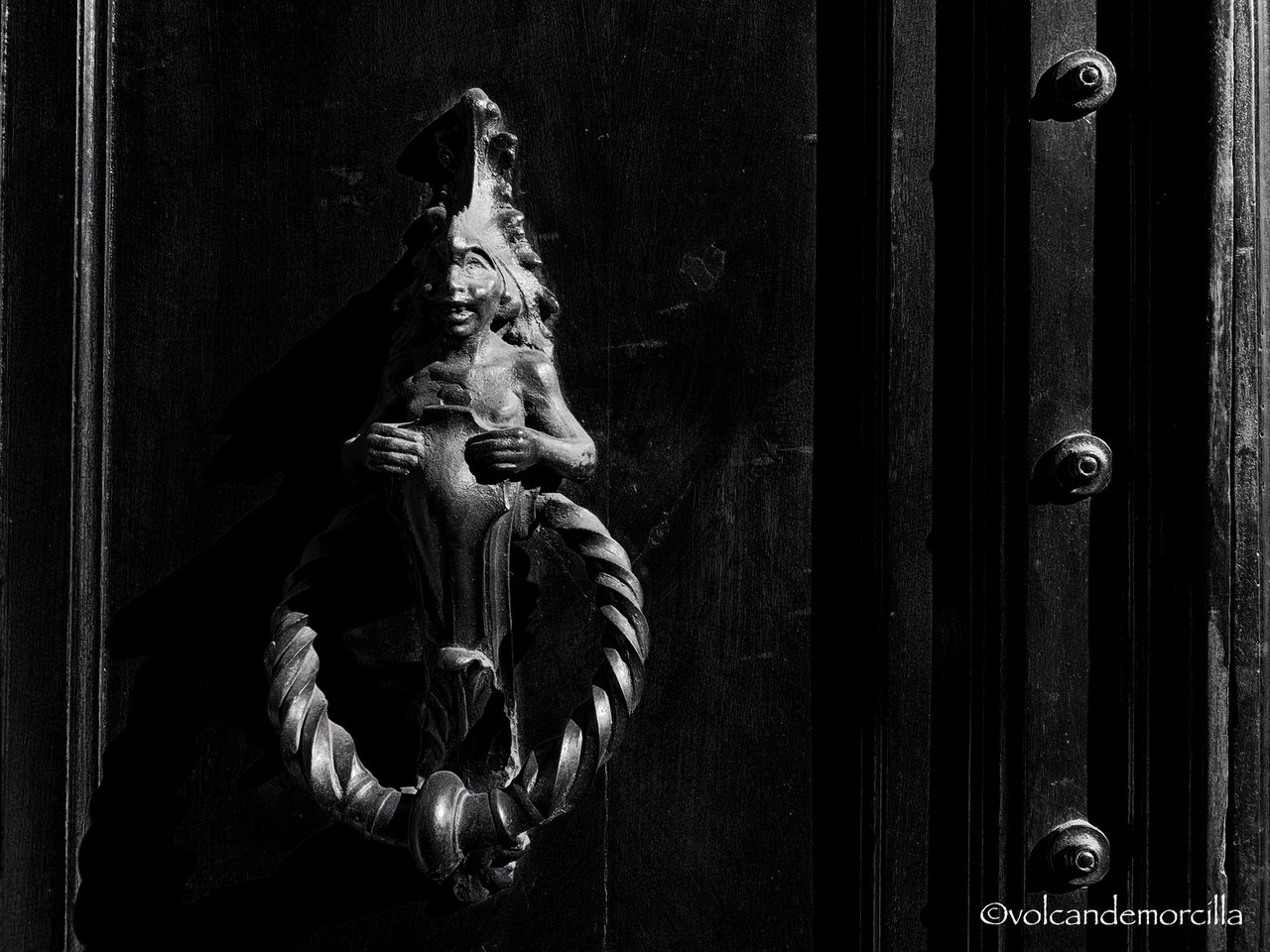 Breve historia de Siena
Los fundadores de Roma fueron Rómulo y Remo que, según la mitología romana fueron amamantandos por una loba. Luperca los encontró en una cesta a la orilla de un rio cuando el rey Amulio los intentó matar. La loba los crió y posteriormente Rómulo fundó la ciudad de Roma mientras que Remo fundó Siena.
Por eso, el emblema de la ciudad de Siena es la loba amamantando a los gemelos y se ve por toda la ciudad.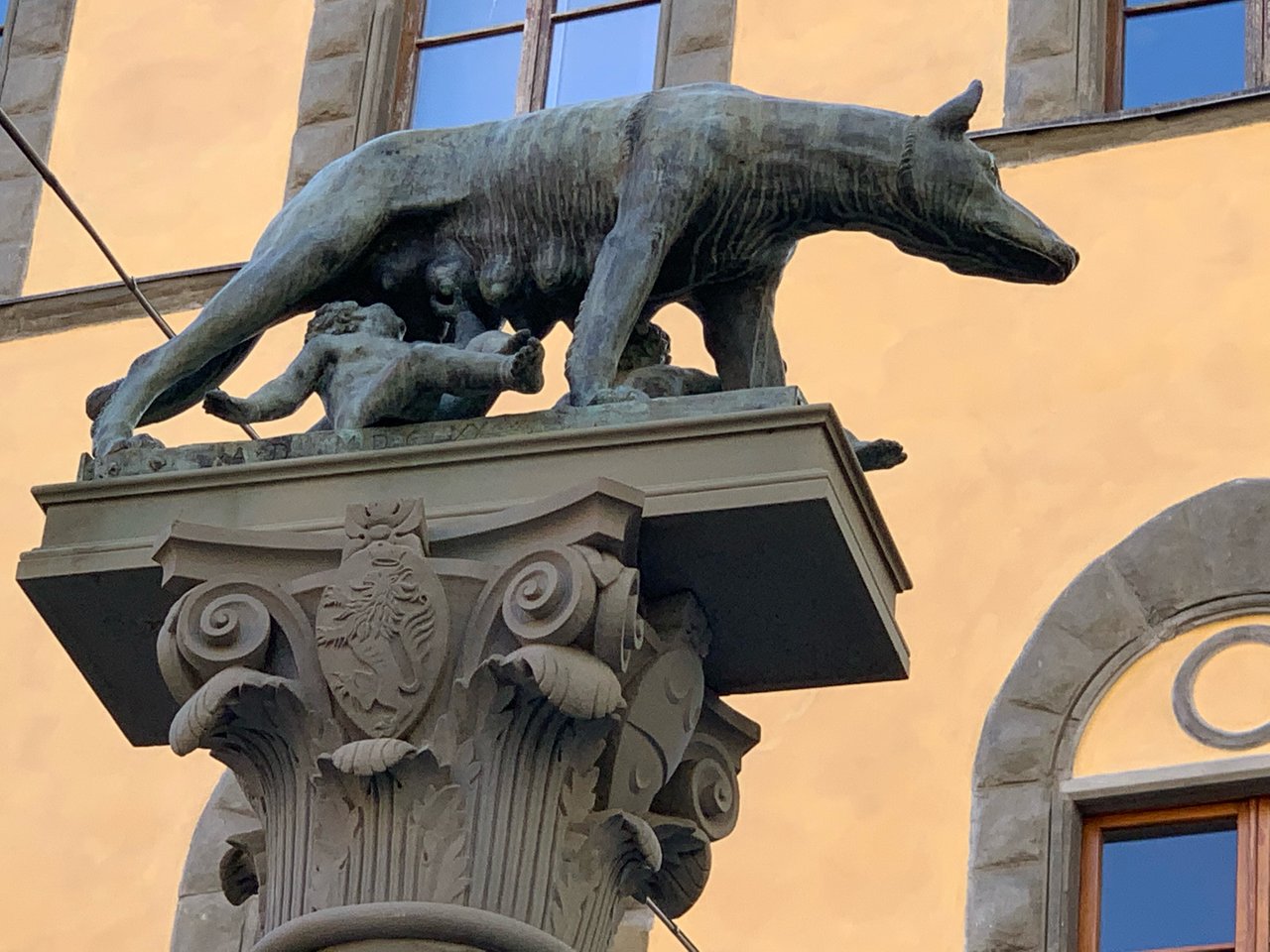 Durante el Imperio Romano, la ciudad fue subdita de Roma. Sin embargo, ahora se conoce que, antes de ser una ciudad romana, fue un asentamiento etrusco que se creó en torno al año 900 a. C. y que se llamaba Saina.
Durante el imperio, la ciudad no prosperó. Como se encontraba mal comunicada porque estaba al margen de las principales calzadas romanas, este enclave se mantuvo poco desarrollado.
Sin embargo, tras la debacle romana fue invadido por los pueblos del norte, los lombardos, y entonces cambió la situación.
En la Edad Media, con el desarrollo de las peregrinaciones cristianas se estableció una ruta hacia Roma. Entonces surgió la vía Francígena, porque venía de Francia. Aunque yo había oído hablar hace tiempo de esta peregrinación, no tenía idea que se podía realizar esta ruta.
En Siena la redescubrí y me he propuesto investigar sobre esta ruta. Tal vez podría ser mi destino este verano.
Gracias a la peregrinación Francigena hacia Roma la ciudad de Siena emprendió un gran impulso económico y empezó a desarrollarse.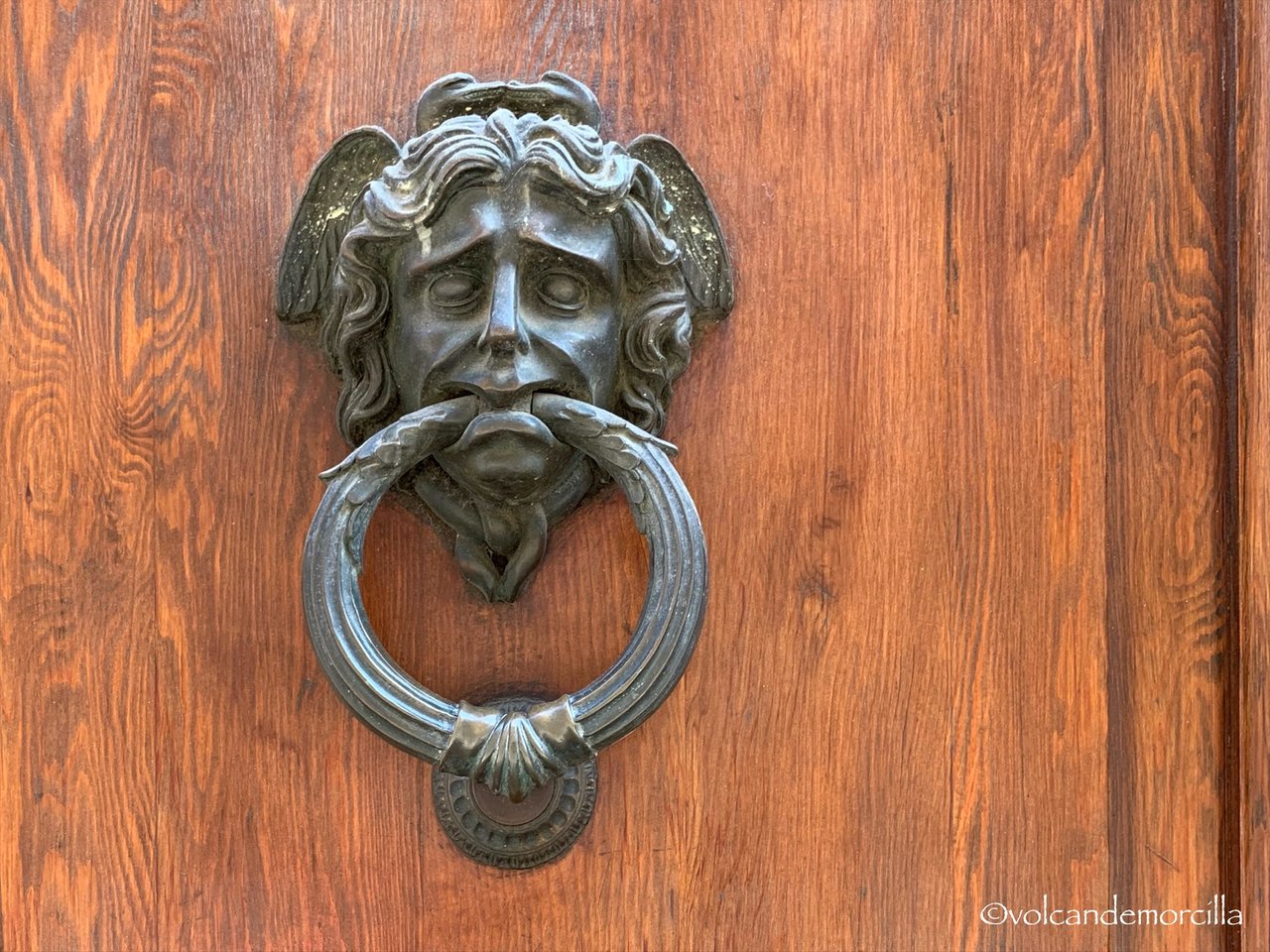 En esta ciudad toscana se construyó un enorme hospital para peregrinos que albergaba a miles de personas. Siena se desarrolló mucho porque fue una parada obligada de la Via Francigena que daban asistencia, albergo y cobijo a miles de caminantes. En el Camino de Santiago hay muchas ciudades que han crecido así.
La Universidad de Siena se fundó en 1240, siendo una de las más antiguas de Europa y hoy en día es una de las más importantes de Italia y cuenta con un gran prestigio.
En la Edad Media, Siena confrontó con Florencia y entre ellas hubo importantes batallas, algunas muy sangrientas. A lo largo de los siglos XIII y XIV, la República de Siena también rivalizó con sus vecinos en el terreno de las artes.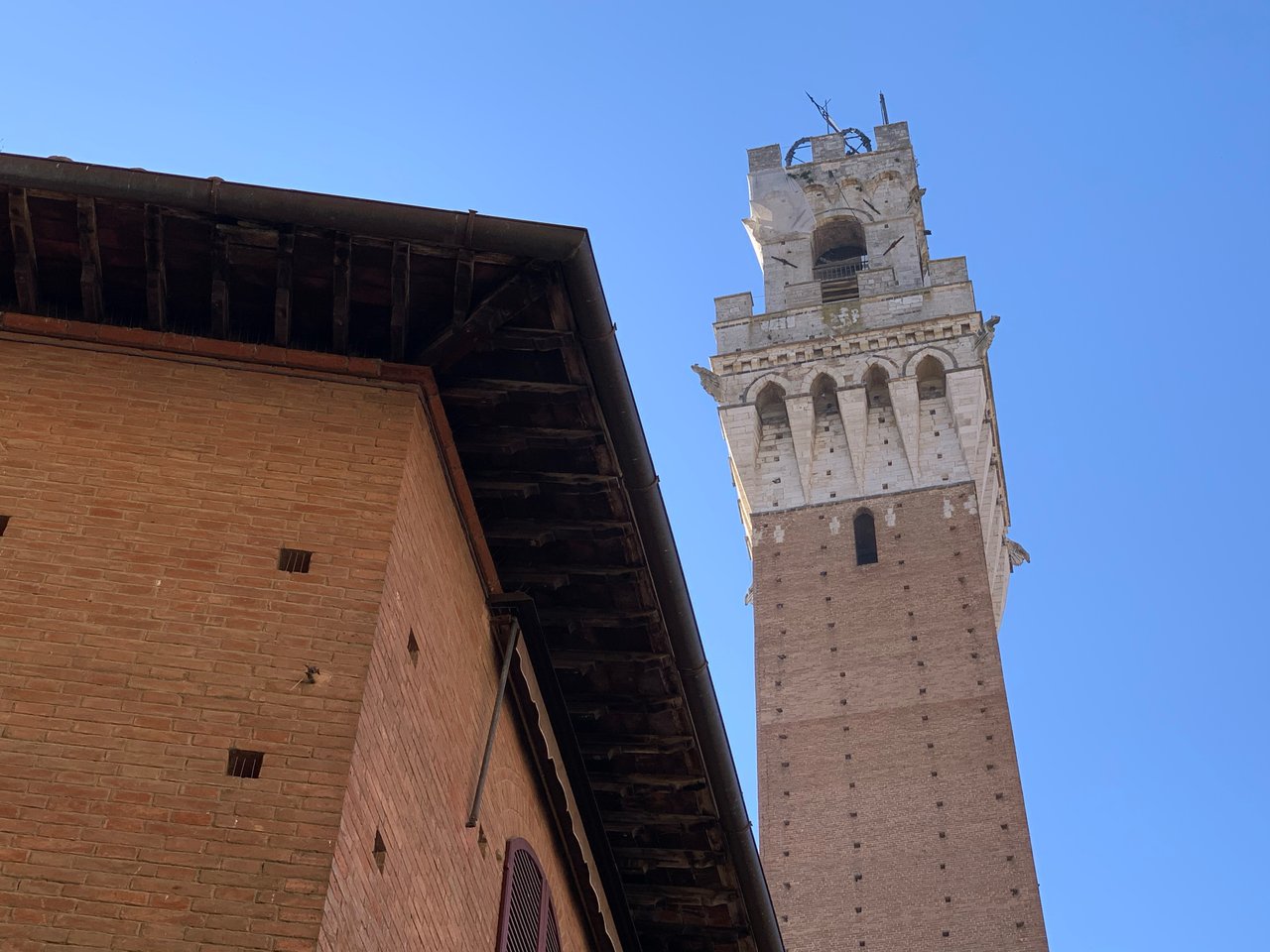 En 1348 sucedió la terrible Peste negra que afectó a todo Europa. Fue terrible y Siena perdió un 80% de su población.
En 1472, en la República de Siena se fundó el banco más antiguo del mundo y que continúa actualmente en funcionamiento. Es el Monte dei Paschi y vimos su edificio en una plaza renacentista muy arreglada con una estatua central.
La República de Siena y la florentina se debilitaron por sus múltiples enfrentamientos, lo que permitió la invasión española y francesa. Finalmente, ambas se unieron en el Gran Ducado de la Toscana hasta que la Unificación Italiana del siglo XIX incorporó a esta región en la República de Italia actual.
A pesar de todo lo acaecido, la ciudad de Siena destaca porque ha mantenido su aspecto medieval. Parece que se haya detenido en los siglos XIII y XIV.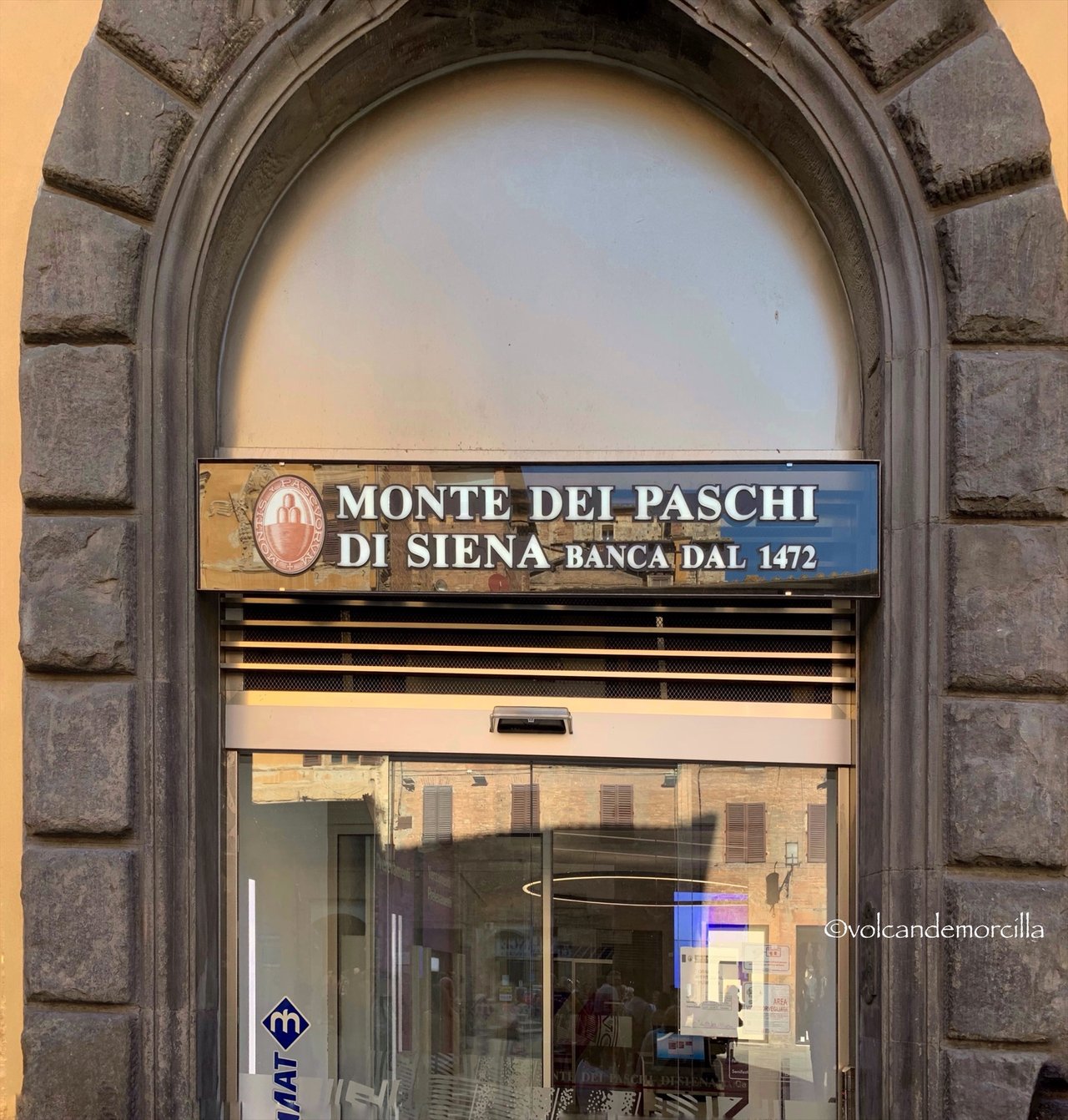 Hoy en día es famosa por el "Palio de Siena"que es una carrera de caballos muy interesante que se desarrolla en la amplia Piazza del Campo y en la que compiten los distintos barrios de la ciudad. Hay mucha rivalidad entre ellos y a estas agrupaciones se les denomina "contradas".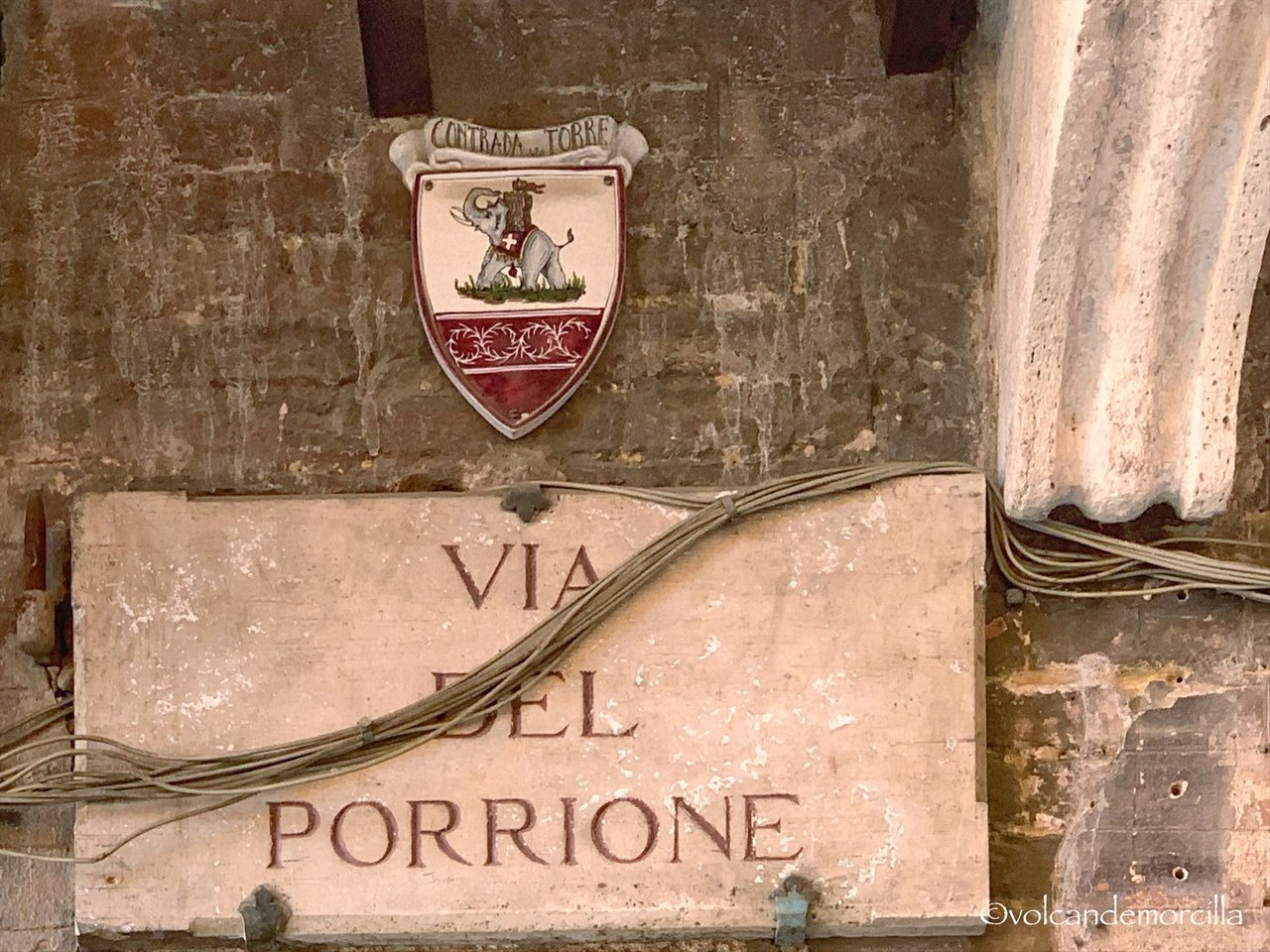 Hay 18 "contradas" y cada una tiene su símbolo y su bandera con sus propios colores. Al caminar por la ciudad se percibe fácilmente que se ha cambiado de barrio porque se observan banderas distintas y hay señales diferentes en las calles.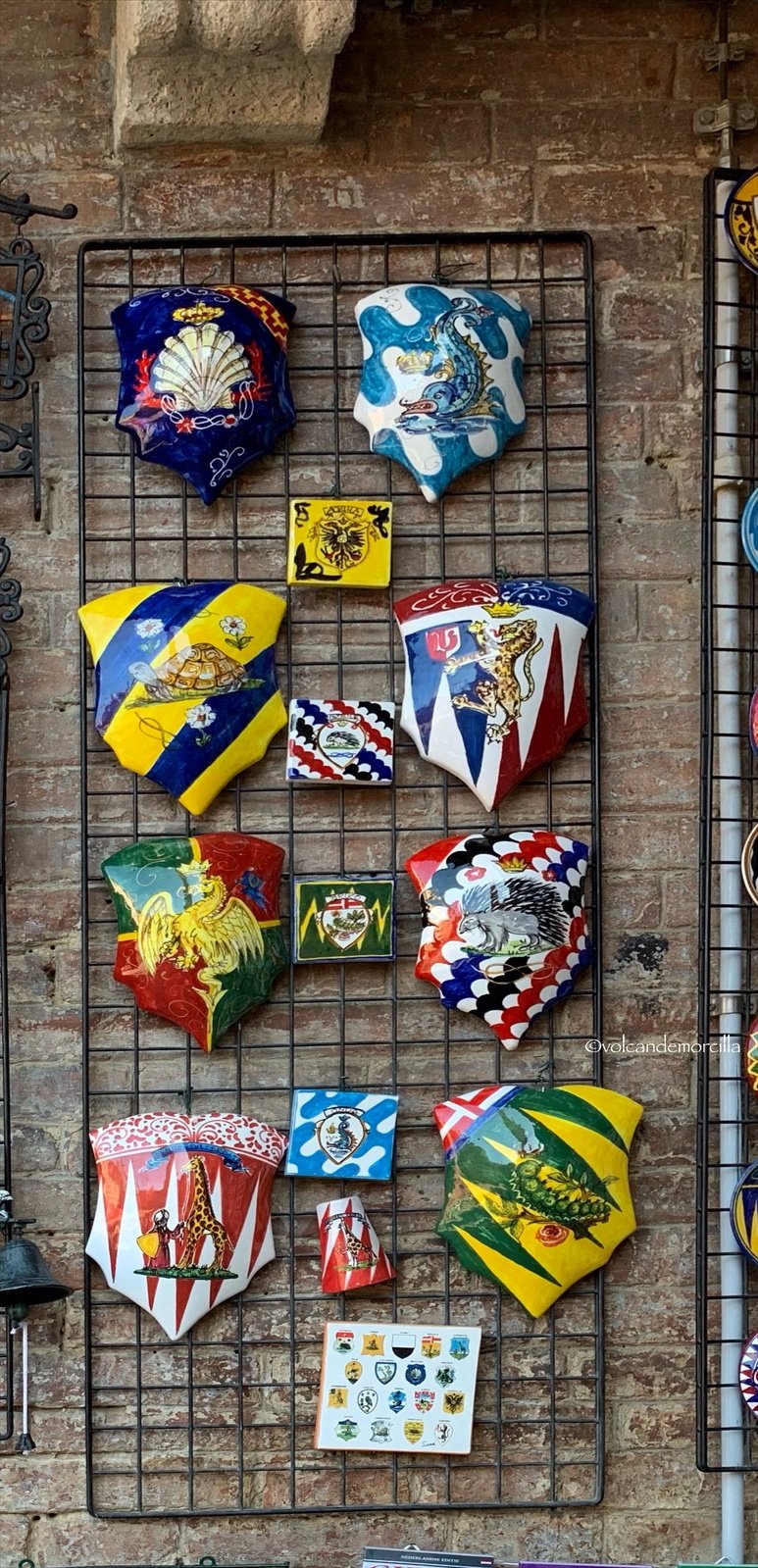 Las carreras del Palio son de origen medieval. Se realizan dos veces al año. Una el 2 de julio y otra el 16 de agosto.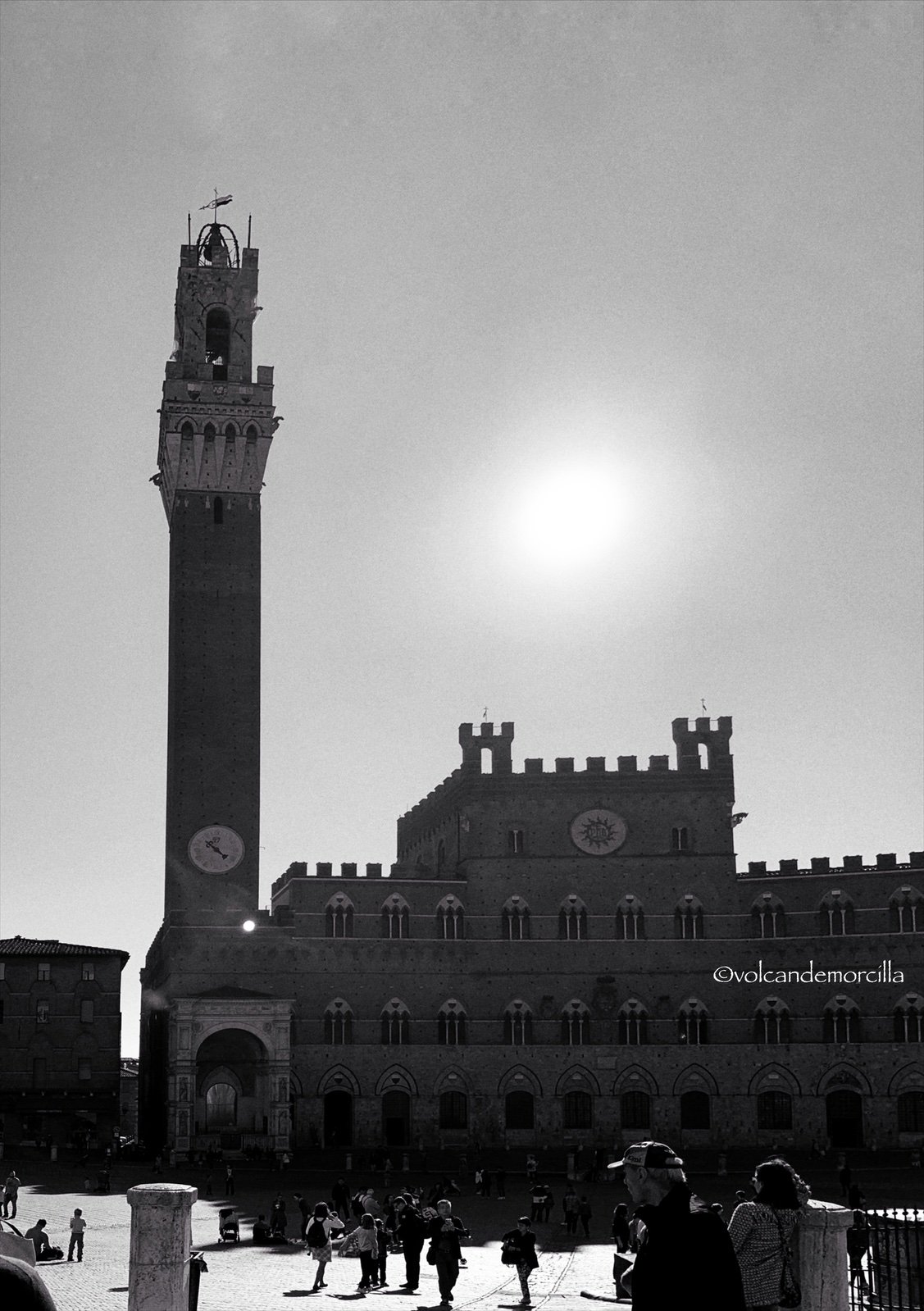 Visitamos la céntrica Piazza del Campo donde se desarrolla la carrera y donde está el Palazzo Público con su altísima torre. Hice algunas fotos de su fachada y de sus espectaculares gárgolas.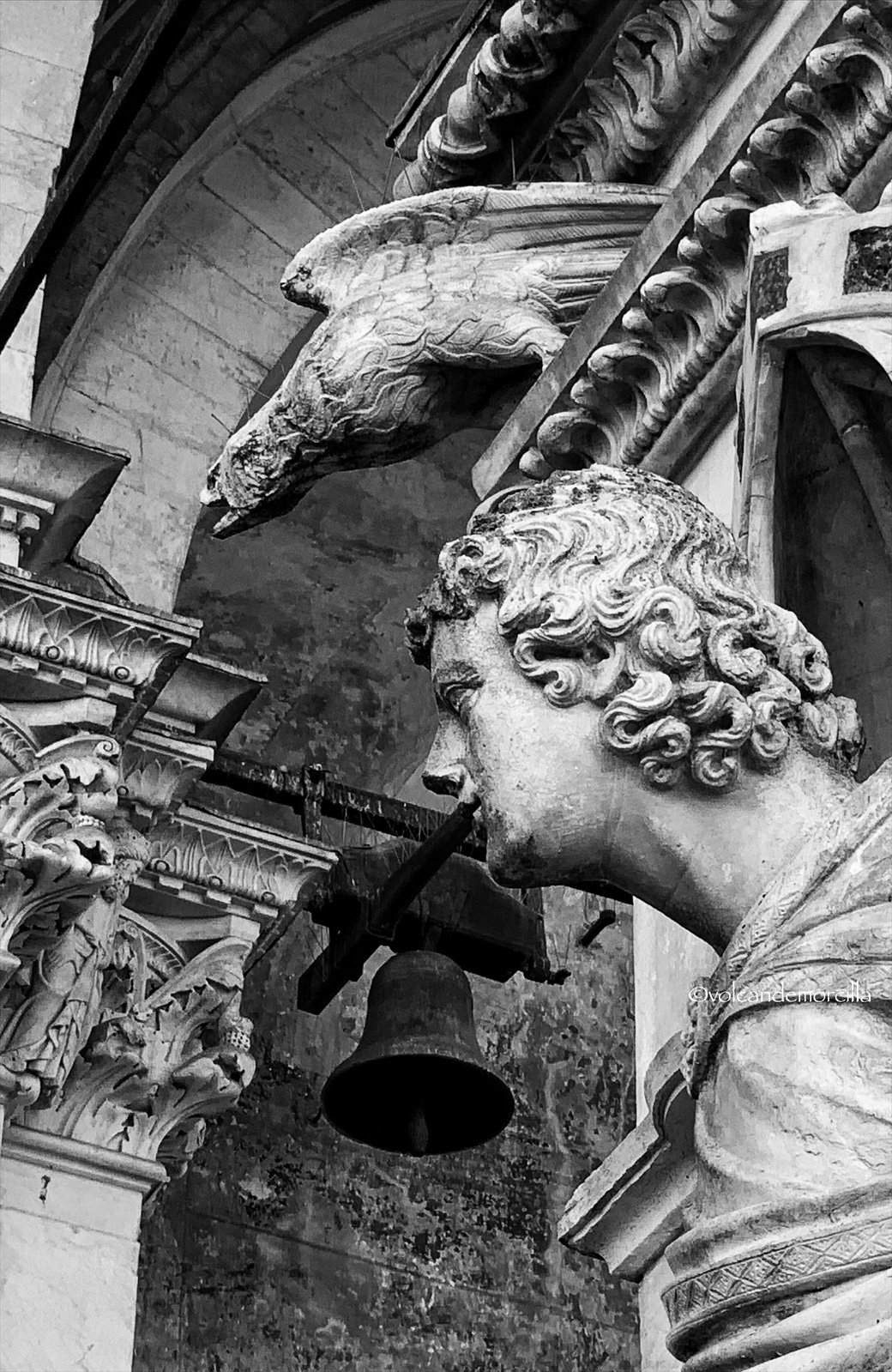 La Piazza del Campo es muy amplia y diáfana. Tiene un desnivel hacia el centro. La gente se agrupa en el medio para ver la carrera que discurre por la parte mas alta, por toda la periferia.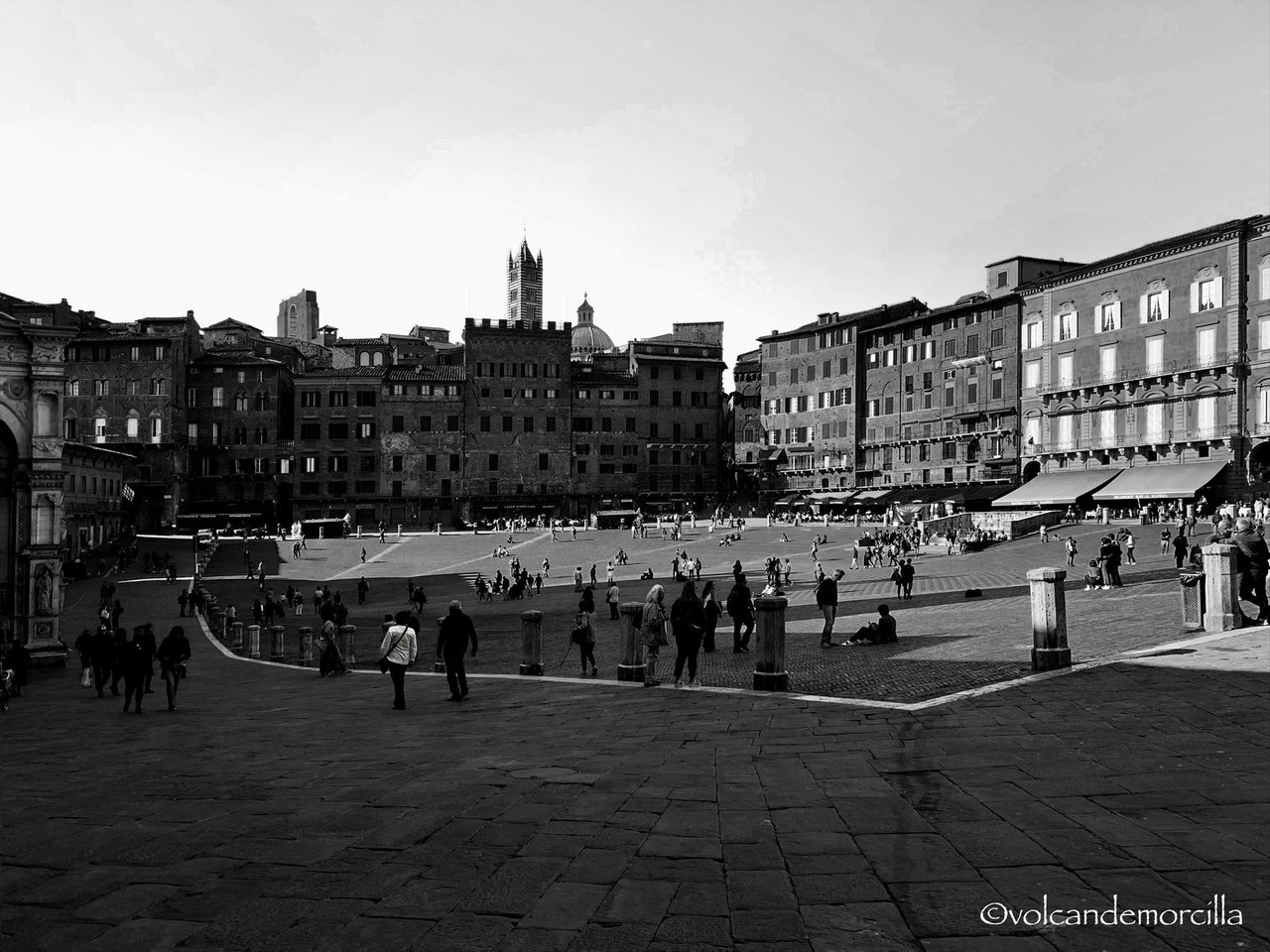 Los corredores cabalgan sin montura. Puesto que algunos se caen, gana el caballo que antes completé la carrera, sea o no con jinete. De hecho este año fue así.
Es muy emocionante ver la carrera del último Palio. Tuvo lugar el 16 de agosto de 2019. Sinceramente os recomiendo que la veáis porque es muy emocionante, solo dura tres minutos. Así podréis comprender las dimensiones de esta fiesta medieval. Aquí os dejo el enlace. Palio 16 agosto 2019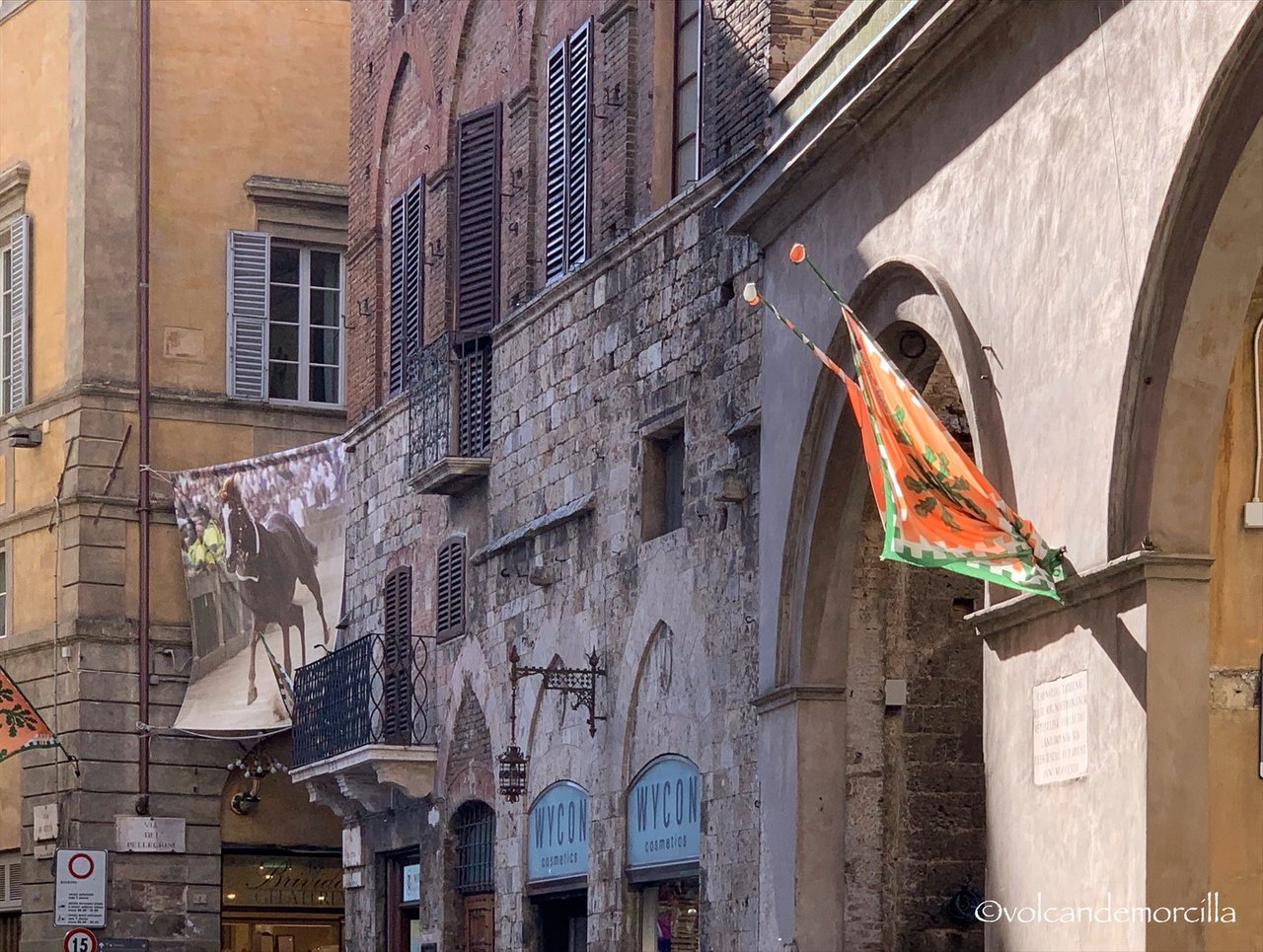 Esta bandera y la fotografía, colgadas ambas en la calle de su barrio, nos recuerdan la última victoria del Selva.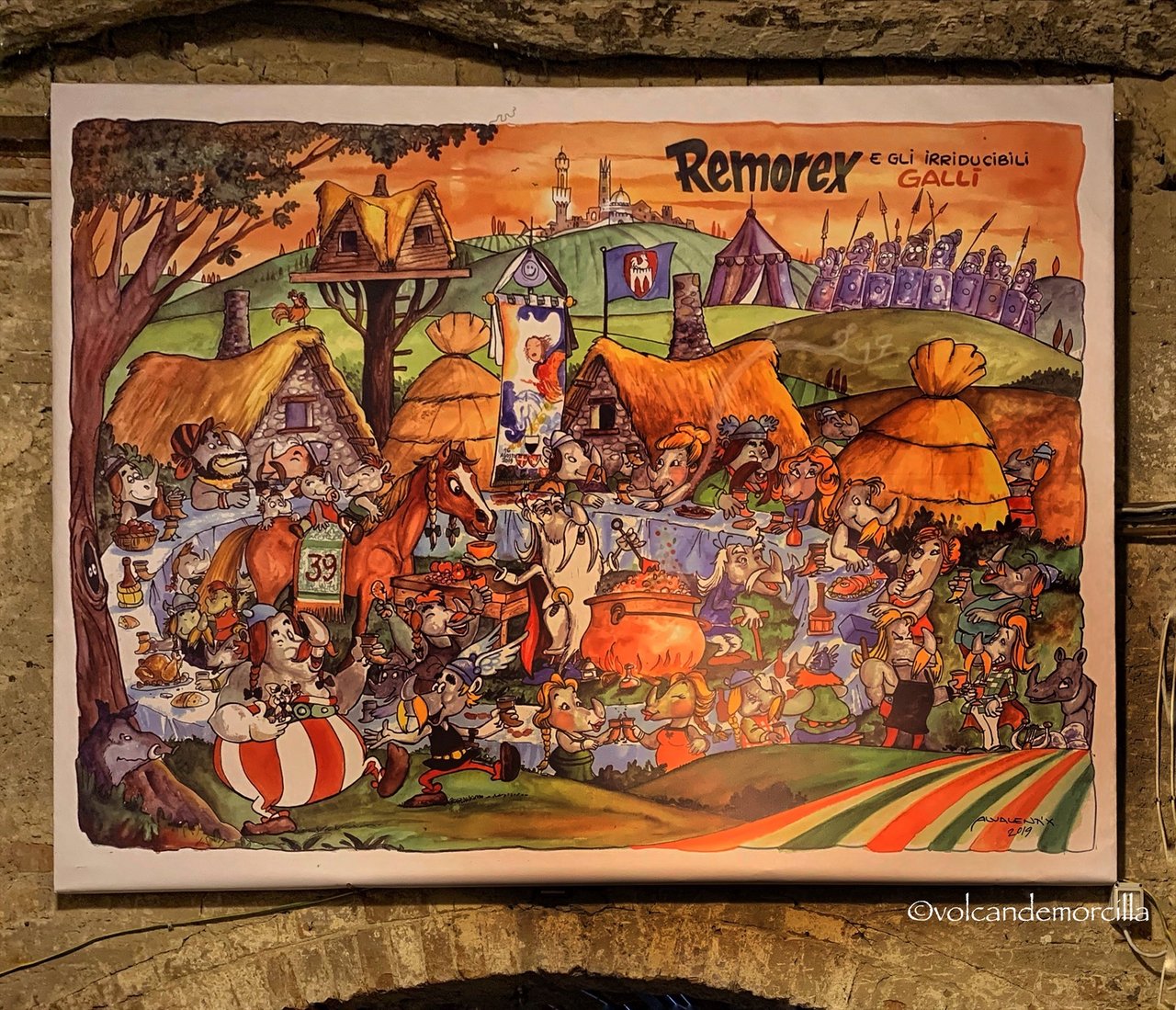 También, en un pasadizo, hay un divertido cartel de la aldea de Asterix y Obelix que recrea la victoria de este año.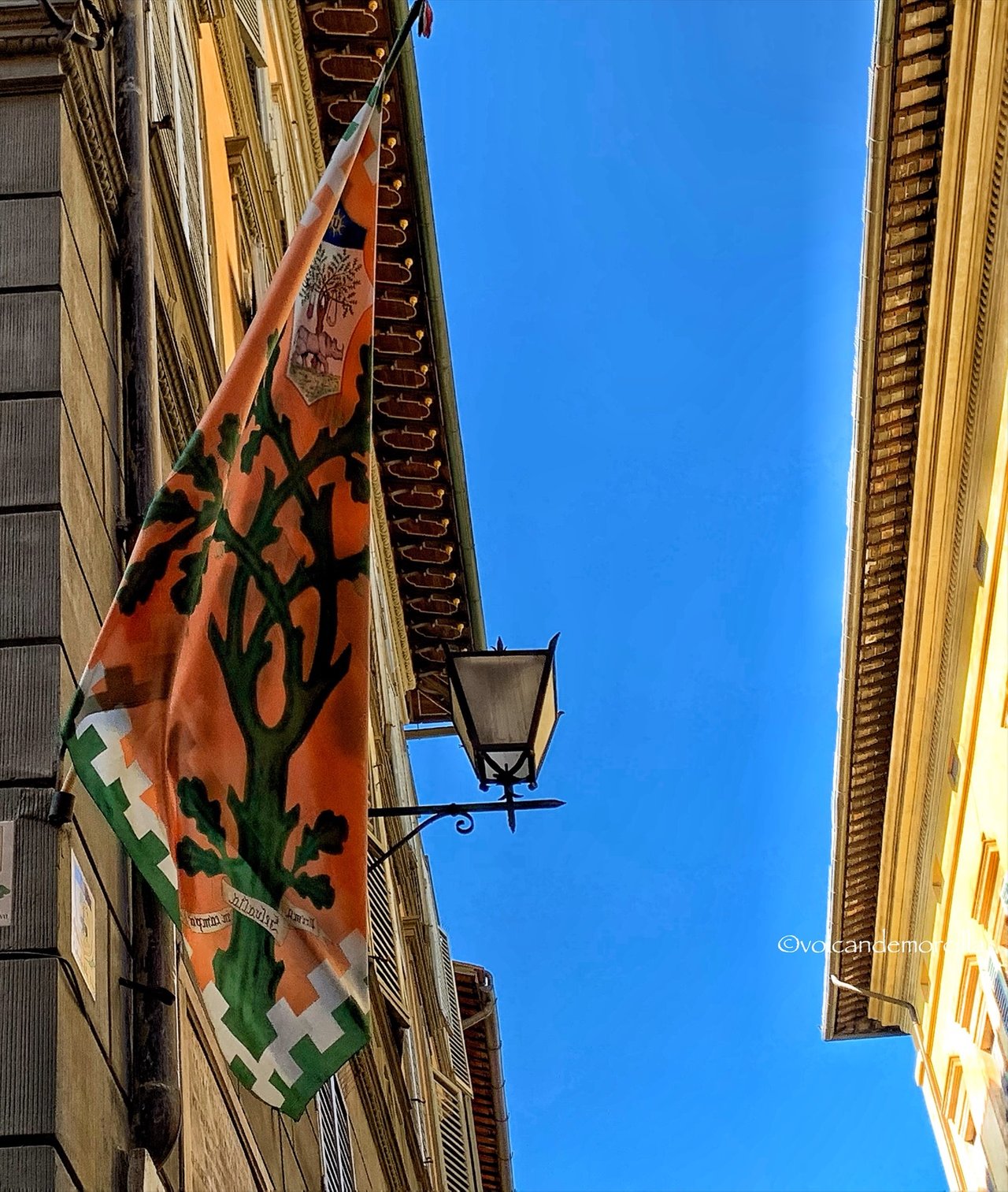 Palio significa paño de seda. La "contrada" vencedora obtiene como premio la bandera o paño de seda elaborado para esa determinada edición: el llamado Palio.
En La Basílica de San Domenico están todas las banderas de las 18 "contradas" y desde aquí pudimos ver, al atardecer, unas bonitas vistas panorámicas de toda Siena.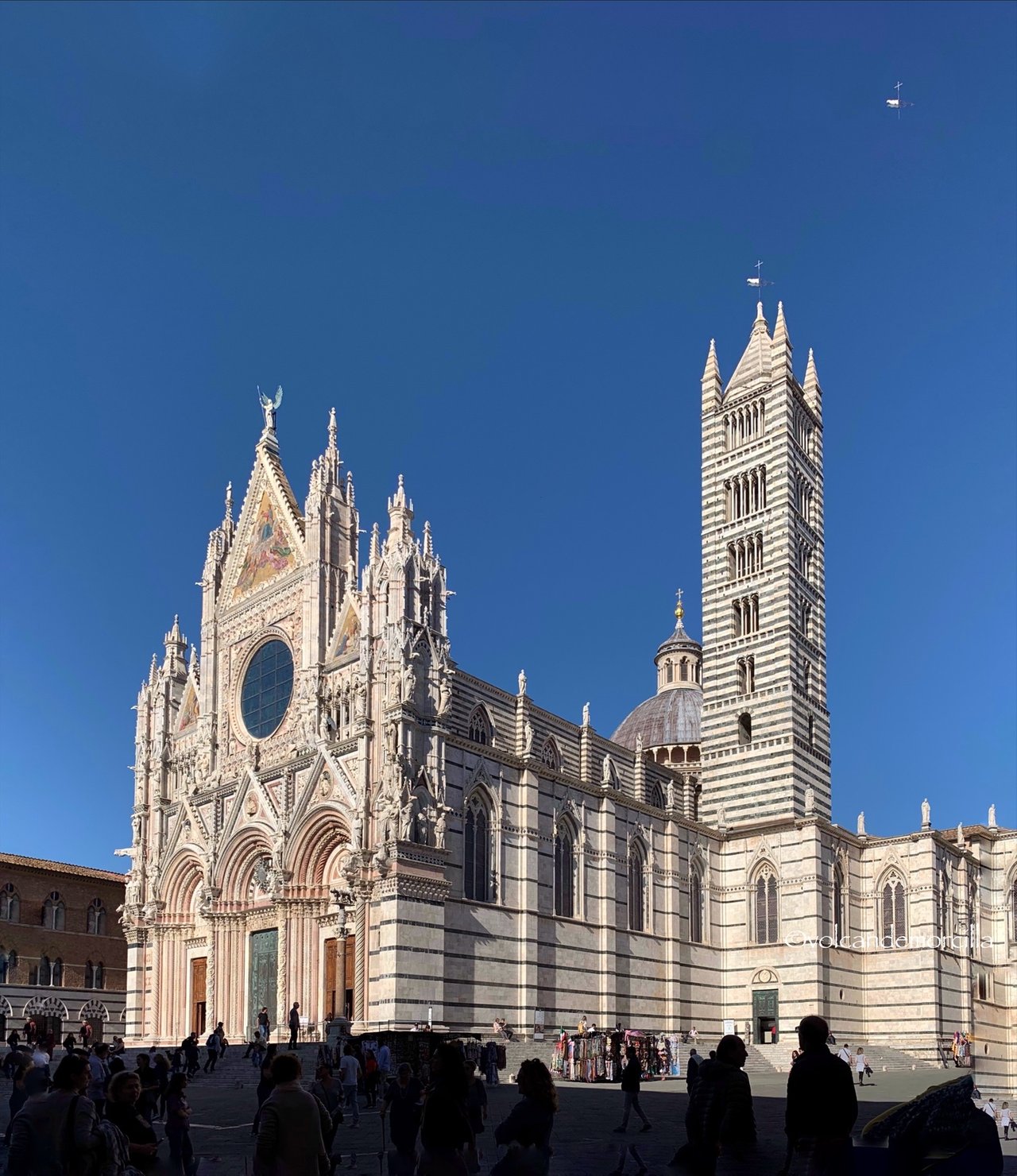 Antes de llegar a San Domenico, por supuesto, visitamos la hermosísima Catedral de Siena que es una auténtica maravilla. A ella le dedicaré otra publicación porque es un monumento muy especial. Os mostraré muchas fotos y veréis que preciosidad. Os espero.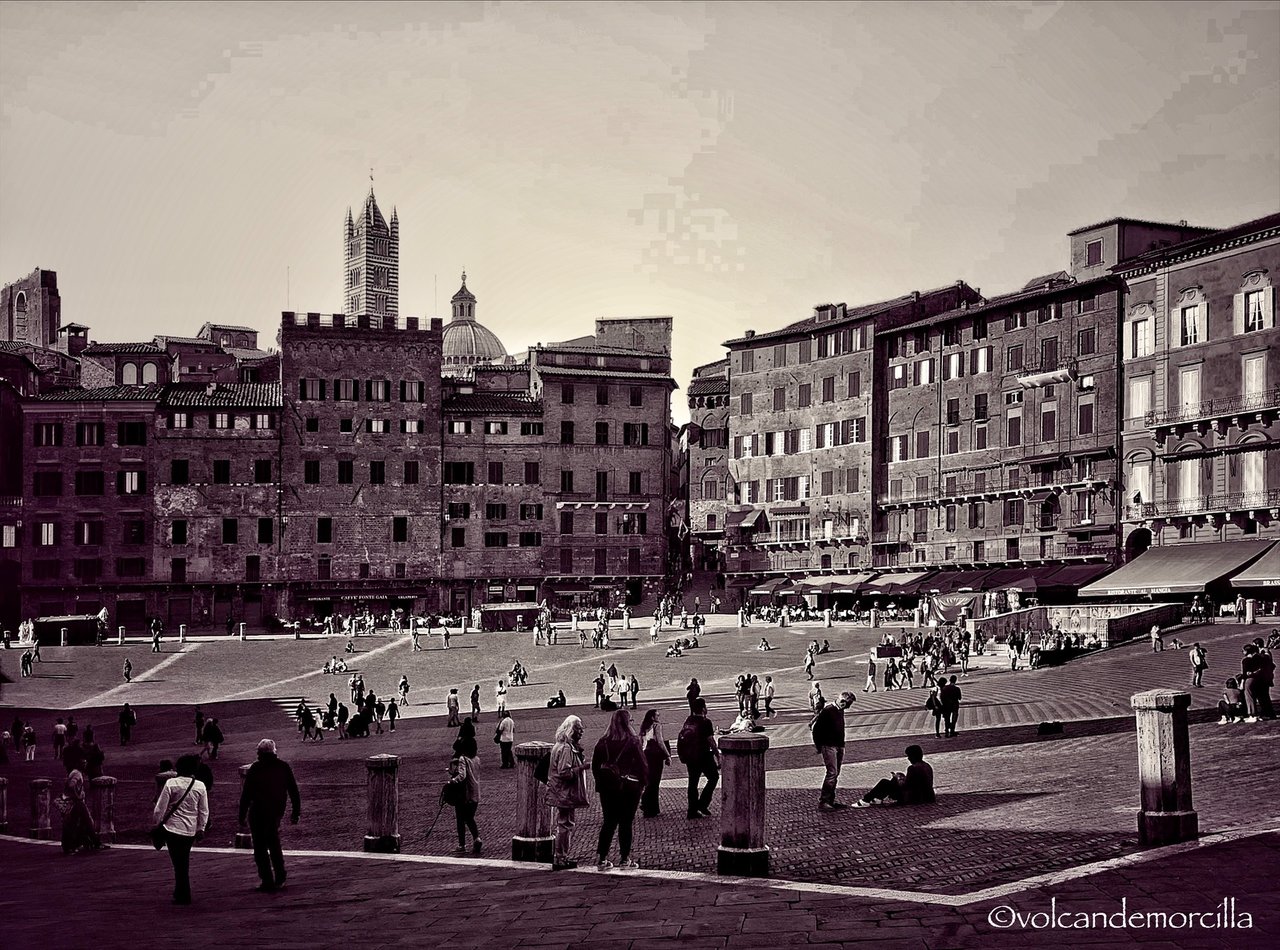 Siena and its Palio
I would like to give you a quick overview of Siena. A bird's eye view, so that you could have a global sense of what Siena is after reading this post.
To Siena we went by train from Florence. It is a fast and comfortable means of transport that works very well in Italy. Seeing the diaphanous landscape of the region of Tuscany, we traveled 80 kilometers in just over an hour.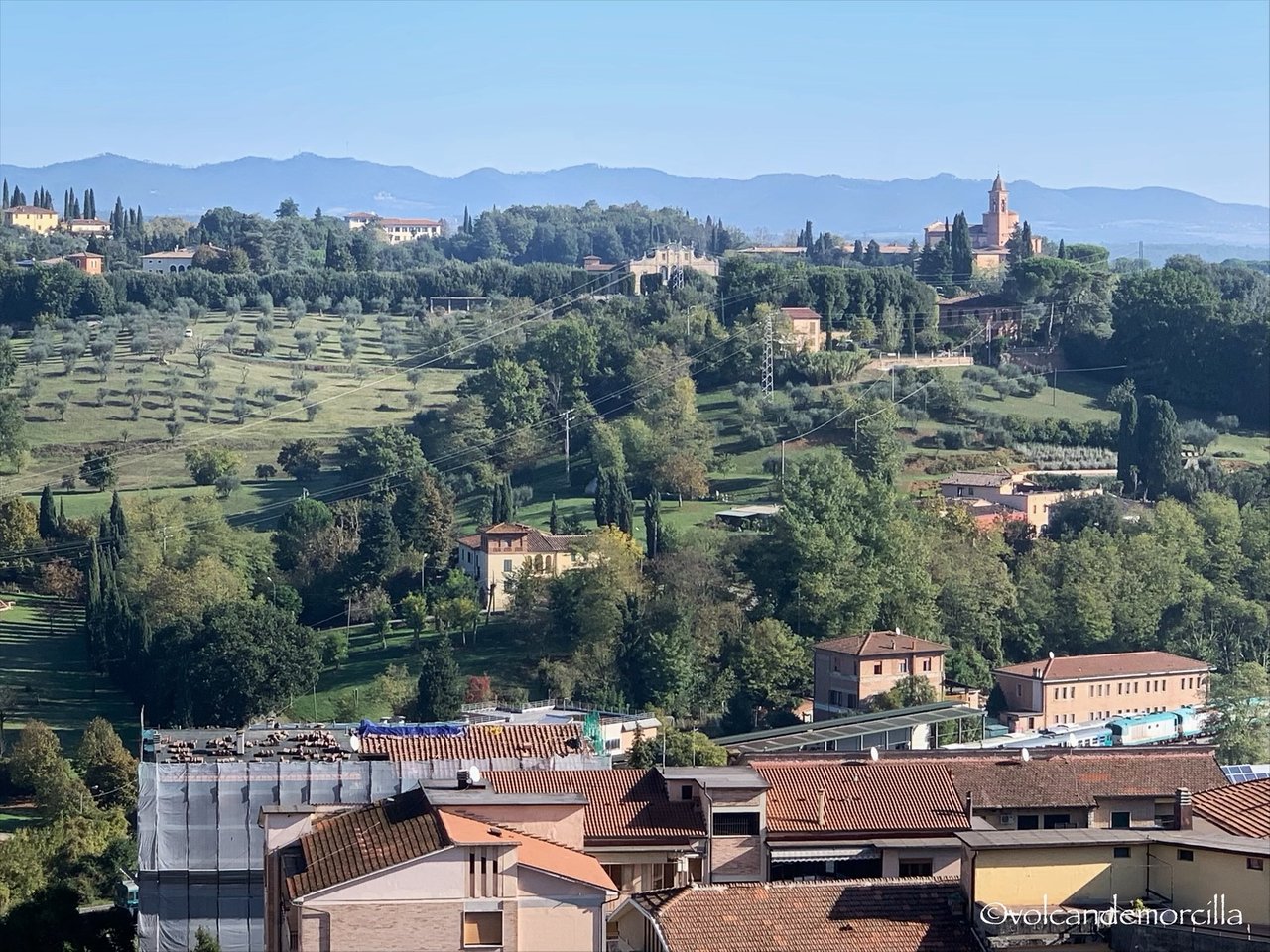 Tuscany we could observe while traveling. What we saw was a fairly flat area with some mounds. On top of the hills, cities and buildings are built. The large number of cypresses that were seen caught my attention. Also, I could see many pine trees and olive plantations. Although what surprised me most was that Tuscany is a very flat region. We talked about how fun it would be to walk through this region.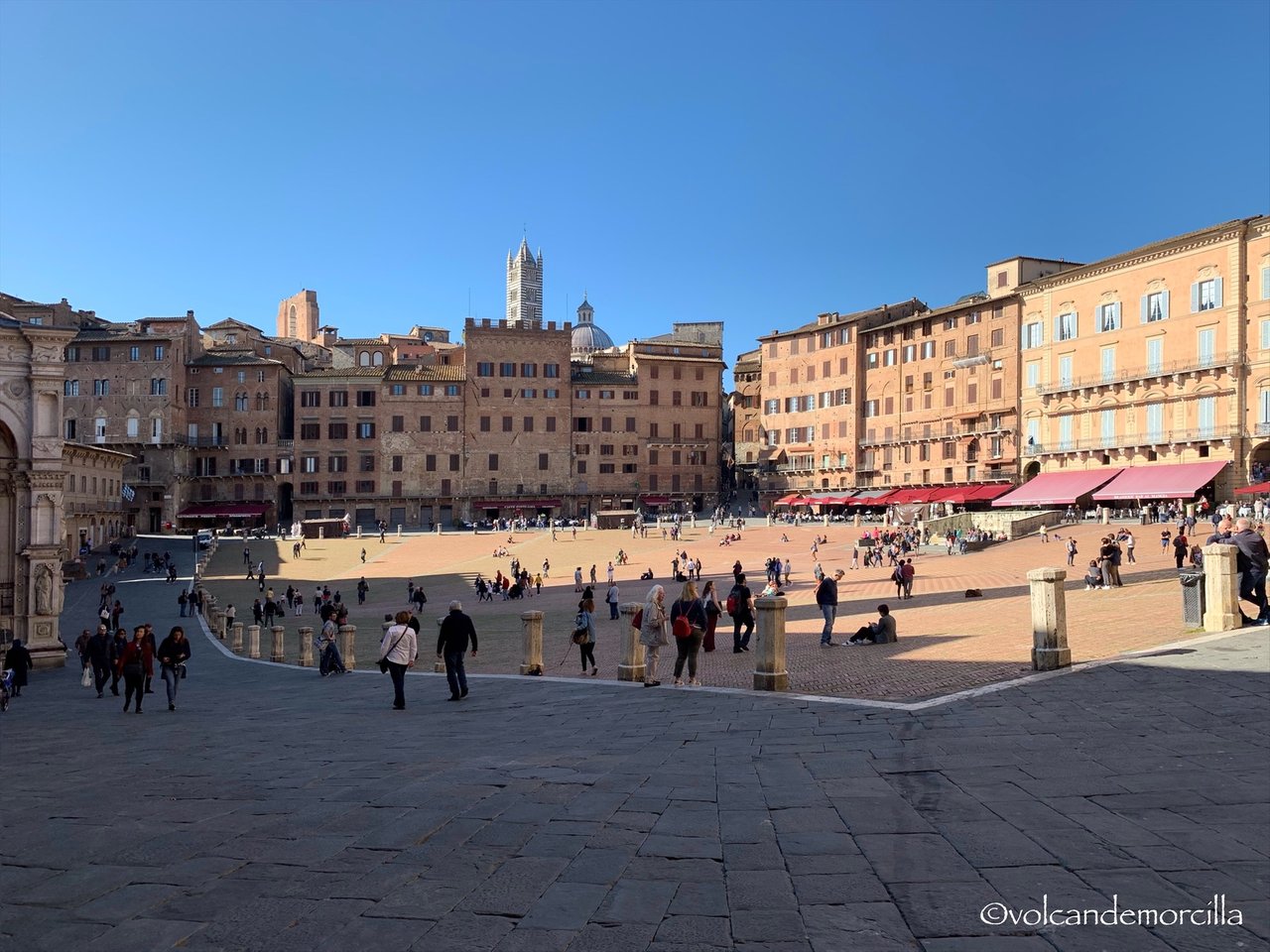 Siena is built on three hills. From the station we went up some very long escalators. The ascent became eternal because they were eight long stretches.
Siena was walled and there are still large remains of that wall. Once above, we enter through the Camollia Gate and stop to take some pictures of the views from above. The panorama sums up very well what the Tuscan landscape is. How nice it must be to walk around here, among pines, olive trees, cypresses ...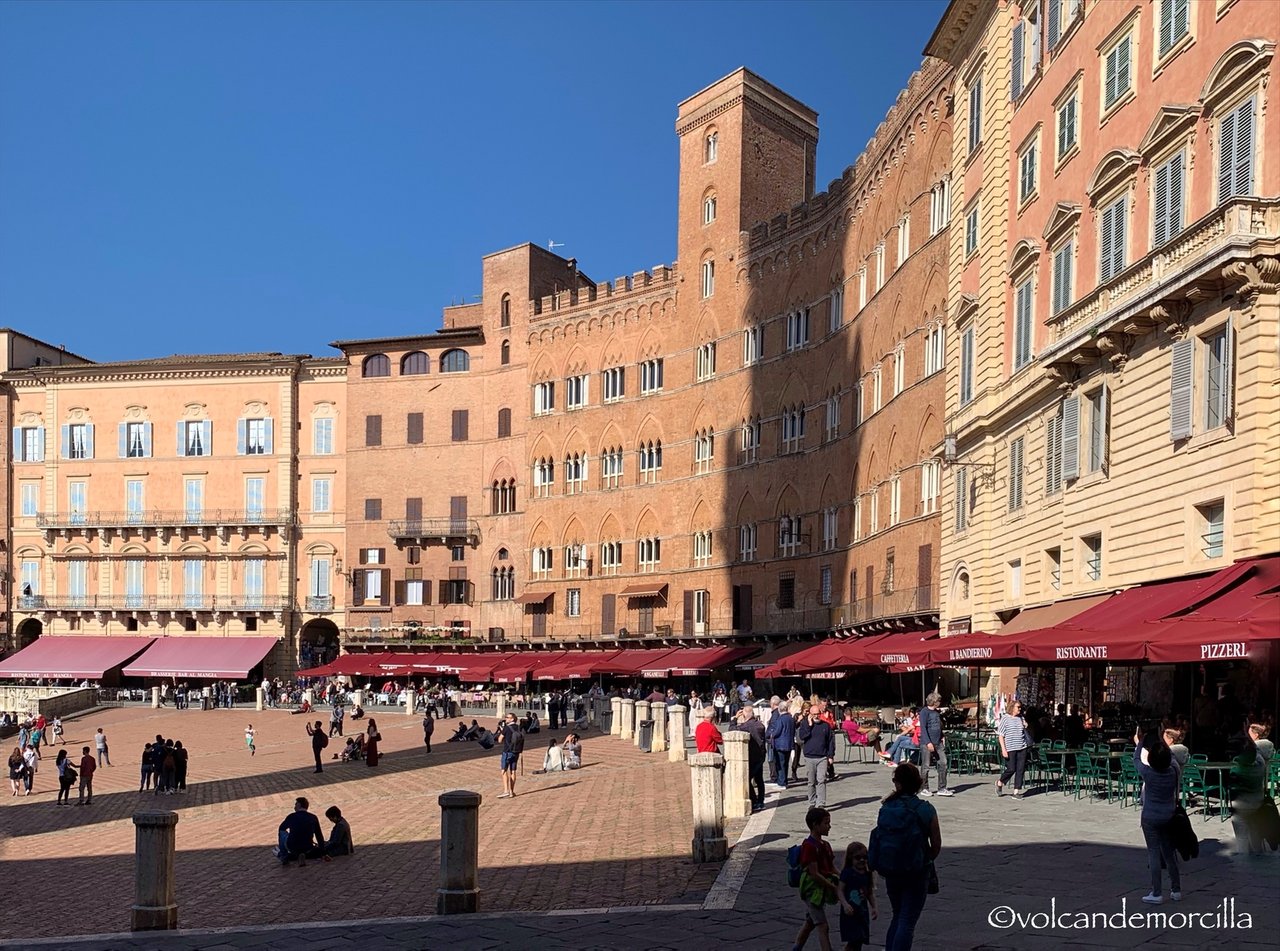 Then we continue straight to Piazza del Campo where the town hall is and where the famous equestrian tournament "El Palio" is held.
As it was early, many tourists had not yet arrived, so we could enjoy the lonely stone streets between tall Renaissance buildings. The long shadows on the clean, fresh streets increased the pleasantness of the walk.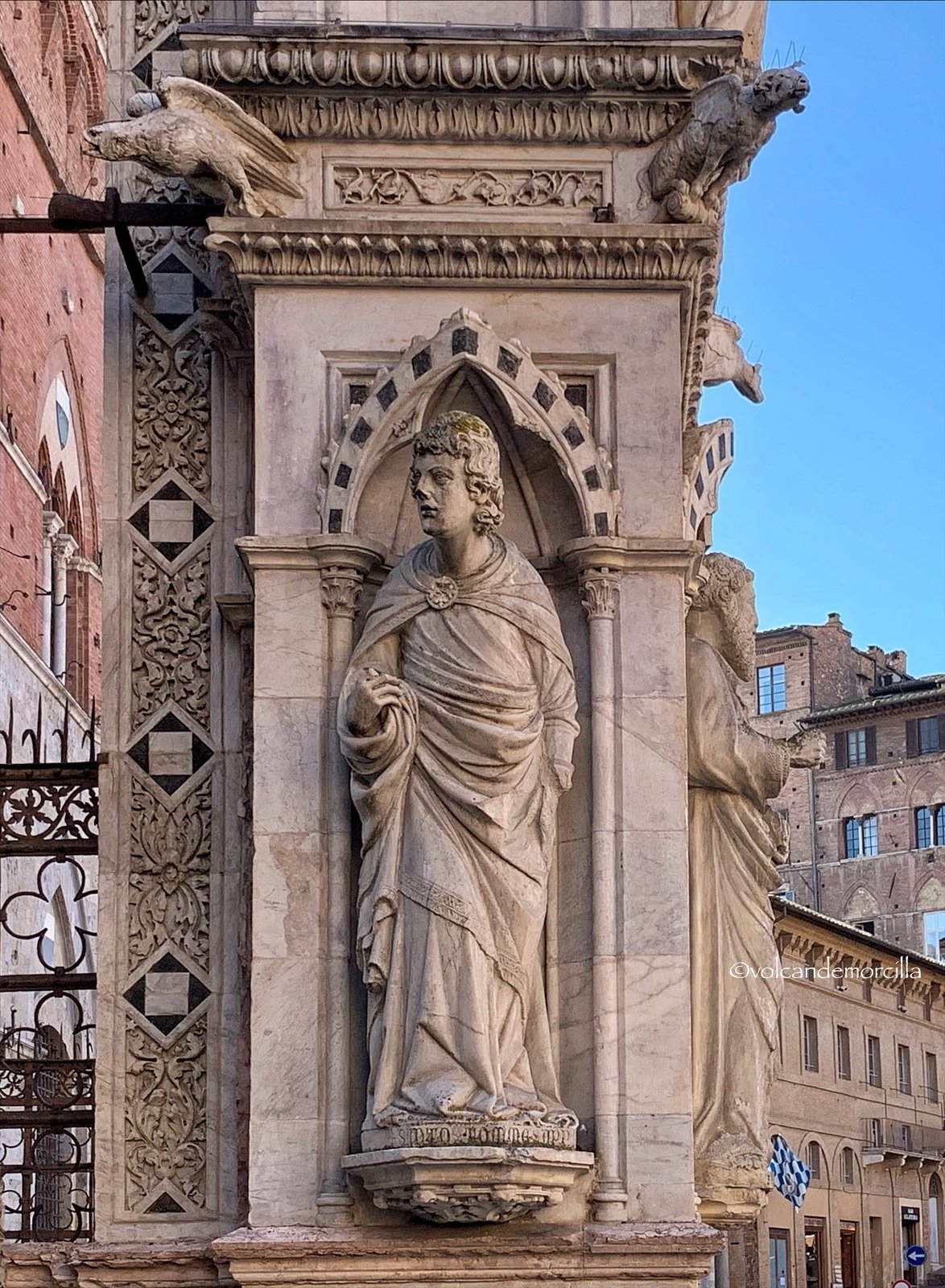 Siena is a city that has been preserved with its medieval style. It has a lot of flavor and that is why it is not strange that it is very visited.
Frequently, we see Luperca, the famous wolf who nursed the founding twin brothers of Rome: Romulus and Remus.
This is because there was a rivalry between Siena and Rome for capitality. To understand this you have to know a little history.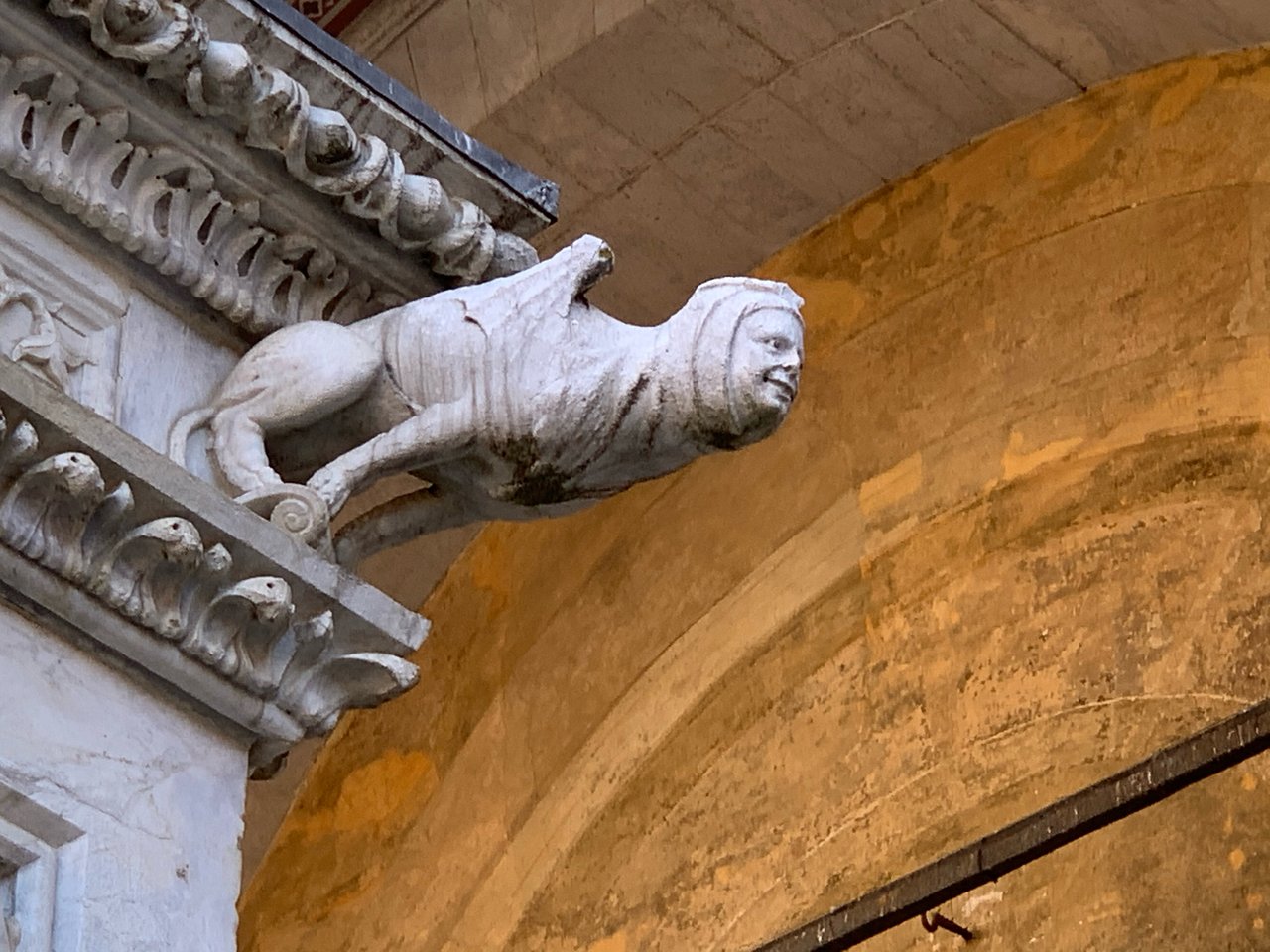 Brief history of Siena
The founders of Rome were Romulus and Remus who, according to Roman mythology were breastfed by a wolf. Luperca found them in a basket on the bank of a river when King Amulio tried to kill them. The wolf raised them and later Romulus founded the city of Rome while Remo founded Siena.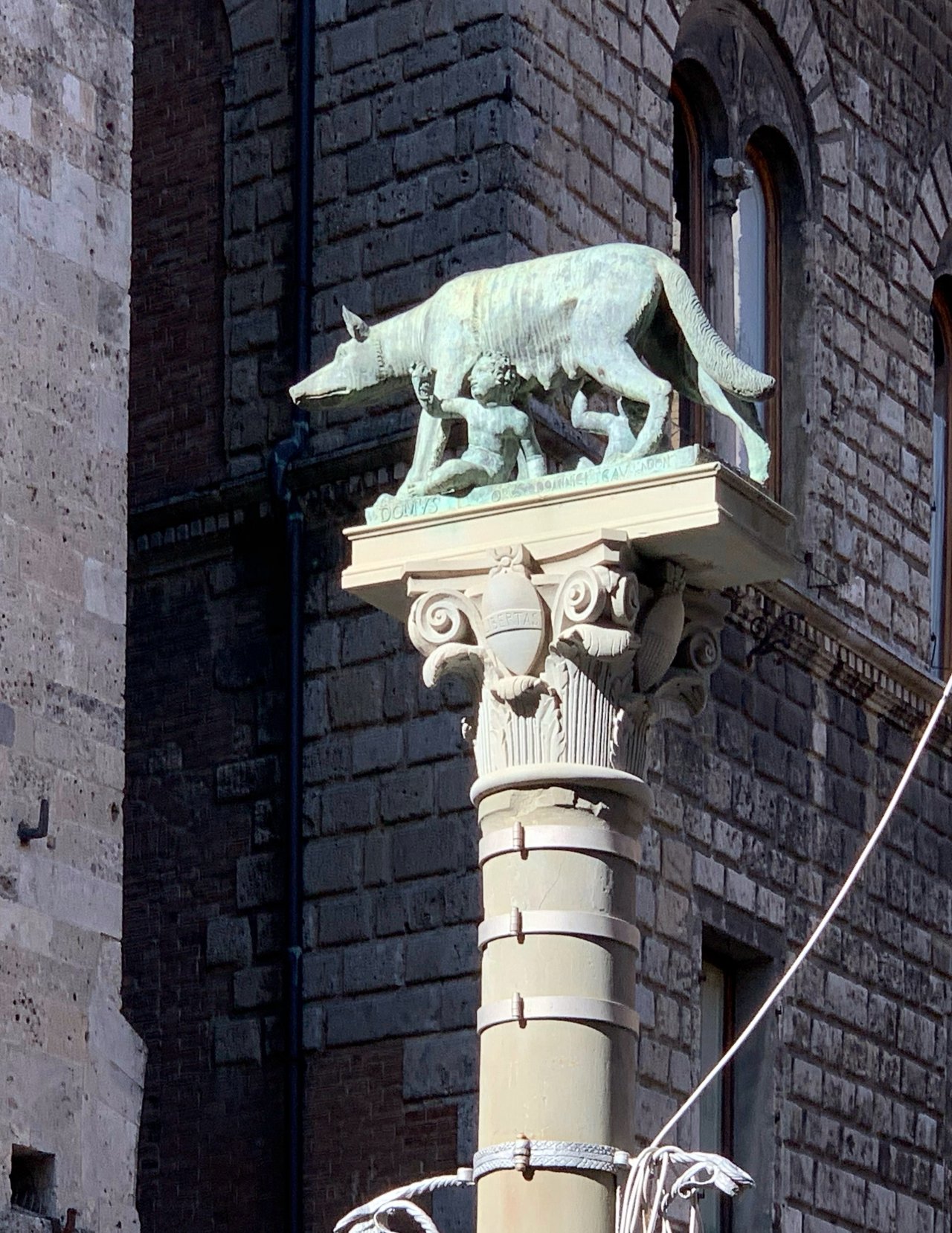 Therefore, the emblem of the city of Siena is the wolf breastfeeding the twins and is seen throughout the city.
During the Roman Empire, the city was a subject of Rome. However, it is now known that, before being a Roman city, it was an Etruscan settlement that was created around 900 BC. C. and that was called Saina.
During the empire, the city did not prosper. As it was poorly communicated because it was outside the main Roman roads, this enclave remained poorly developed.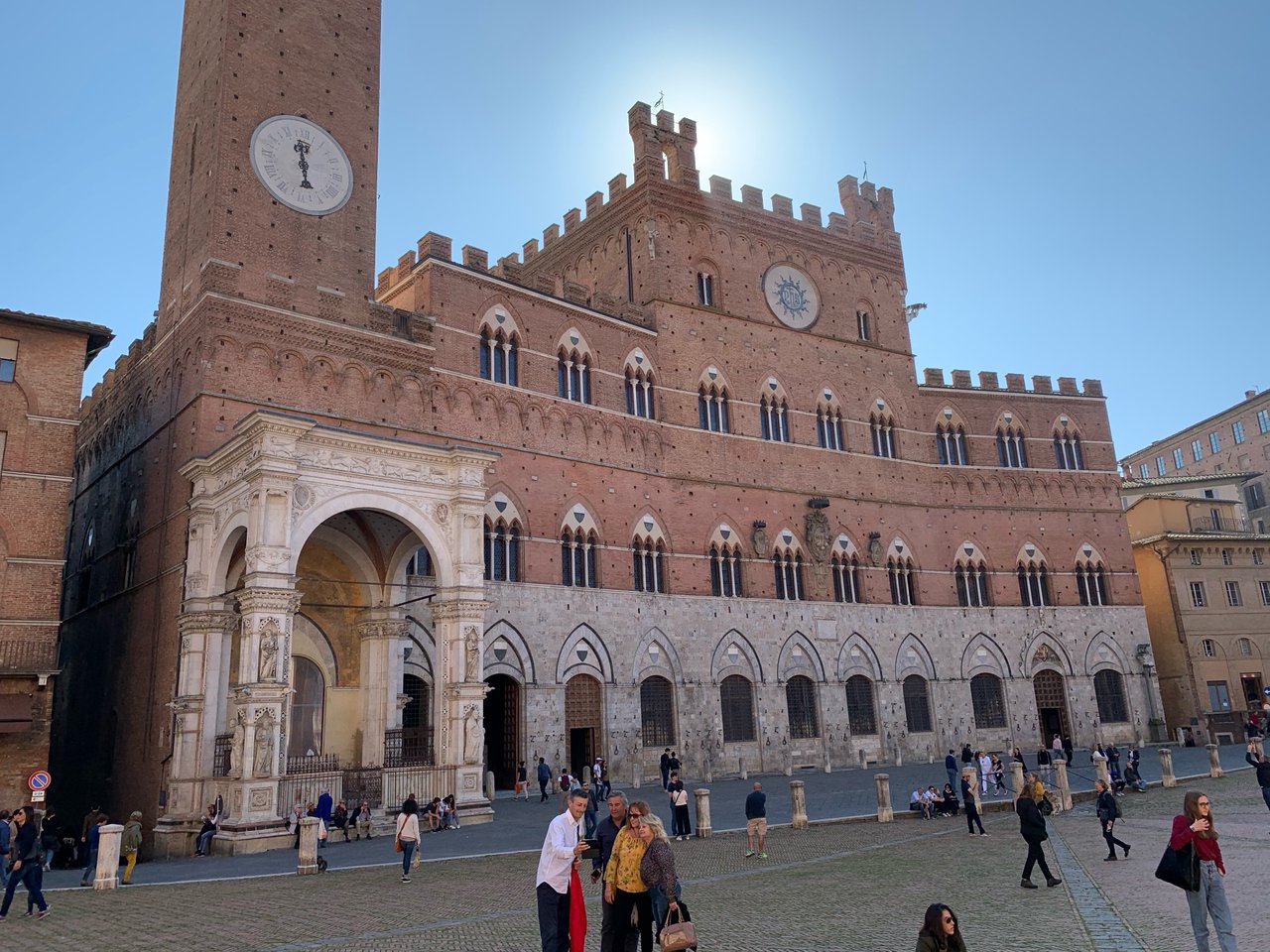 However, after the Roman debacle it was invaded by the northern peoples, the Lombards, and then the situation changed.
In the Middle Ages, with the development of Christian pilgrimages a route to Rome was established. Then came the French way, because it came from France. Although I had heard about this pilgrimage a long time ago, I had no idea that this route could be done.
In Siena I rediscovered it and I have decided to investigate this route. Maybe it could be my destination this summer.
Thanks to the Francigena pilgrimage to Rome the city of Siena undertook a great economic boost and began to develop.
In this Tuscan city a huge hospital for pilgrims was built that housed thousands of people. Siena developed a lot because it was a must stop on the Via Francigena that gave assistance, shelter and shelter to thousands of walkers. On the Camino de Santiago there are many cities that have grown this way.
The University of Siena was founded in 1240, being one of the oldest in Europe and today is one of the most important in Italy and has great prestige.
In the Middle Ages, Siena confronted Florence and among them there were important battles, some very bloody. Throughout the thirteenth and fourteenth centuries, the Republic of Siena also rivaled its neighbors in the field of arts.
In 1348 the terrible black Plague happened that affected all of Europe. It was terrible and Siena lost 80% of its population.
In 1472, the oldest bank in the world was founded in the Republic of Siena and is still in operation today. It is Monte dei Paschi and we saw his building in a very well-groomed Renaissance square with a central statue.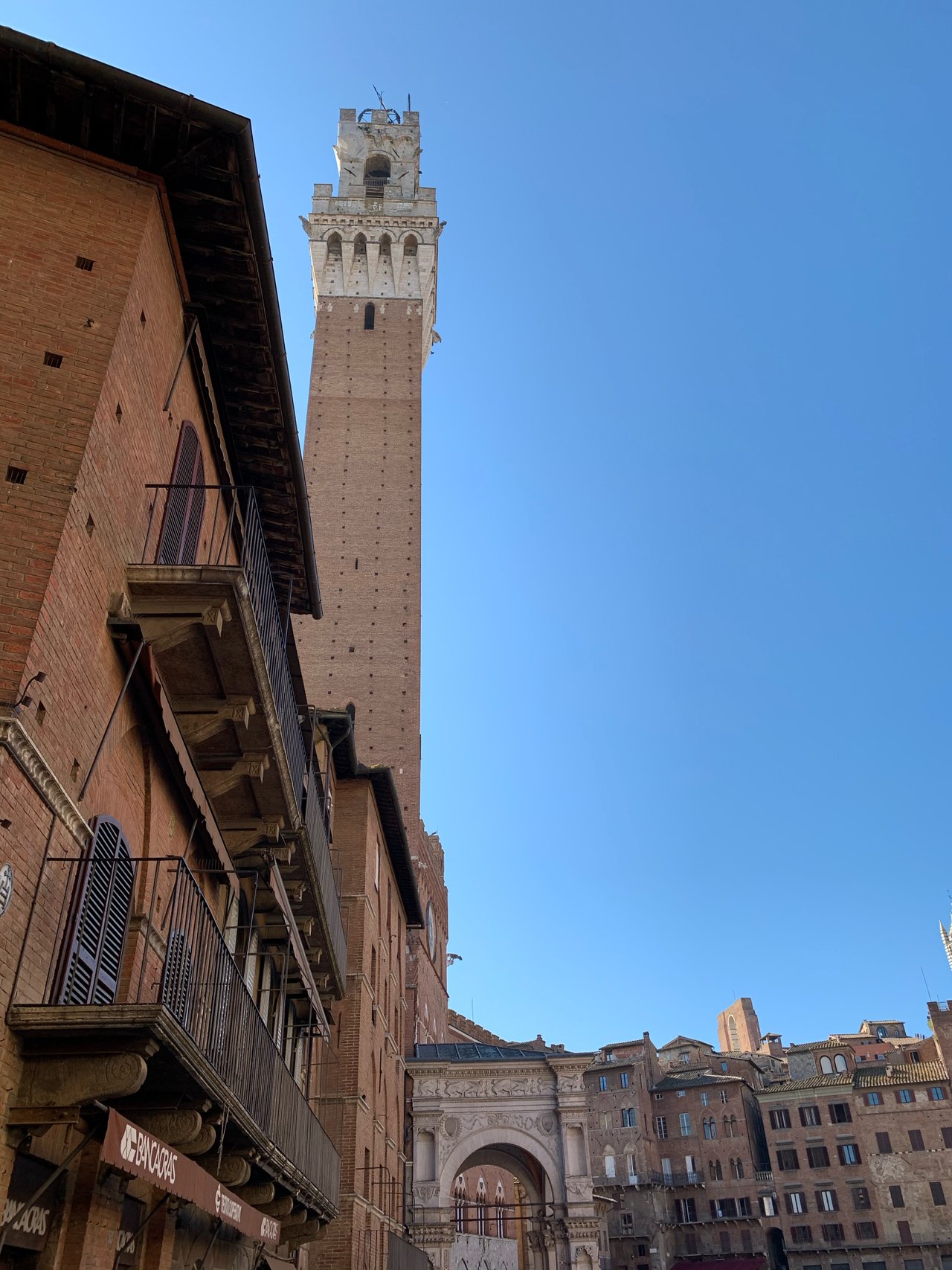 The Republic of Siena and the Florentine were weakened by their multiple clashes, which allowed the Spanish and French invasion. Finally, both joined in the Grand Duchy of Tuscany until the 19th century Italian Unification incorporated this region into the Republic of Italy today.
Despite everything that has happened, the city of Siena stands out because it has maintained its medieval appearance. It seems to have stopped in the thirteenth and fourteenth centuries.
Today it is famous for the "Palio de Siena" which is a very interesting horse race that takes place in the broad Piazza del Campo and in which the different neighborhoods of the city compete. There is a lot of rivalry between them and these groups are called "contradas".
There are 18 "contracts" and each
One has its symbol and its flag with its own colors. When walking through the city you can easily see that the neighborhood has changed because different flags are observed and there are different signs in the streets.
Palio races are of medieval origin. They are done twice a year. One on July 2 and another on August 16.
We visit the central Piazza del Campo where the race takes place and where is the Palazzo Público with its towering tower. I took some photos of its facade and its spectacular gargoyles.
The Piazza del Campo is very wide and transparent. It has a slope towards the center. People gather in the middle to see the race that runs through the highest part, all over the periphery.
Runners ride without saddles. Since some fall, the horse that previously completed the race wins, whether or not with a rider. In fact this year was like that.
It is very exciting to see the race of the last Palio. It took place on August 16, 2019. I sincerely recommend that you see it because it is very exciting, it only lasts three minutes. So you can understand the dimensions of this medieval festival. Here you have the link. Palio August 16, 2019
This flag and the photograph, hung both on the street of his neighborhood, remind us of Selva's last victory.
Also, in a passageway, there is a fun poster from the village of Asterix and Obelix that recreates this year's victory.
Palio means silk cloth. The "contrada" winner wins as a prize the flag or cloth made of silk for that particular edition: the so-called Palio.
In The Basilica of San Domenico are all the flags of the 18 "contradas" and from here we could see, at sunset, beautiful panoramic views of all of Siena.
Before arriving in San Domenico, of course, we visited the beautiful Cathedral of Siena, which is a wonderful wonder. I will dedicate another publication to her because it is a very special monument. I will show you many photos and you will see how beautiful. I wait for you.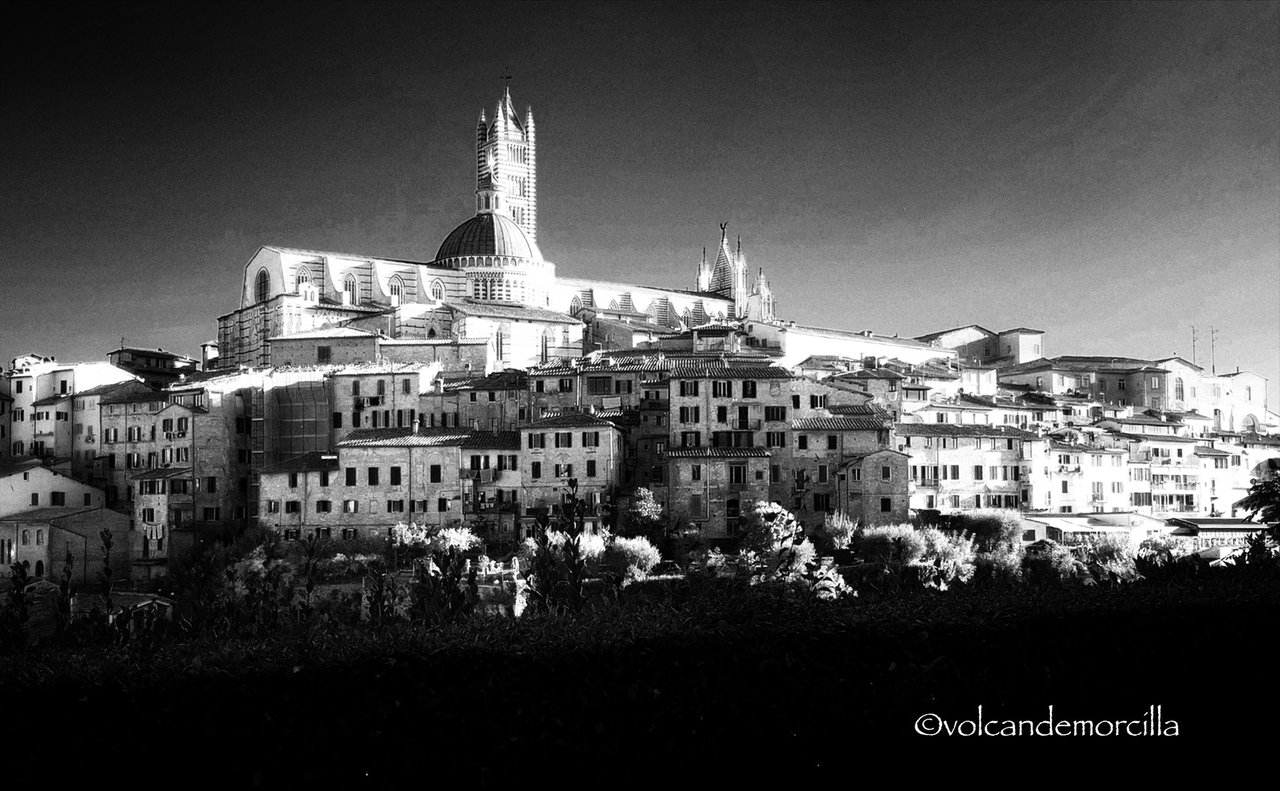 Bibliografía/Reference:
Historia de Siena: https://es.m.wikipedia.org/wiki/Siena
Palio de Siena: https://es.m.wikipedia.org/wiki/Palio_de_Siena

Cómo lo hago
Hice las fotografías con mi iPhone X. Para la edición utilicé la aplicación Snapseed y para la firma digital usé la App Watermark.
Para la recomposición utilicé la aplicación PhotoGrid.
Los dibujos los hice en el iPad con el programa Sketches.
For the photography I use my iPhone X. For edition I use the Snapseed application and for the digital signature the Watermark app.
For the recomposition I used the PhotoGrid application.
Everything I did on my mobile phone, I did not use the computer at all.
For the drawings, I use the Sketches program and paint them on the tablet.
Si quieres ver como lo hago, visualiza estos enlaces de publicaciones previas.
If you want to see how I do it, visualize these links from previous publications.

Las fotos son mías y originales. También, soy el autor del dibujo separador.
¡Espero tus comentarios!
The photos are originals and mine. Also, I am the author of the separator drawing.
I await your comments.
¡Buen Camino!