Lirios otoñales 🌺 Autumn lilies.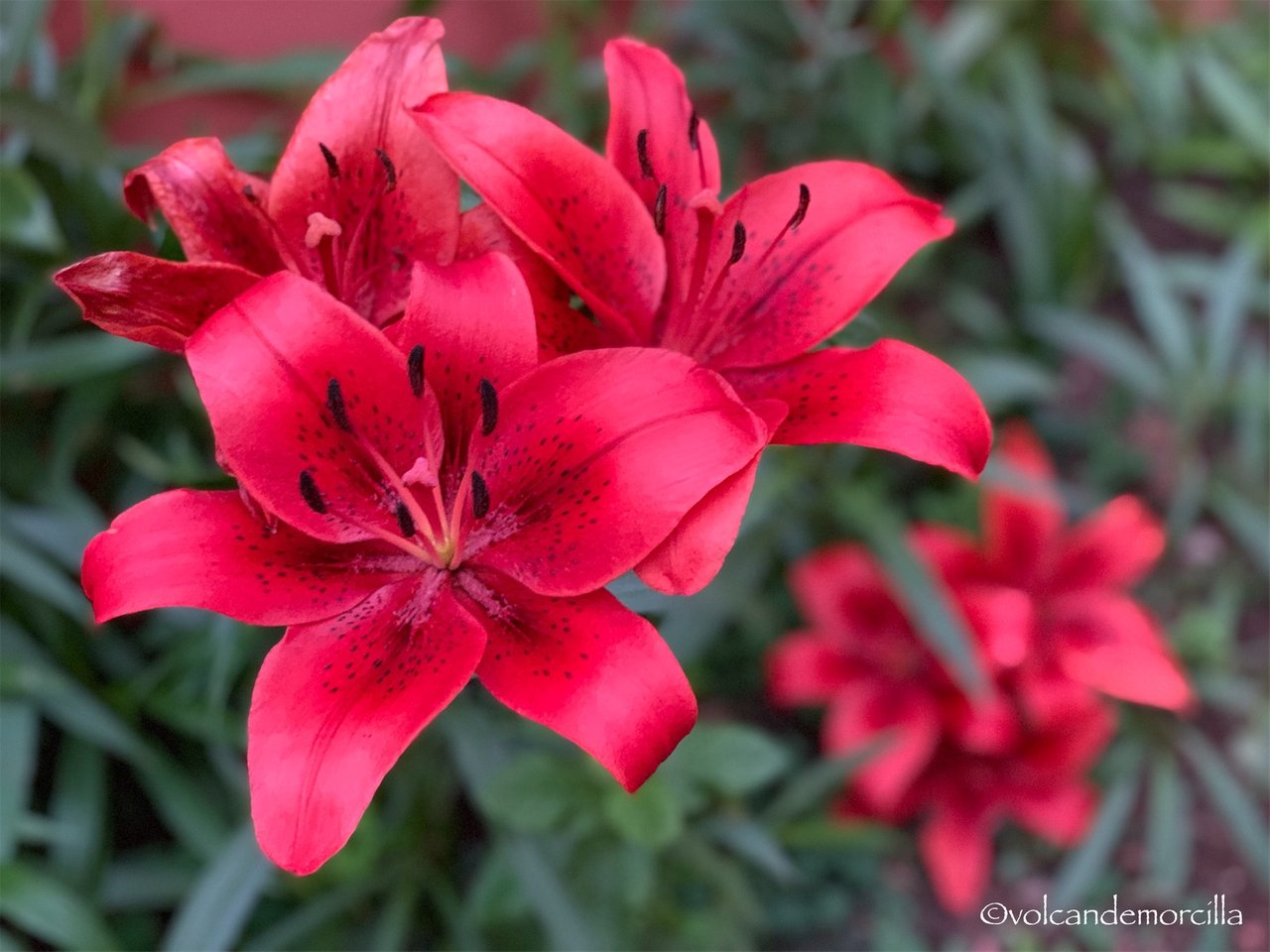 Casi terminada la época para plantar bulbos, encontré unos muy singulares en el mercado de La Laguna.
Como era julio, eran los últimos que quedaban y, aunque no era el momento para plantarlos, los enterré sin demasiada fe.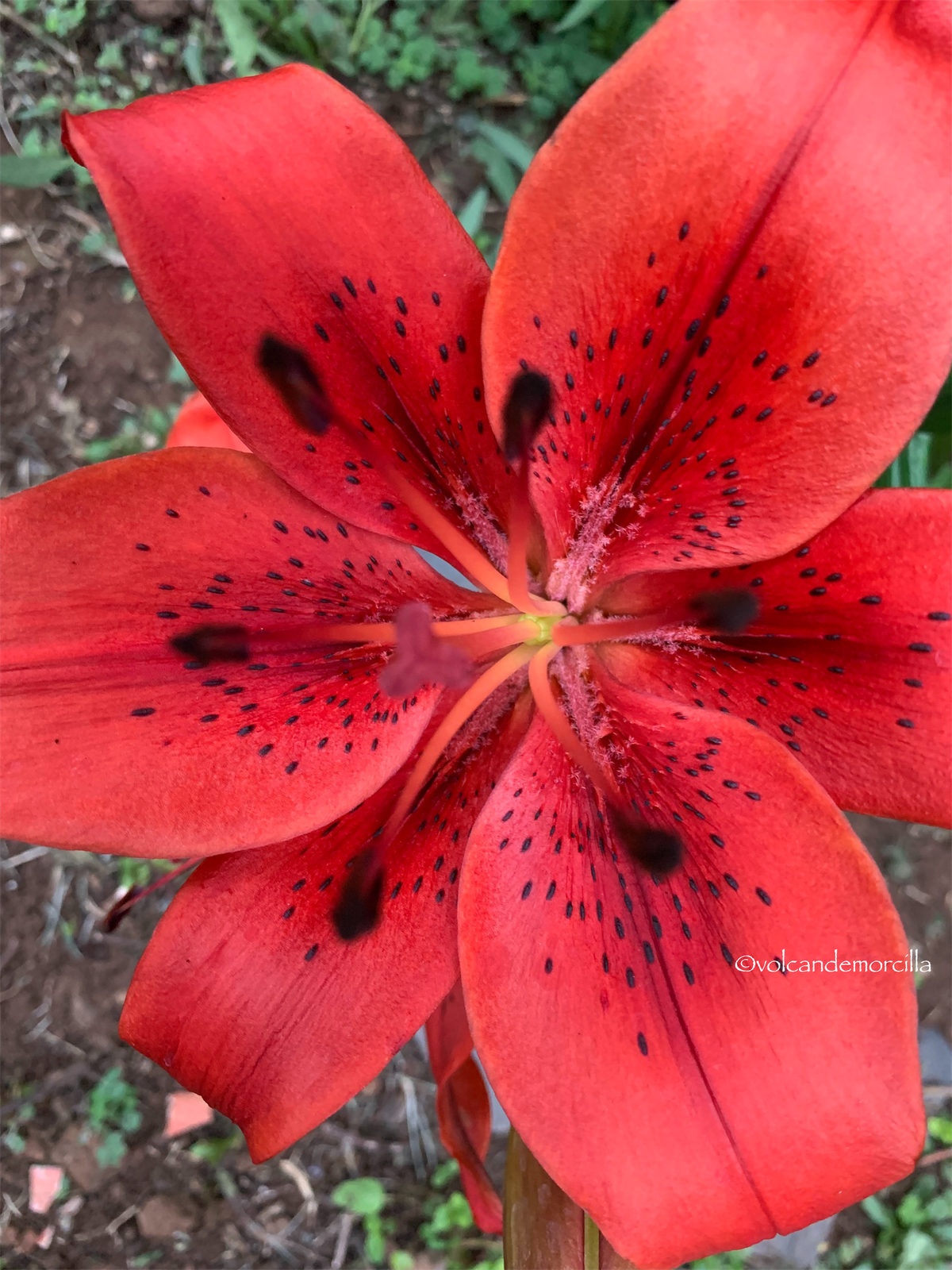 Como este verano ha sido bastante húmedo y no hemos tenido demasiado calor en las Islas Canarias, los lirios han ido creciendo y finalmente han brotado las flores.
Ya estamos en otoño y es muy raro que florezcan estas flores pero estamos en Canarias, el lugar de la eterna primavera.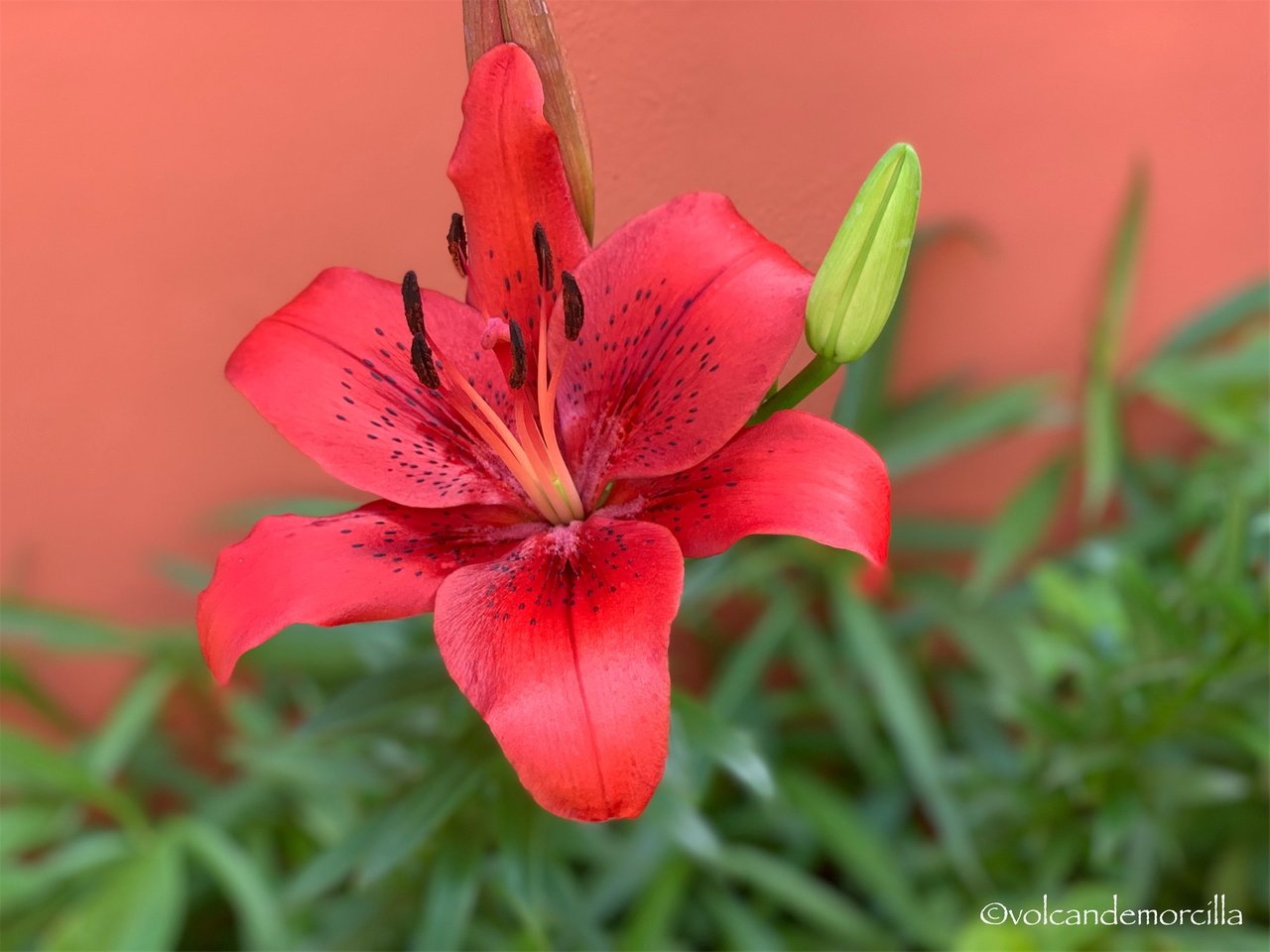 El color de estas flores es muy particular. Son de un color rojo oscuro y los pétalos tienen un punteado negro.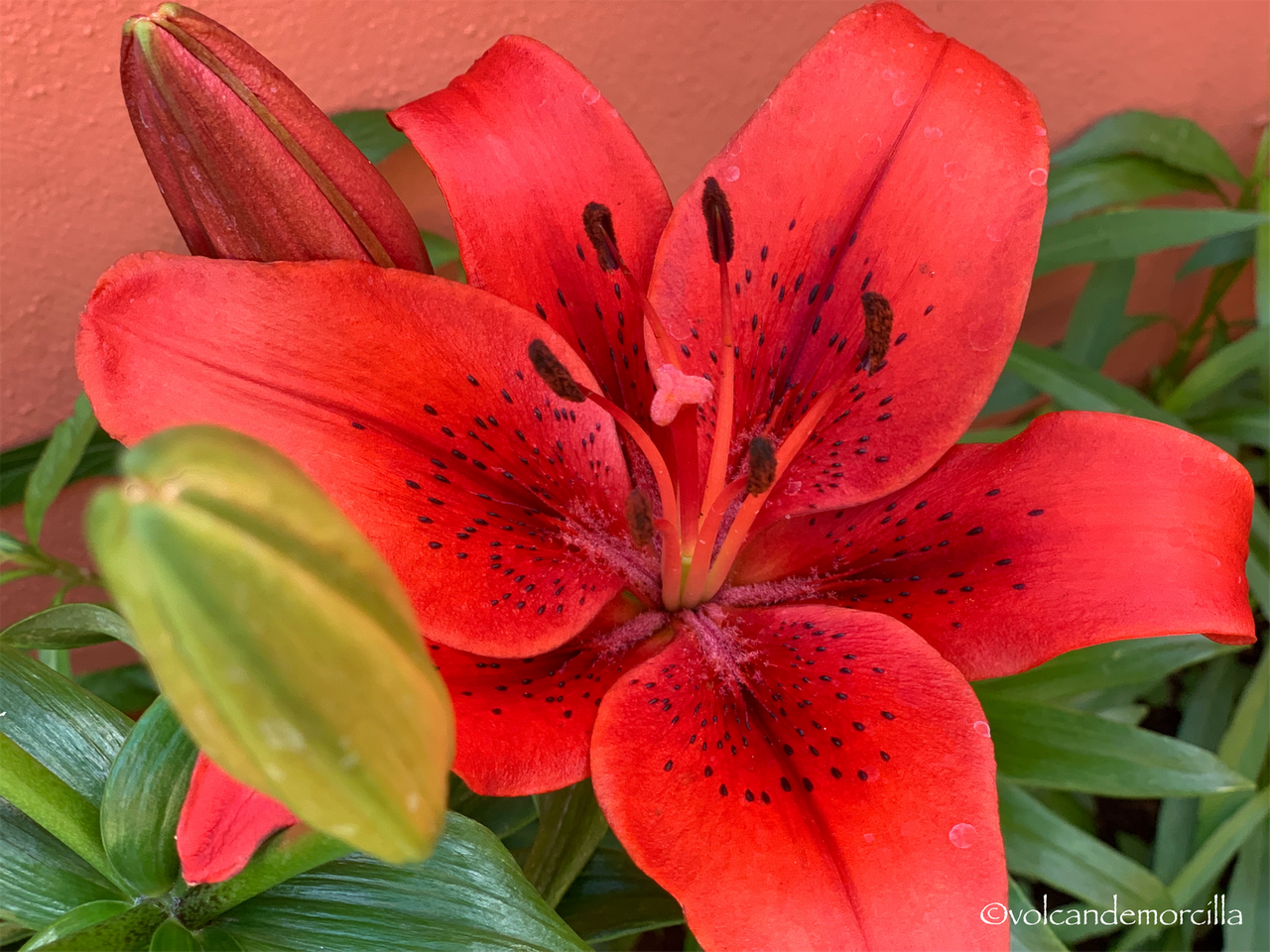 El lirio pertenece al género Iris que son plantas que tienen rizomas, es decir, bulbos muy grandes de los cuales se generan nuevas plantas.
El lirio florece un primavera y luego se secan y subsisten bajo tierra en otoño e invierno gracias a sus gruesos bulbos o rizomas.
En verano, cuando la planta está exuberante todavía, se puede fraccionar el rizoma y reproducir así la planta. Pero en mi caso he comprobado que el proceso se puede retrasar mucho más.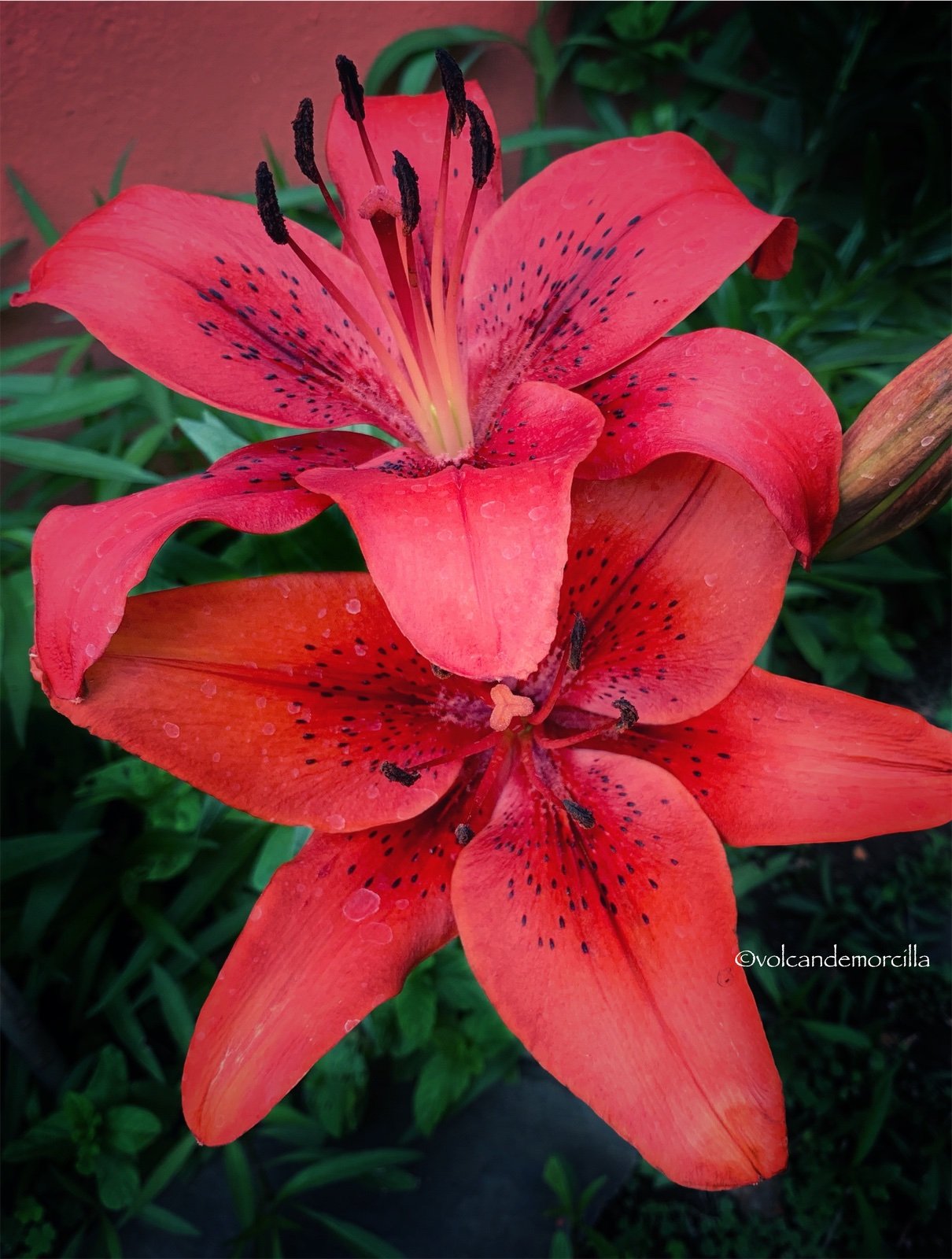 Las flores pueden ser de muchos colores y son muy apropiadas para adornar los jardines en cualquier parte del mundo. Del bulbo salen largos tallos hacia arriba, con una o varias flores, que puede ser simples o ramificados. El numero de pétalos de la flor puede variar. Pueden ser de 3 a 10.
Los lirios son flores muy apreciadas en multitud de culturas. Han sido cultivados desde la antigüedad. Pertenecen al género Iris y con este nombre es como los denominaron los antiguos egipcios. En la cultura japonesa tradicional los han representado habitualmente en sus iconografías. En el catolicismo, la flor de lirio representa a la Virgen María.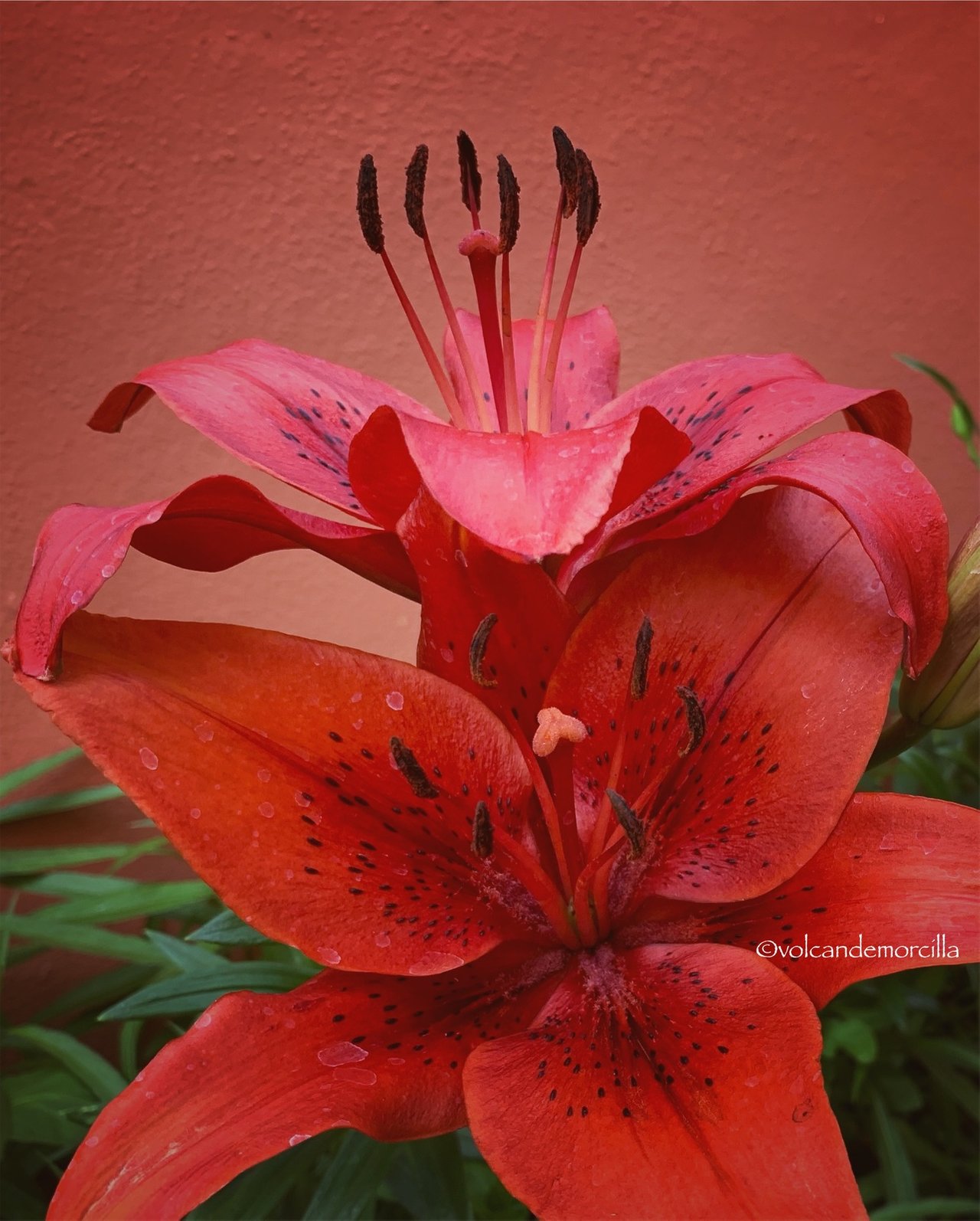 Es tan destacable la importancia del lirio que lo podemos encontrar iconografiado en multitud de escudos de casas reales europeas en forma de "Flor de Lis". De hecho, la flor de lis es desde la edad media un símbolo de la realeza francesa.
En resumen, el lirio es una flor mágica y trascendente. Es una flor con un alto significado simbólico.
El lirio es tan mágico y sorprendente como para florecer en otoño aquellos que planté. Como siempre, he aprovechado para hacerles fotos y luego editarlas en el teléfono móvil. Aquí os muestro el resultado. Espero que os gusten.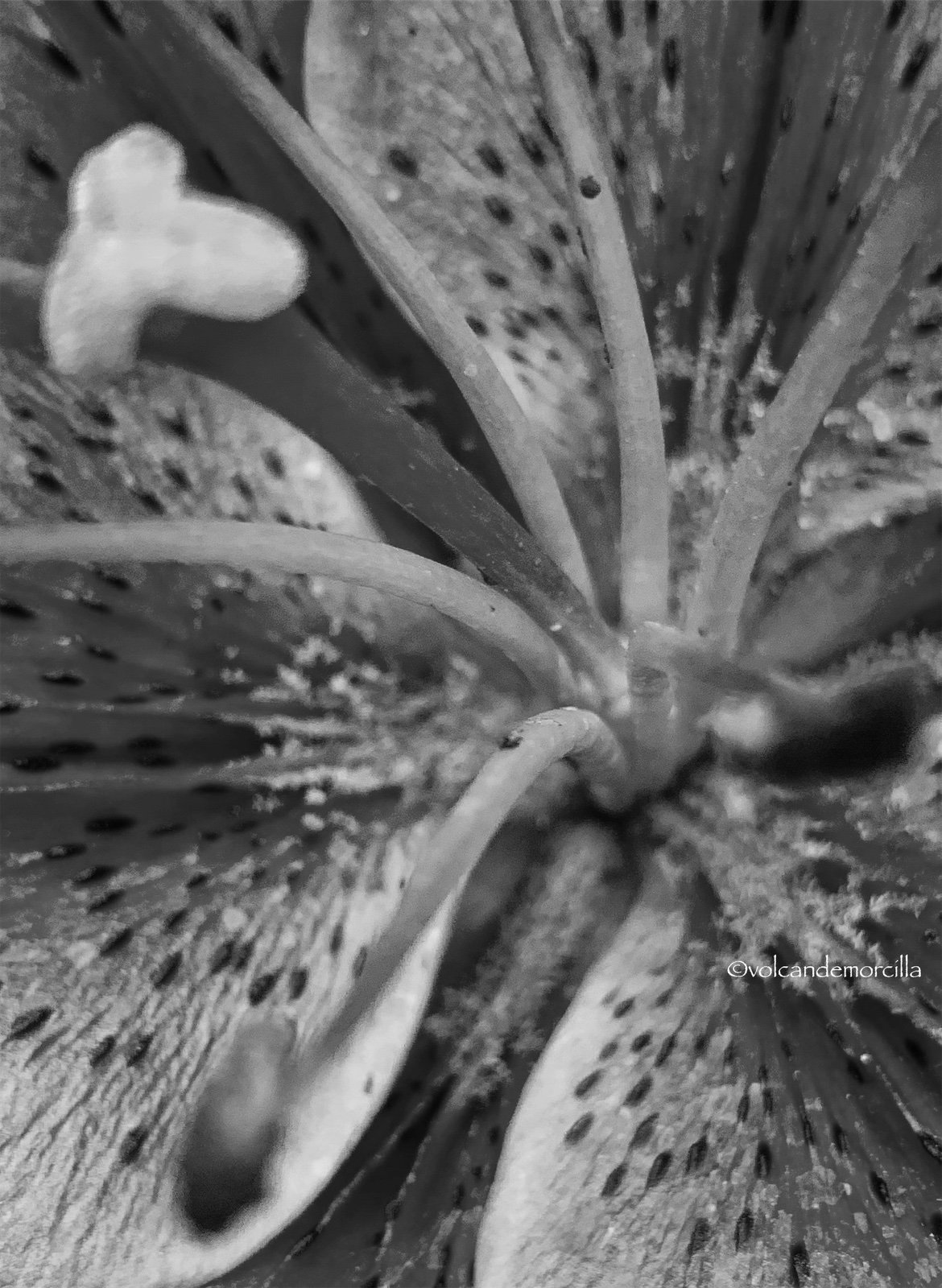 Autumn lilies
Almost almost finished the time to plant bulbs I found some very unique in the market of La Laguna.
As it was July, they were the last ones left and, although it was not the time to plant them, I buried them without much faith in their leaving.
As this summer has been quite humid and we have not had too much warm in the Canary Islands, the lilies have been growing and finally the flowers have sprouted.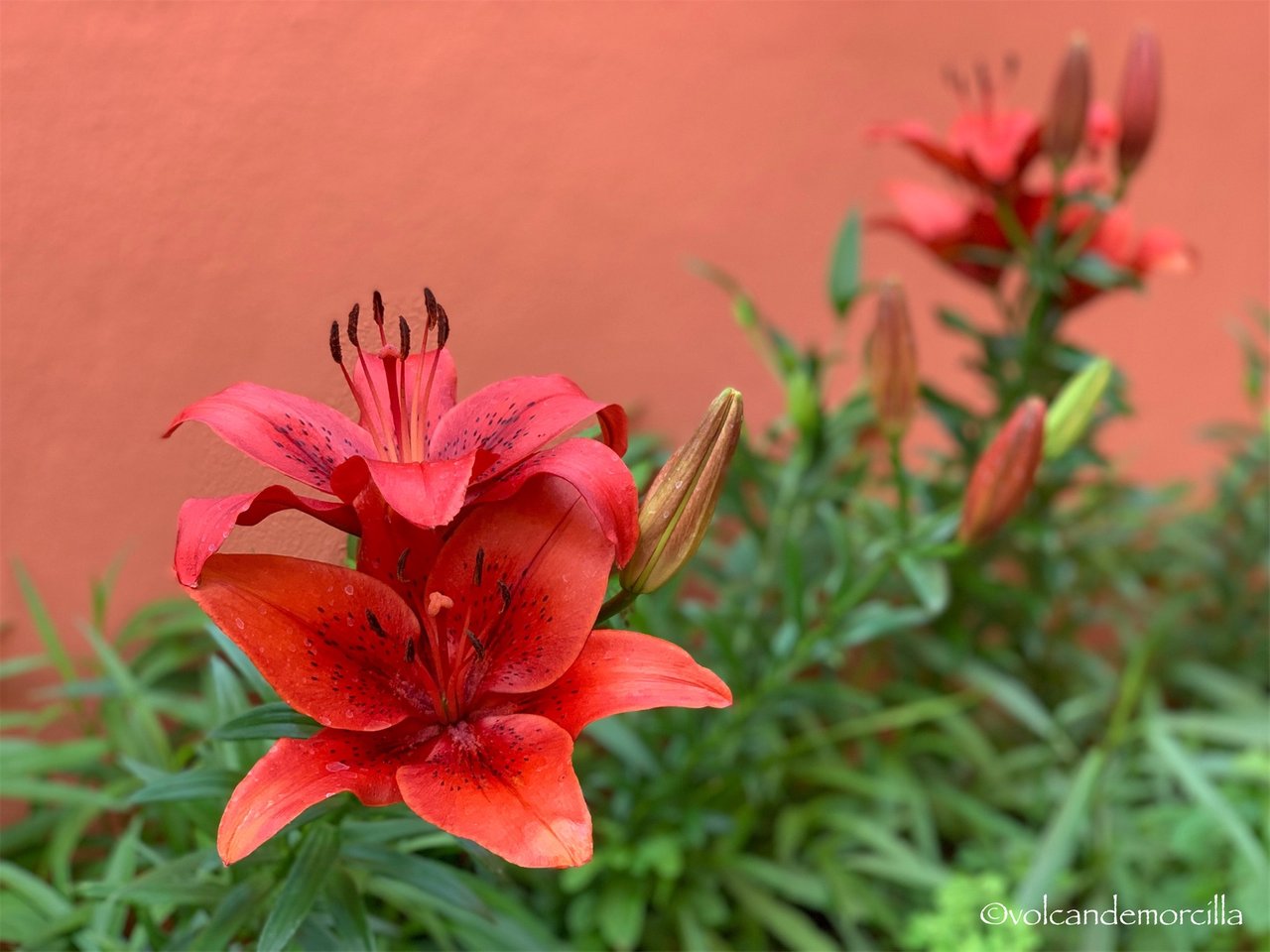 We are already in autumn and it is very rare that these flowers bloom but we are in the Canary Islands, the place of eternal spring.
The color of these flowers is very particular. They are a dark red color and the petals have a black dotted.
The lily is belongs to the genus Iris which are plants that have rhizomes, that is, very large bulbs from which new plants are generated.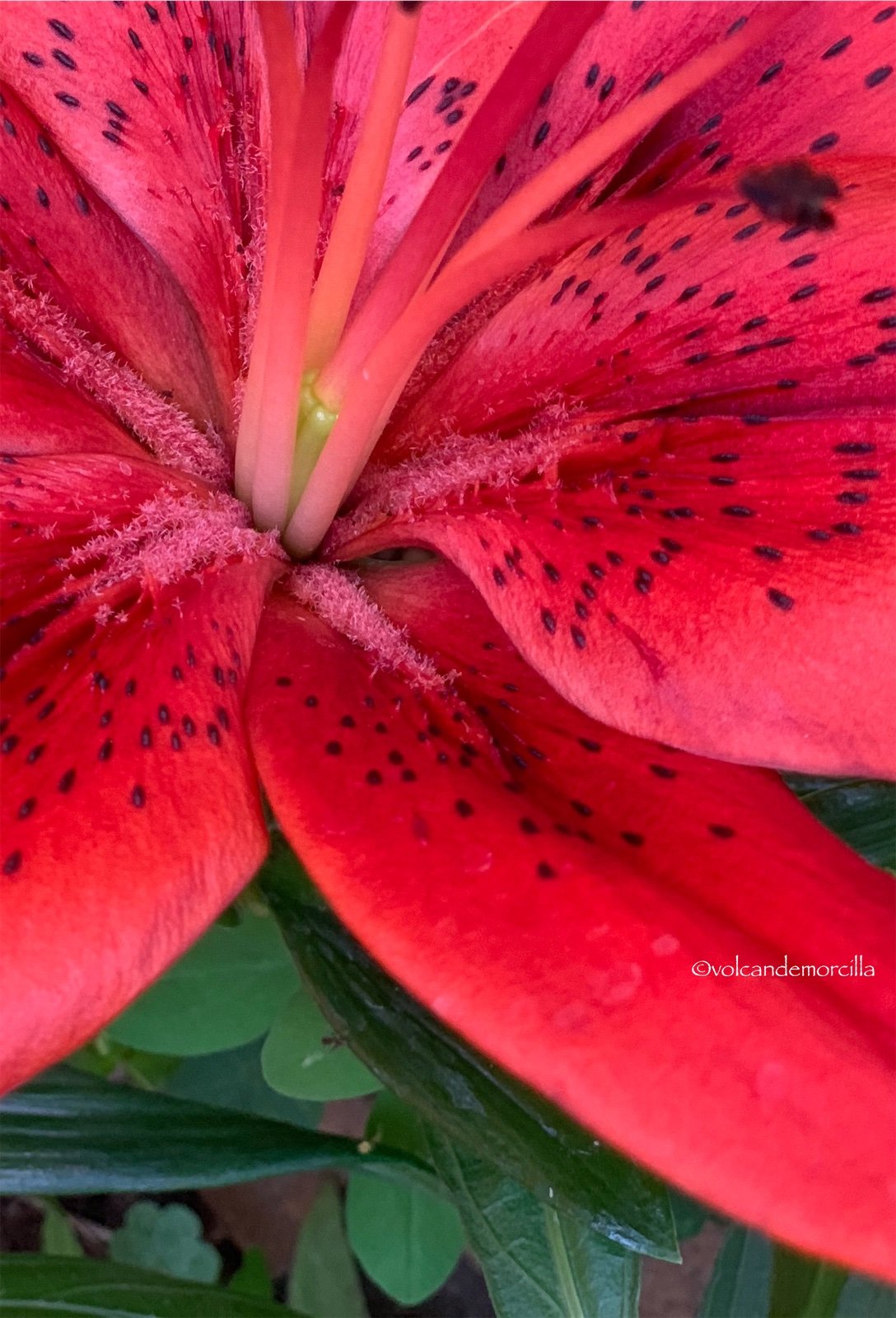 The lily blooms a spring and then, some species dry and subsist underground in autumn and winter thanks to its thick bulbs or rhizomes.
In summer, when the plant is still lush, the rhizome can be divided and thus reproduce the plant. But in my case it has been proven that the process can be delayed much more.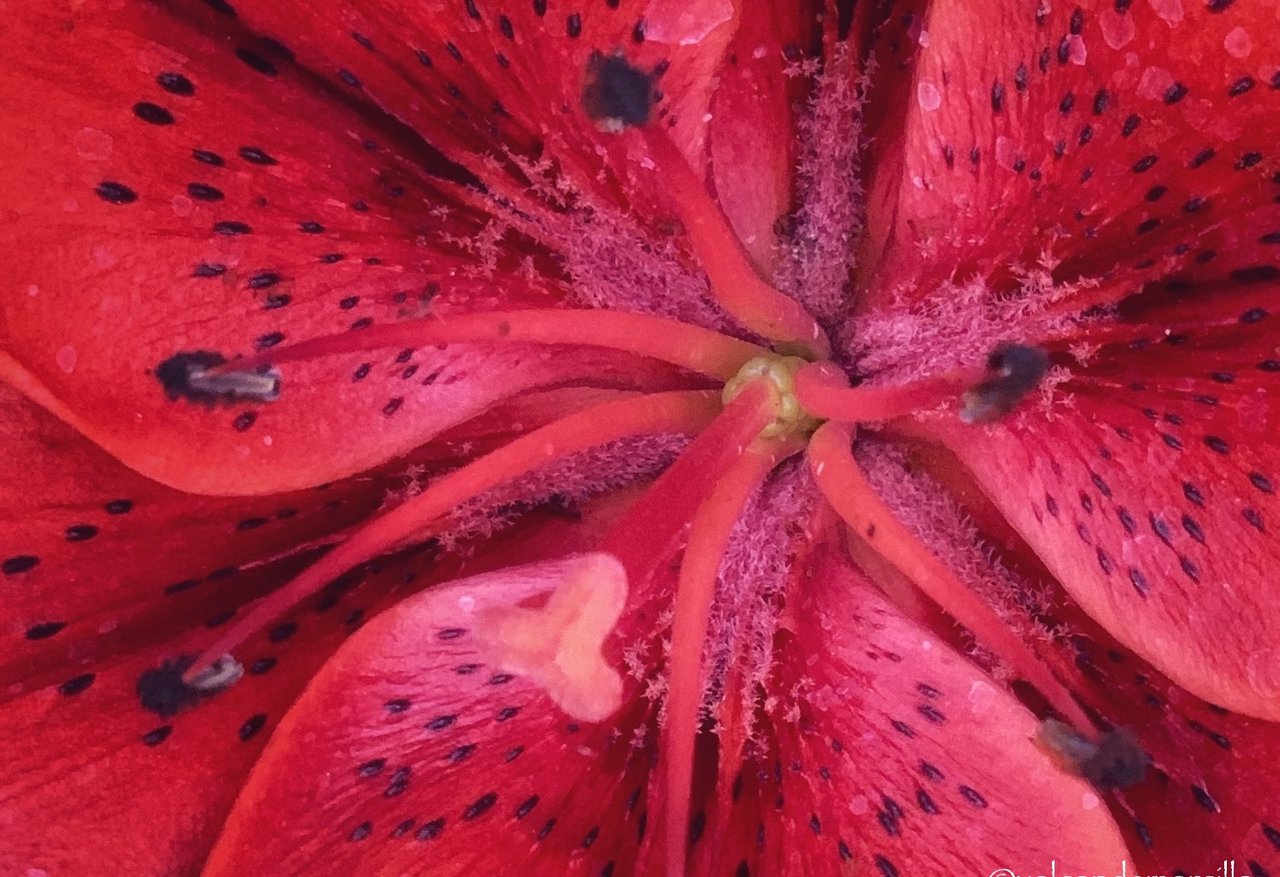 The flowers can be of many colors and are very appropriate to decorate the gardens anywhere in the world. Long stems emerge from the bulb, with one or more flowers, which can be simple or branched. The number of flower petals may vary. They can be from 3 to 10.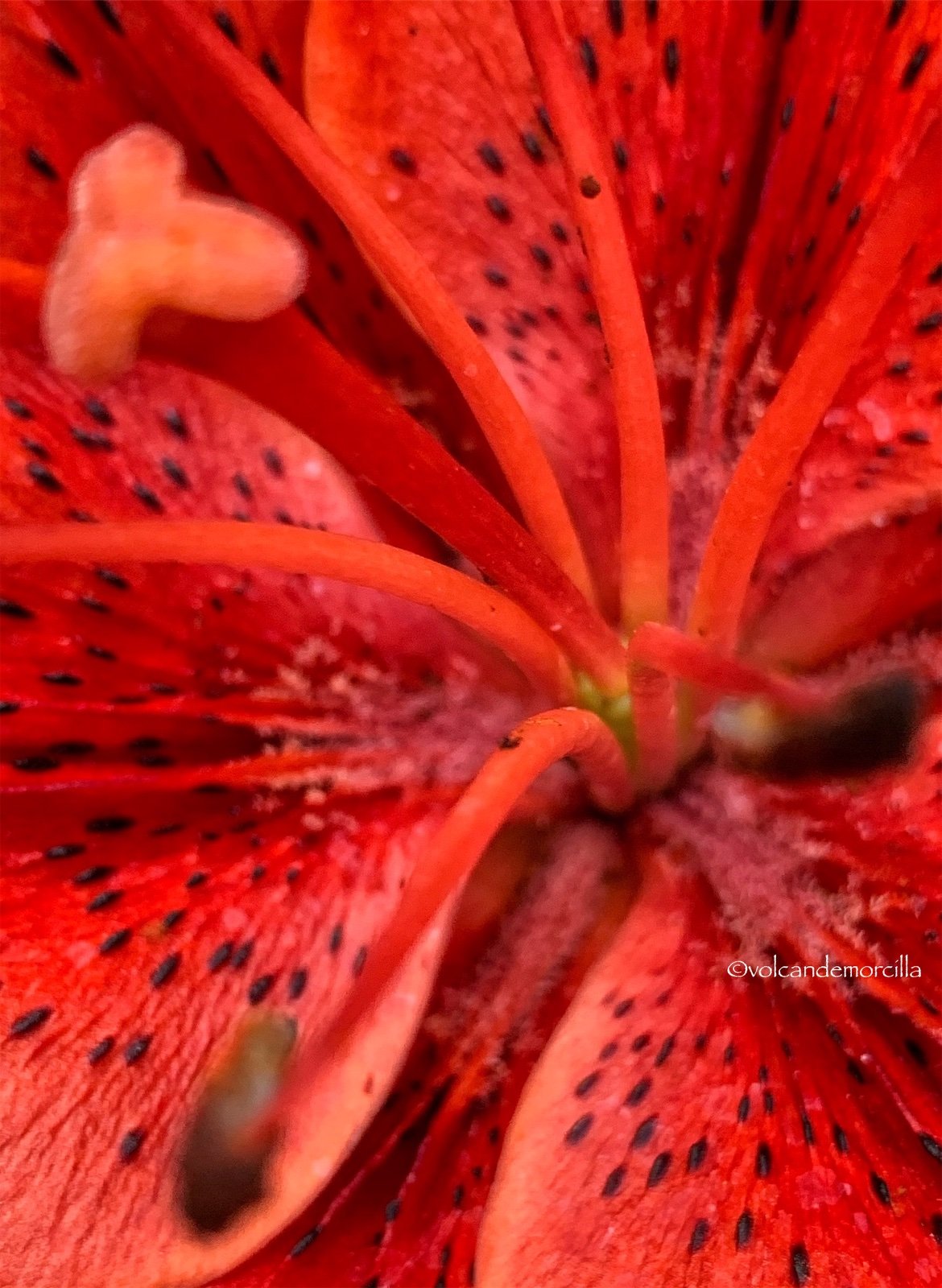 Lilies are highly prized flowers in many cultures. They have been cultivated since ancient times. They belong to the genus Iris and with this name is what the ancient Egyptians called them. In traditional Japanese culture they have been regularly represented in their iconographies. In Catholicism, the lily flower represents the Virgin Mary.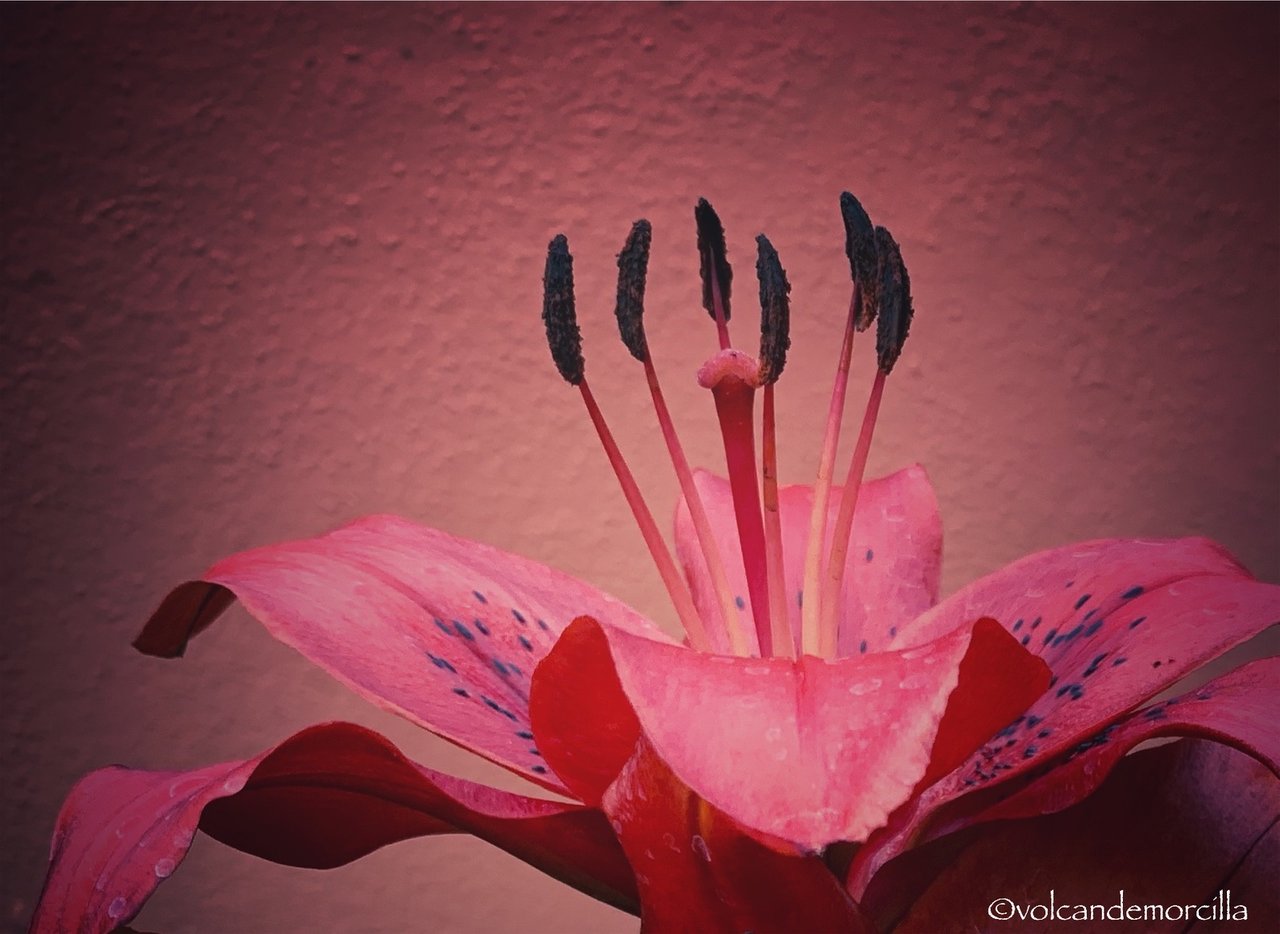 The importance of the lily is so remarkable that we can find it iconographed in a multitude of European royal house shields in the form of "Flor de Lis". In fact, the fleur de lis has been a symbol of French royalty since the middle ages.
In short, the lily is a magical and transcendent flower. It is a flower with a high symbolic meaning.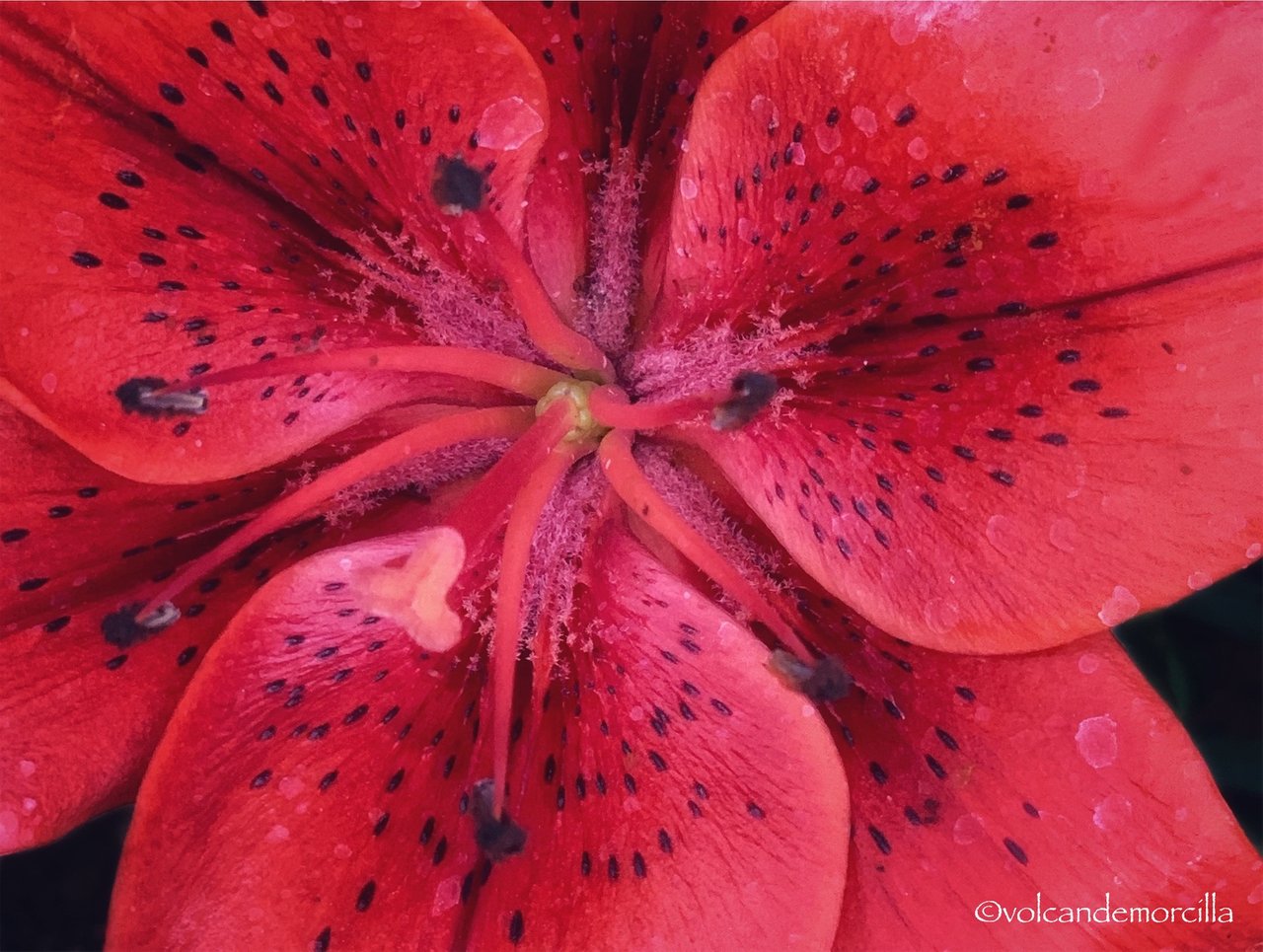 As magical and surprising as those that I planted have flowered in autumn. As always, I took the opportunity to take pictures and then edit them on the mobile phone. Here I show you the result. I hope you like them.
Bibliografía/Reference: https://es.m.wikipedia.org/wiki/Lilium

Cómo lo hago
Hice las fotografías con mi iPhone X. Para la edición utilicé la aplicación Snapseed y para la firma digital usé la App Watermark.
Los dibujos los hice en el iPad con el programa Sketches.
For the photography I use my iPhone X. For edition I use the Snapseed application and for the digital signature the Watermark app.
Everything I did on my mobile phone, I did not use the computer at all.
For the drawings, I use the Sketches program and paint them on the tablet.
Si quieres ver como lo hago, visualiza estos tres enlaces de publicaciones previas.
If you want to see how I do it, visualize these three links from previous publications.

Las fotos son mías y originales. También, soy el autor del dibujo separador.
¡Espero tus comentarios!
The photos are originals and mine. Also, I am the author of the separator drawing.
I await your comments.
Buen Camino!