La escalera del Museo Naval. Curiosidades de Madrid #10./ The stairs of the Naval Museum.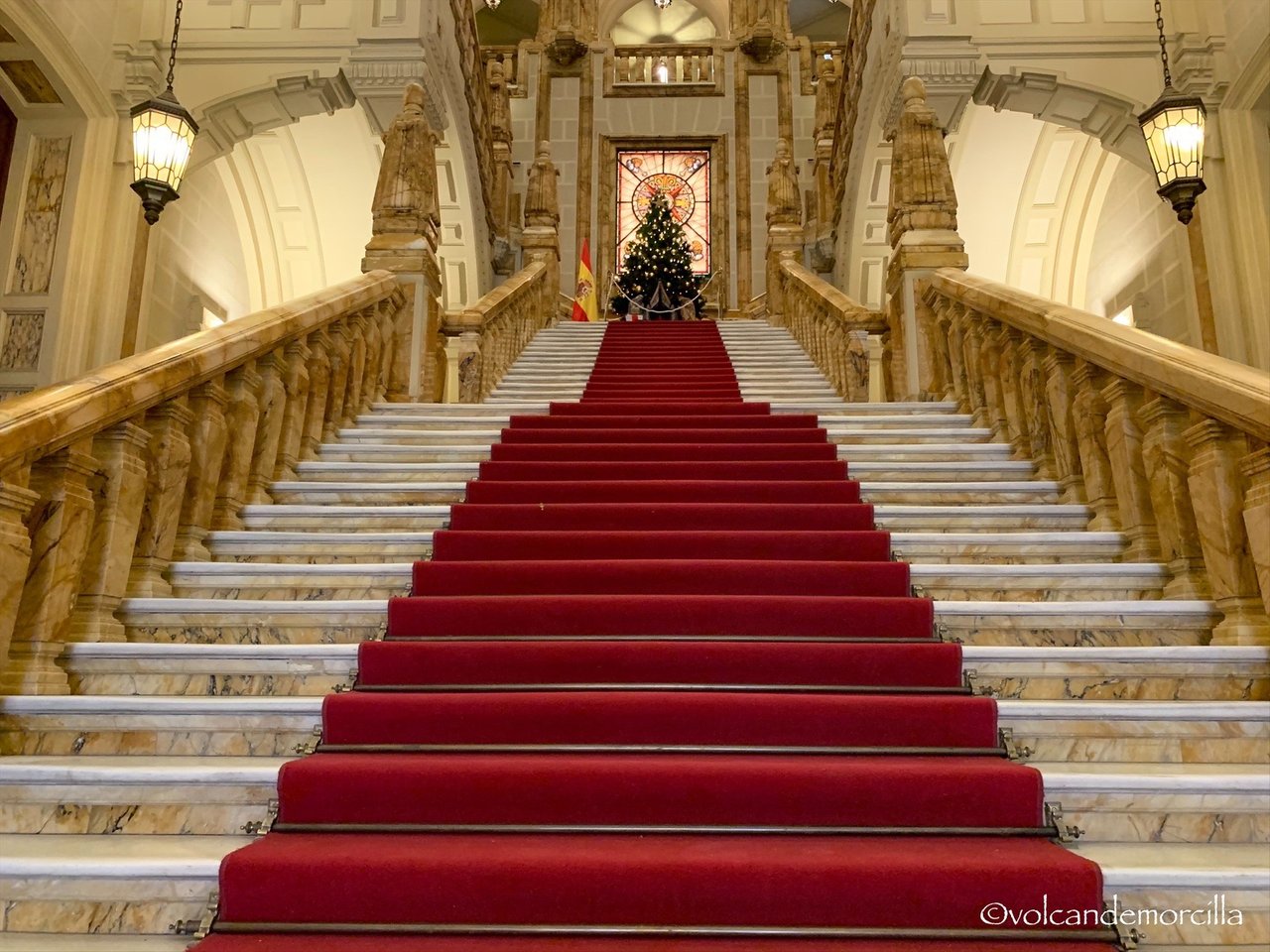 En 1915, el rey Alfonso XIII ordenó la construcción de una nueva sede para el Ministerio de Marina. Del proyecto se encargaron los arquitectos Francisco Javier Luque y José Espelius. Fue inaugurado el 16 de julio de 1928, el día de la fiesta dela Virgen del Carmen.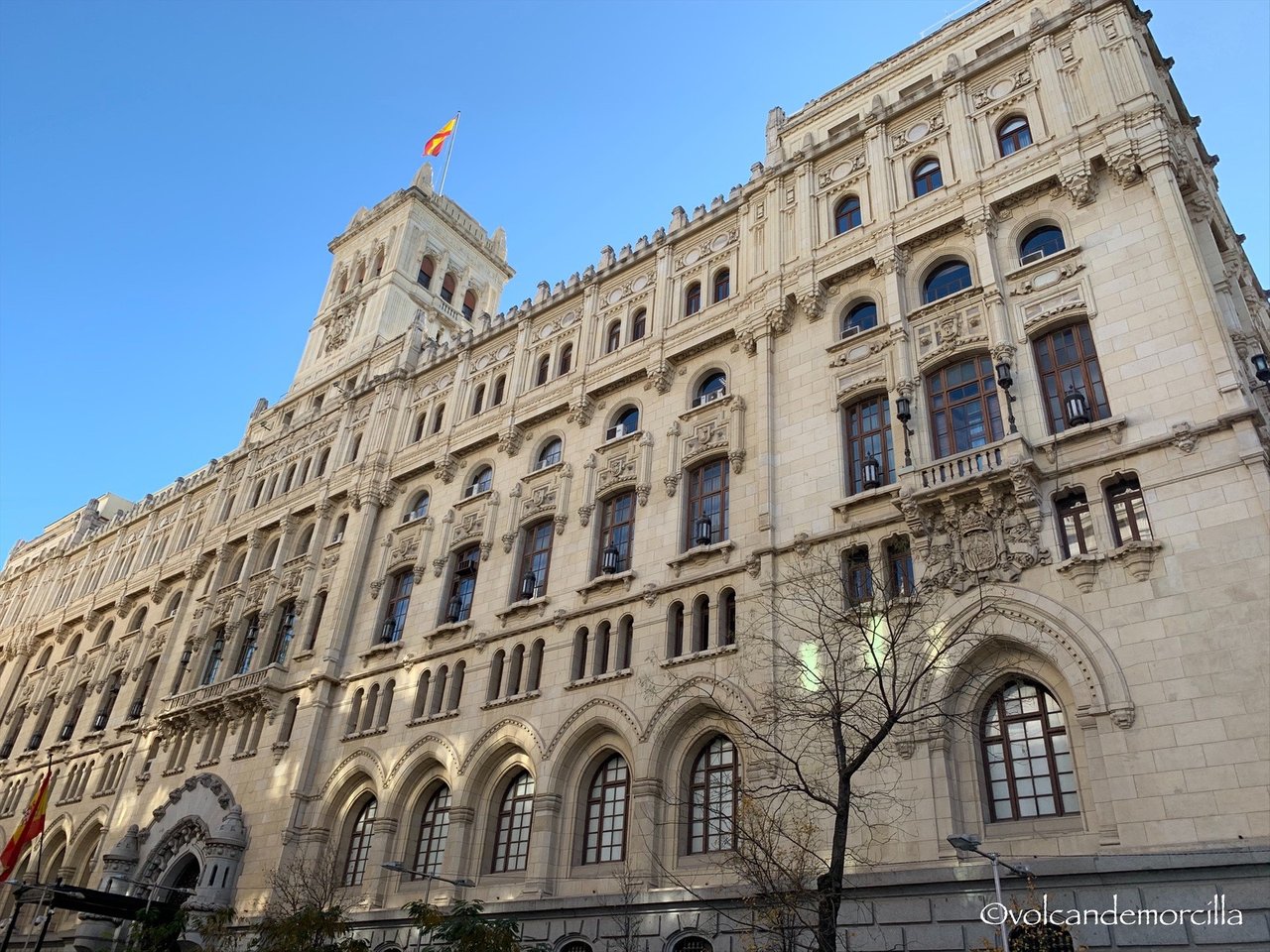 El edificio que alberga el Ministerio de Defensa, la Armada española y el Museo Naval, es de estilo ecléctico en consonancia con los gustos imperantes en el primer cuarto de siglo XX. Así, la fachada combina elementos clásicos y góticos, con una combinación de elementos decorativos de carácter naval y escudos regionales.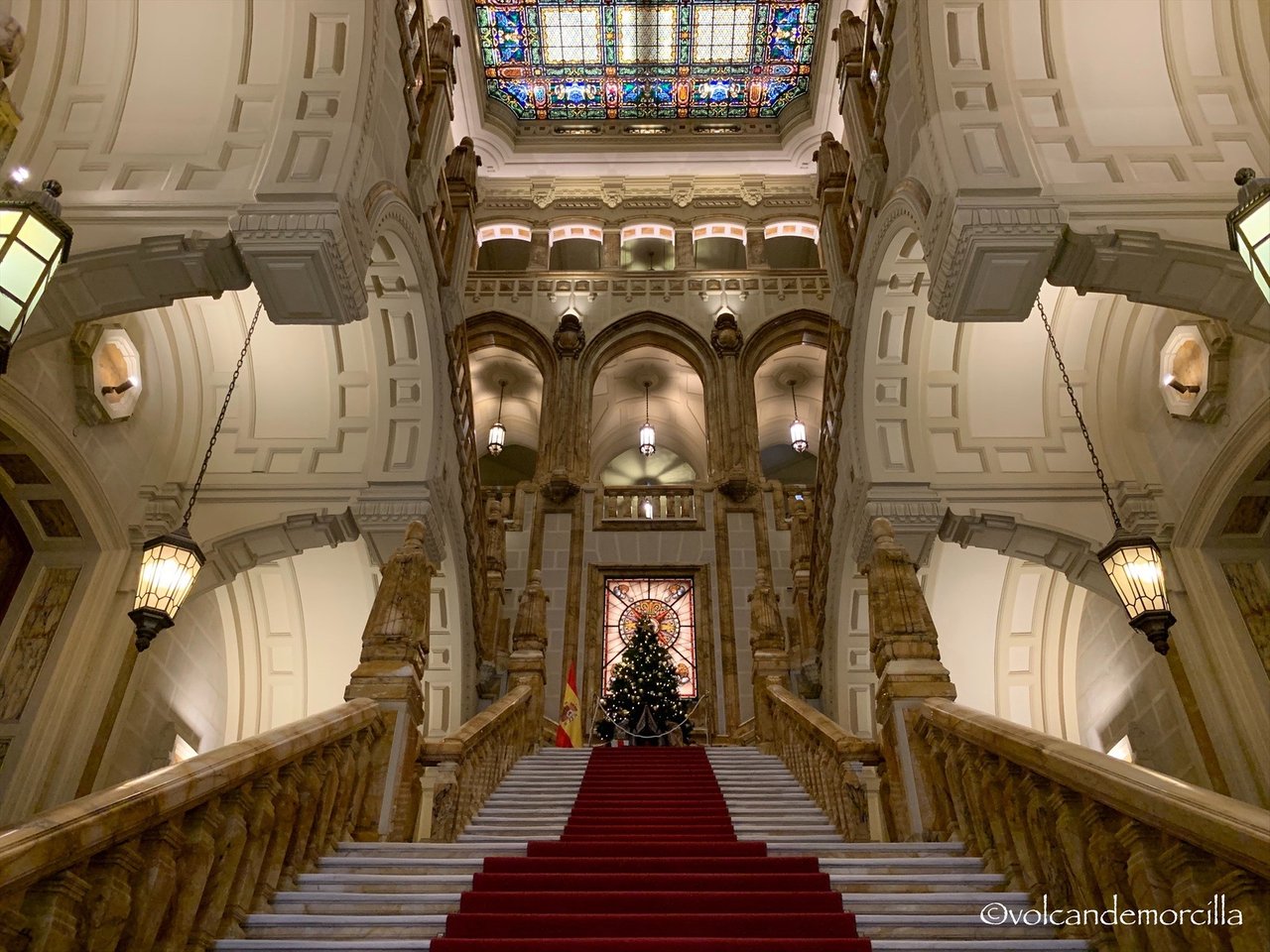 En el interior, existe uno de los elementos estructurales más interesantes. La escalera es una curiosidad de Madrid. Es monumental e imponente y se encuentra justo a la entrada que hay por la calle Montalban. Justo al entrar, me impresionó su longitud y elevación. Se construyó con un estilo imperial y con mármol de Carrara.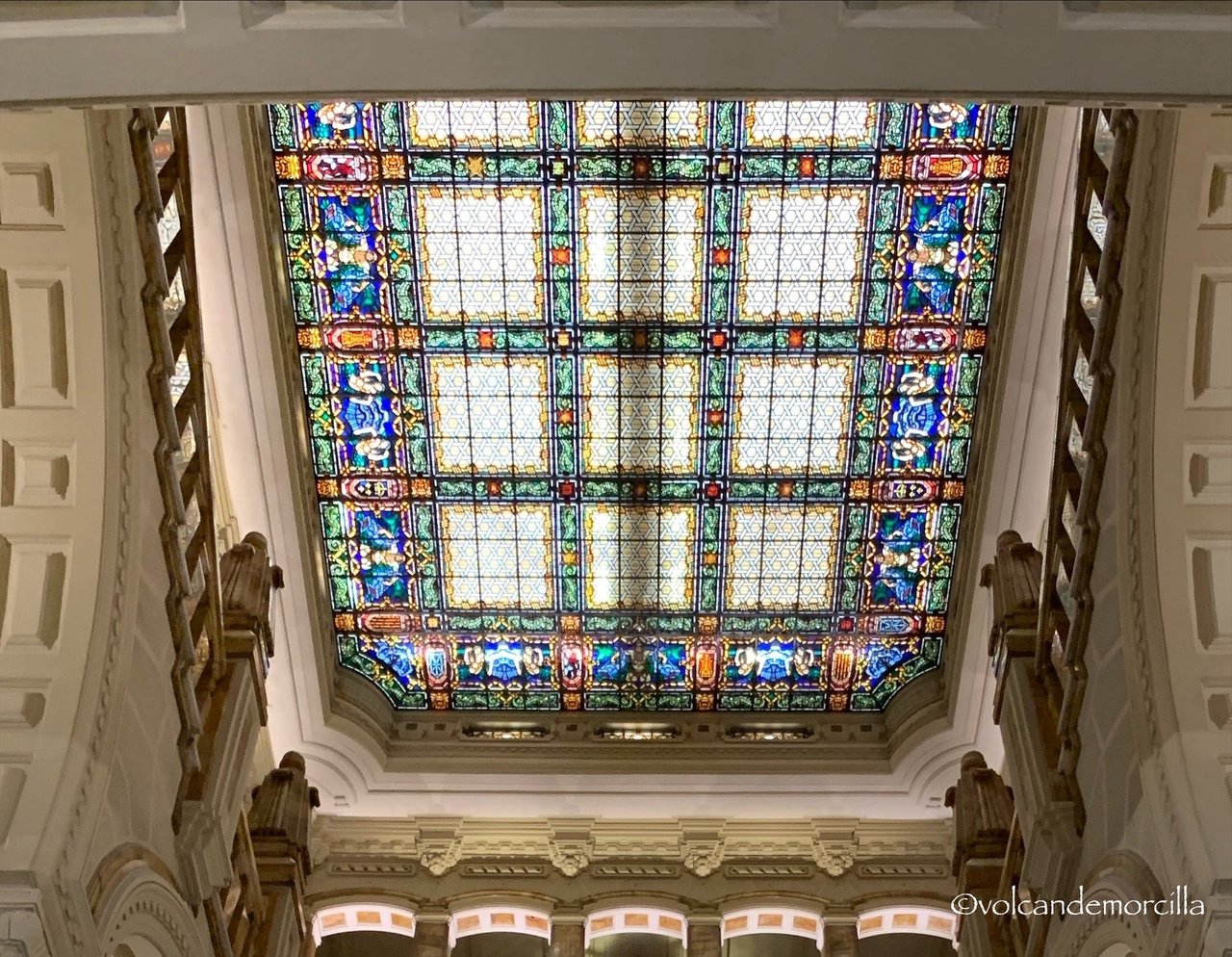 Sobre ella, hay unas vidrieras que cubren el techo y aportan mucha luz cenital. Las hizo la empresa Maumejean S.A., que se estableció en España a finales del siglo XIX.
Las cristaleras están decoradas con diferentes motivos navales y marinos, así como escudos regionales. Destaca, por ejemplo, Neptuno que se encuentra acompañado por una pareja de sirenas y unos caballitos de mar.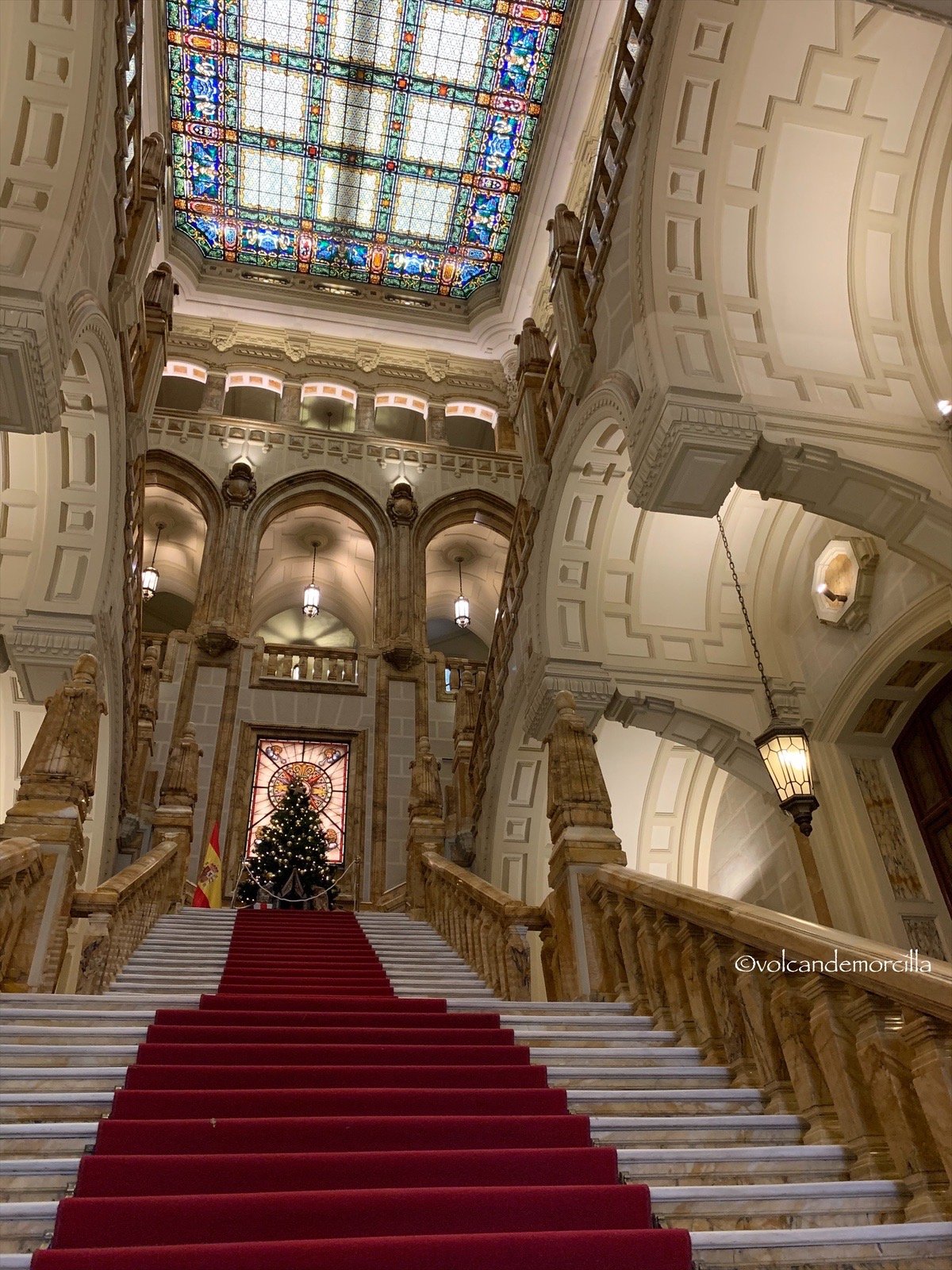 La patrona de la Marina española es la Virgen del Carmen. En las escaleras monumentales del museo Naval se celebra todos los años una misa. Es un lugar muy especial para tal evento, pues los actos religiosos en honor de la Virgen del Carmen se celebran con los asistentes de pie y en ascenso, ya que el altar y la virgen están en lo alto. Aquellos que han tenido la ocasión de encontrarse en esta celebración dicen que resulta una ceremonia muy emotiva.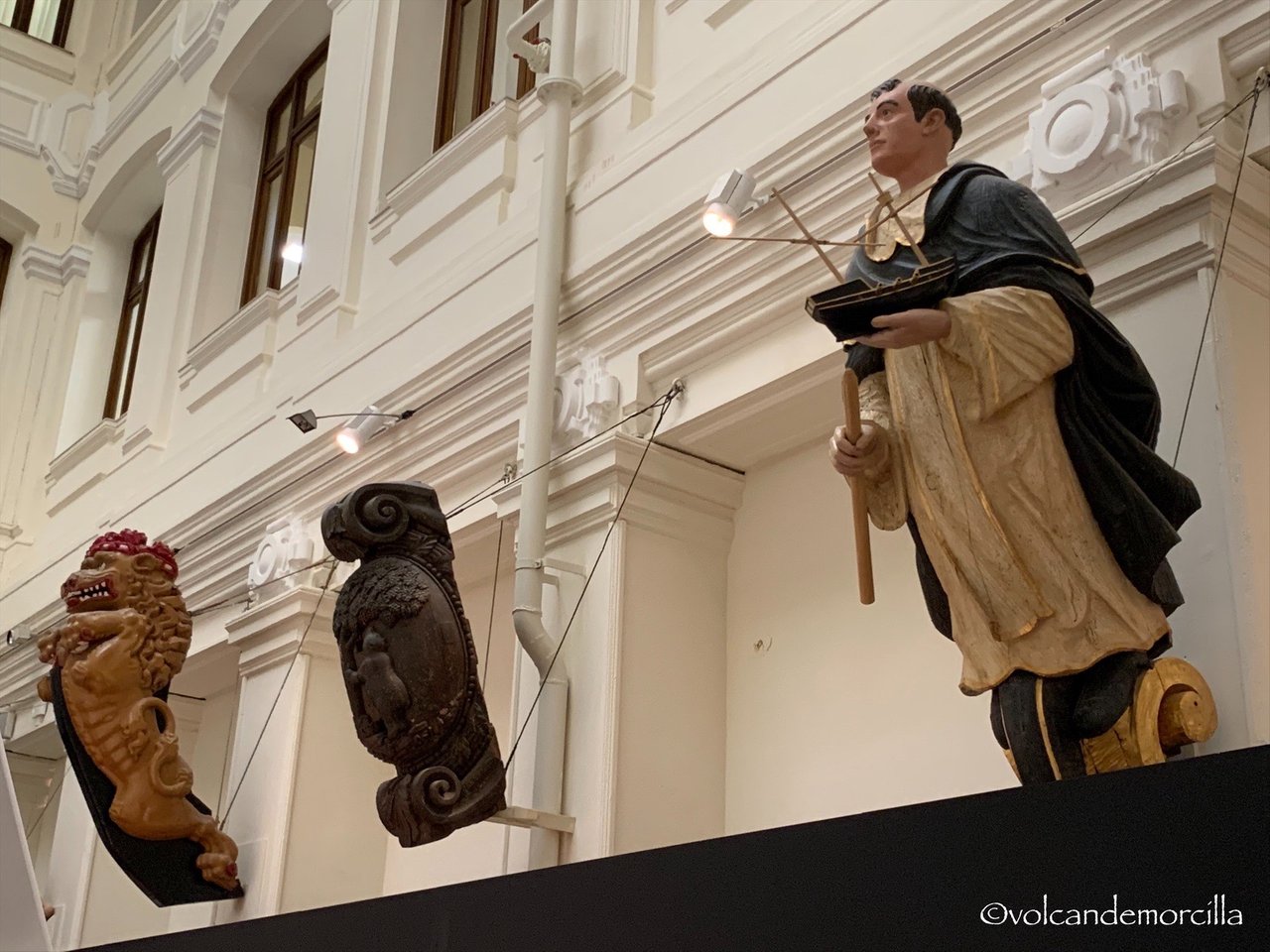 En la parte baja, en uno de los patios que actualmente están restaurando, hay una serie de mascarones de proa colgados y aquí os los muestro. Me resultaron muy interesantes.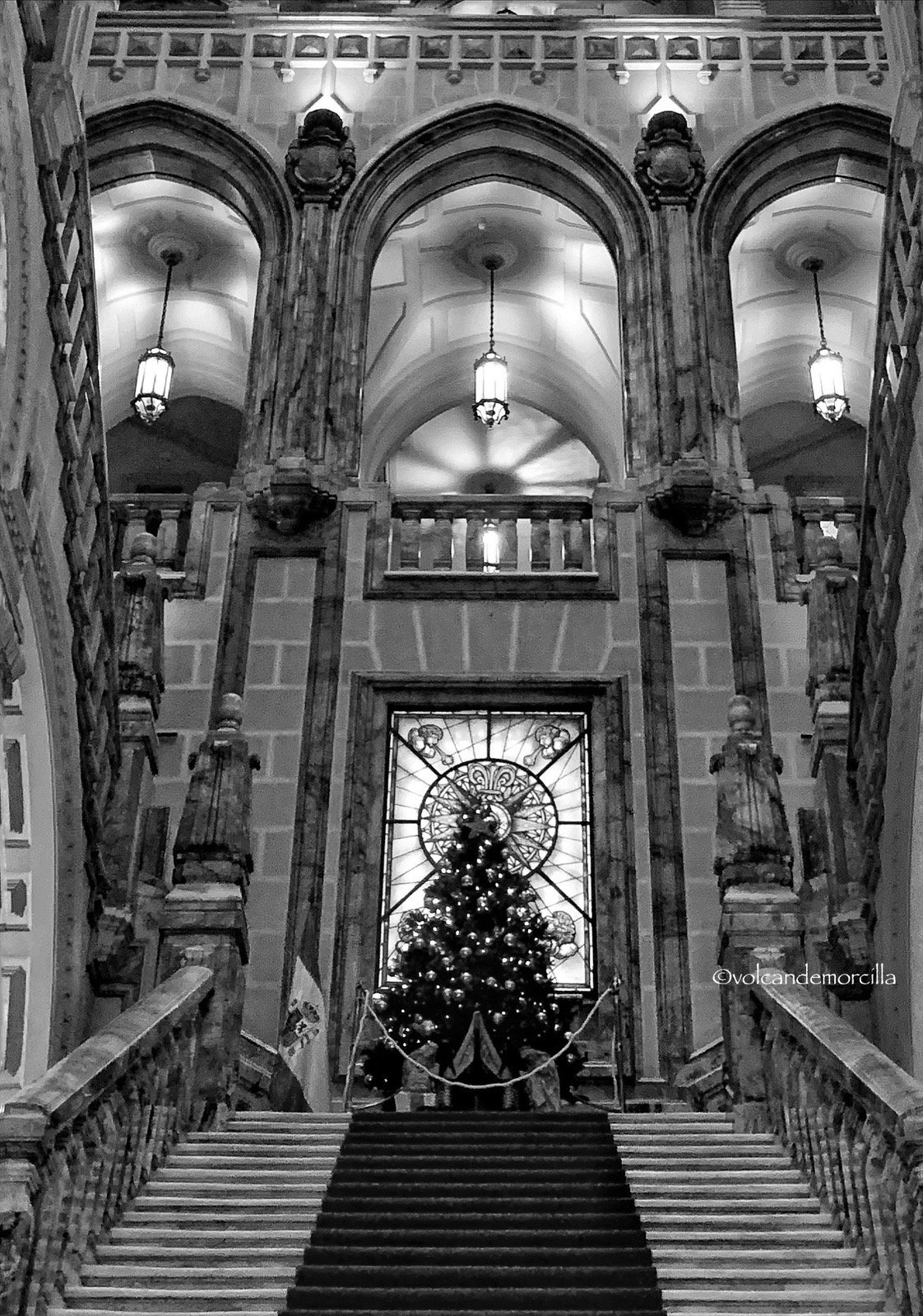 The stairs of the Naval museum.
In 1915, King Alfonso XIII ordered the construction of a new headquarters for the Ministry of the Navy. The project was commissioned by architects Francisco Javier Luque and José Espelius. It was inaugurated on July 16, 1928, the day of the feast of the Virgen del Carmen.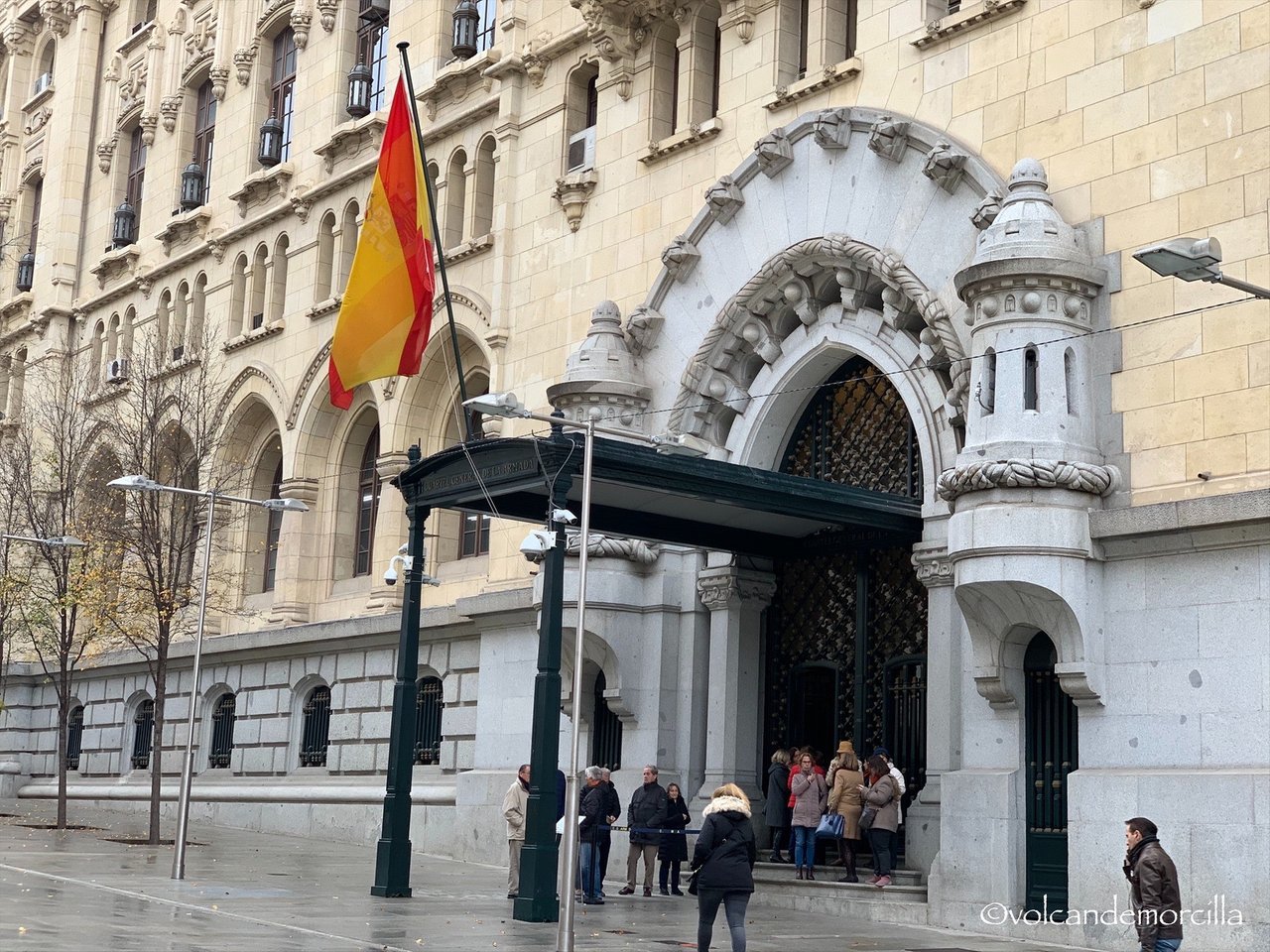 The building that houses the Ministry of Defense, the Spanish Navy and the Naval Museum, is eclectic in line with the prevailing tastes in the first quarter of the twentieth century. Thus, the facade combines classic and Gothic elements, with a
combination of decorative elements of naval character and regional shields.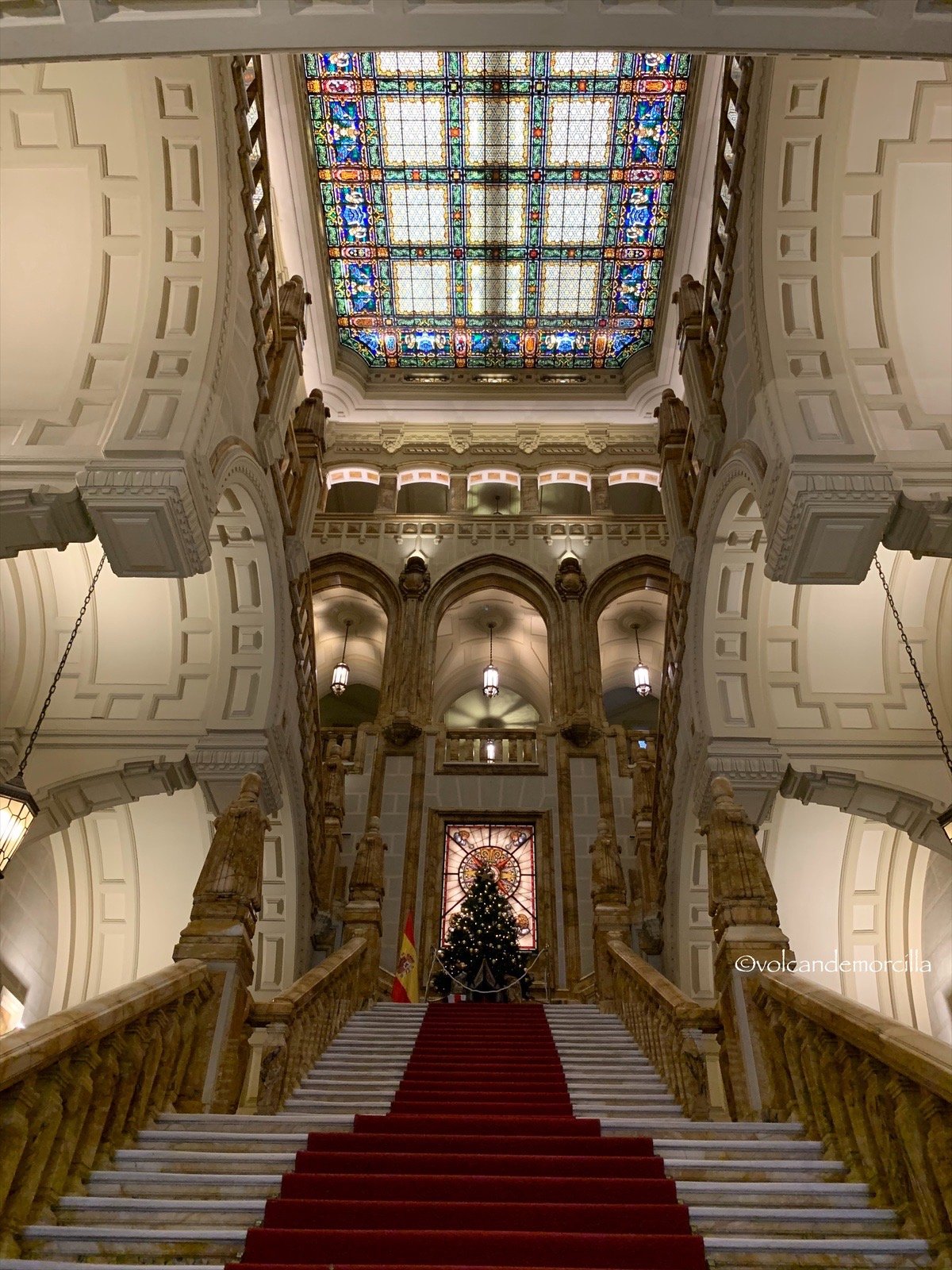 Inside, there is one of the most interesting structural elements. The staircase is a curiosity of Madrid. It is monumental and imposing and is located right at the entrance of Montalban street. Impress its length and elevation. It was built in an imperial style and with Carrara marble.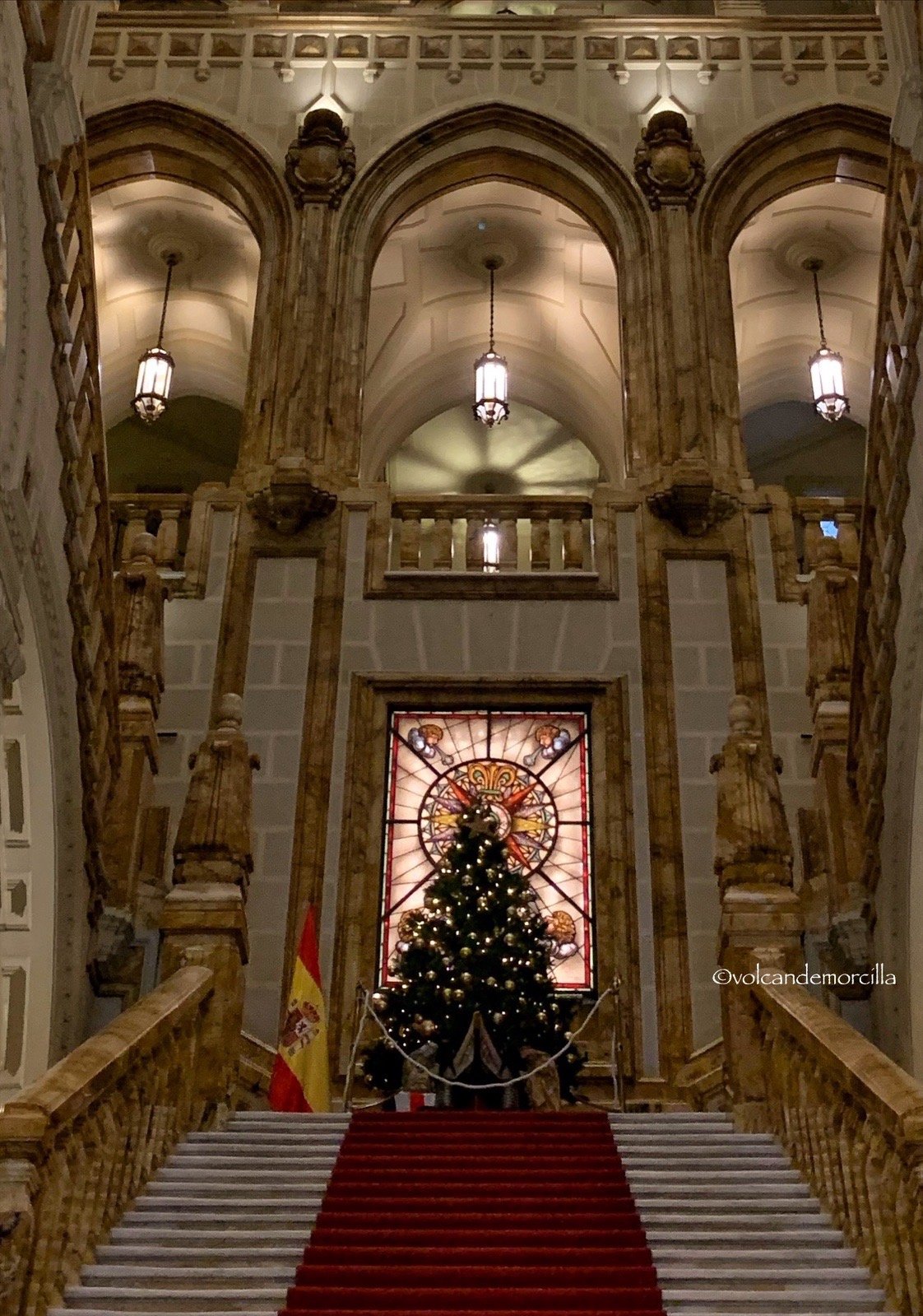 Above it there are stained glass windows that cover the roof and provide a lot of overhead light. They were made by the company Maumejean S.A., which was established in Spain at the end of the 19th century.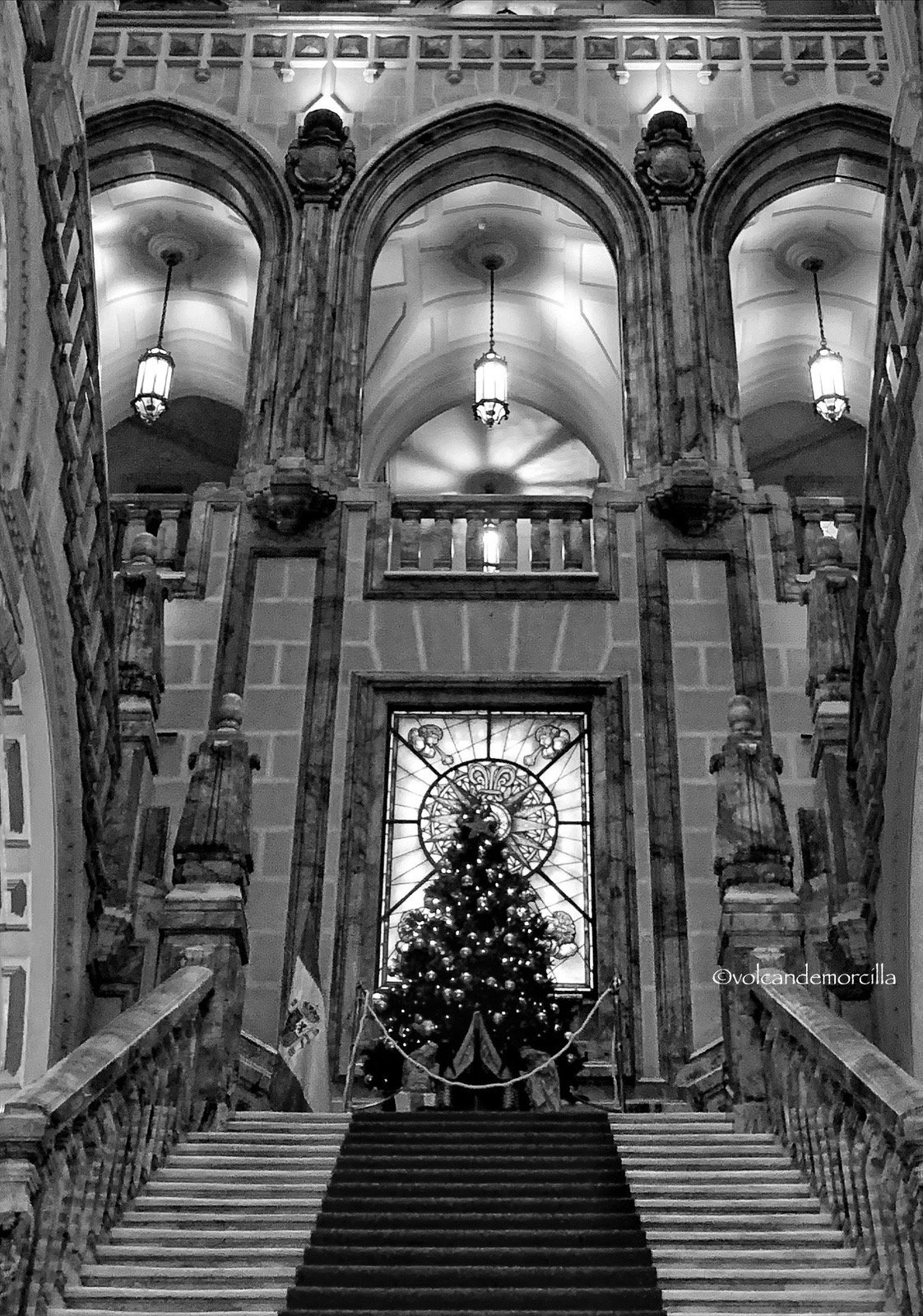 The windows are decorated with different naval and marine motifs, as well as regional shields. Stresses, for example, Neptune that is accompanied by a couple of mermaids and seahorses.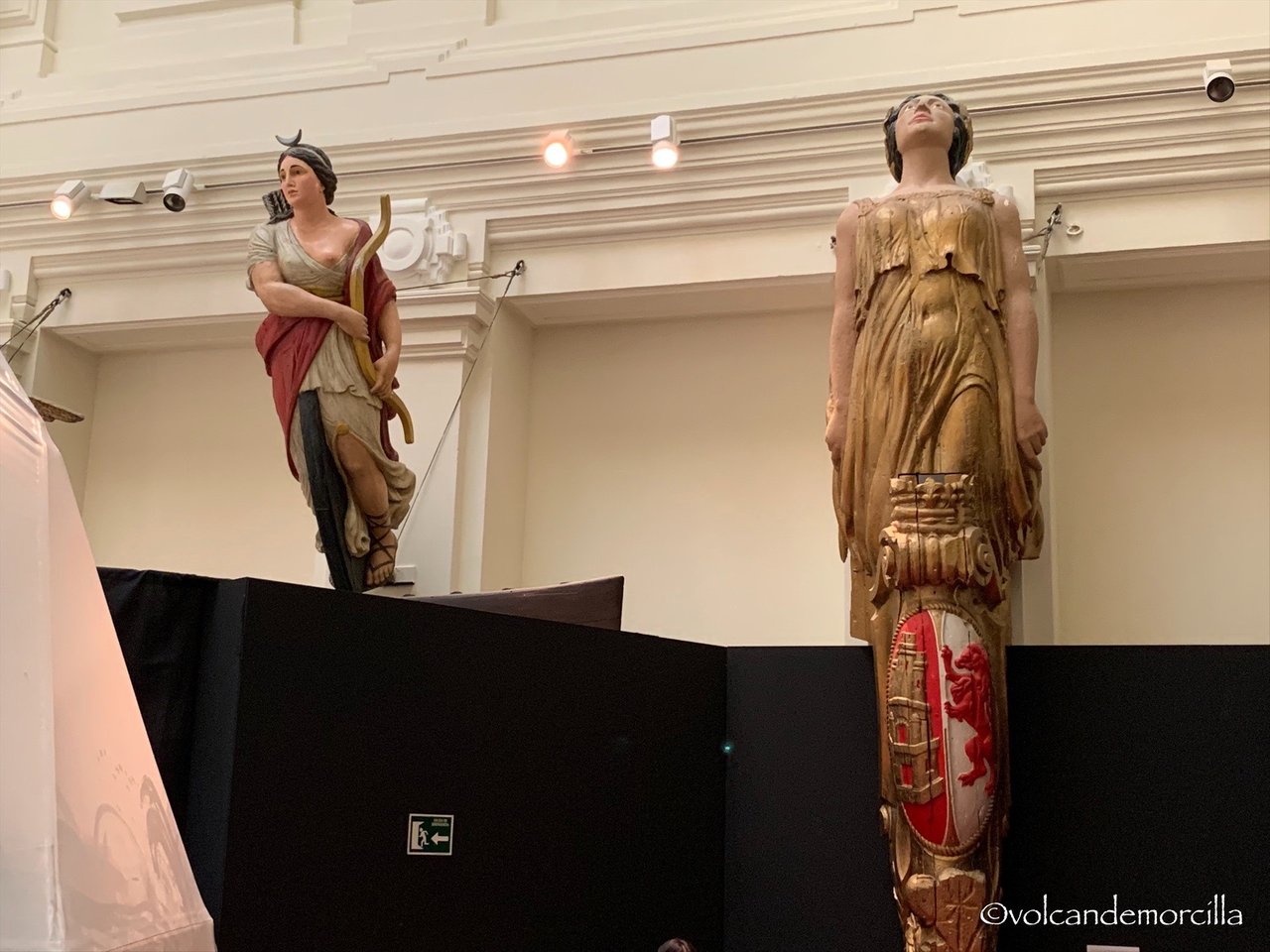 The patron of the Spanish Navy is the Virgen del Carmen. Mass is celebrated every year on the monumental stairs of the Naval Museum. It is a very special place for such an event because religious acts in honor of the Virgen del Carmen are celebrated with the assistants standing and rising, since the altar and the virgin are on top. Those who have had the opportunity to meet at this celebration say that it is a very emotional ceremony.
In the lower part, in one of the courtyards they are currently restoring, there are a series of bow masks hanging and here I show you. I found them very interesting.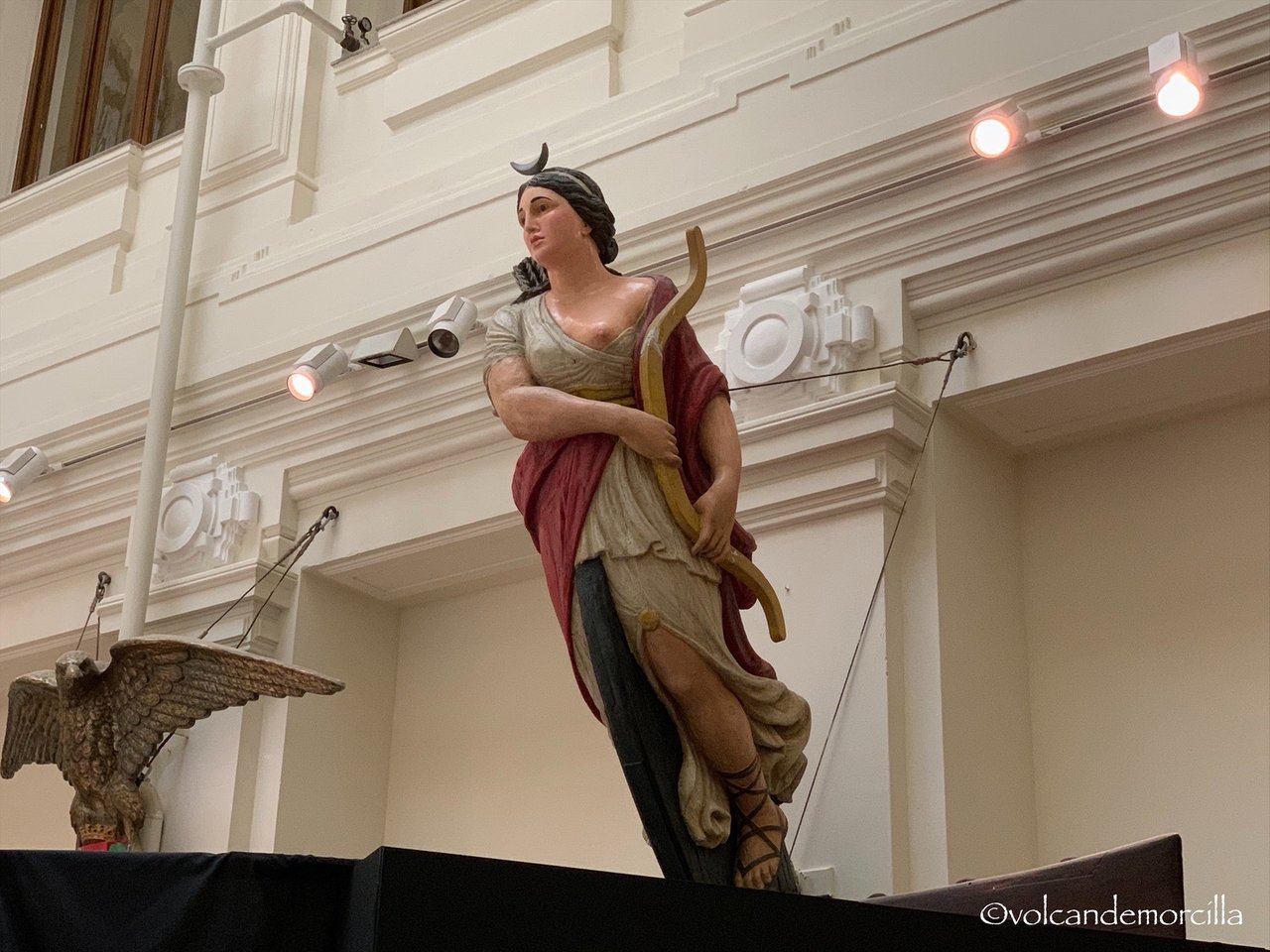 Espero sinceramente que haya sido de tu agrado esta publicación. La he escrito con ilusión recordando el viaje. Mi intención ha sido que me acompañaras, proporcionándote información pero sin resultar aburrido. Espero contar contigo en otras experiencias.
I sincerely hope you liked this post. I have written it with enthusiasm remembering the trip. My intention has been to accompany you, providing you with information but without being boring. I hope to count on you in other experiences.

Bibliografía/ Reference:
http://www.armada.mde.es/ArmadaPortal/page/Portal/ArmadaEspannola/cienciaorgano/prefLang-es/01cienciamuseo—2museo-museo-naval—03edificio

Curiosidades de Madrid/ Curiosities of Madrid
Con esta publicación retomo la serie de "Curiosidades de Madrid" que tenía un poco olvidada.
With this publication I resume the series of "Curiosities of Madrid" that I had a little forgotten.
Si queréis leer algunas otras curiosidades que he escrito de Madrid, a continuación os dejo los enlaces.
If you want to read some other curiosities that I have written about Madrid, then I leave the links.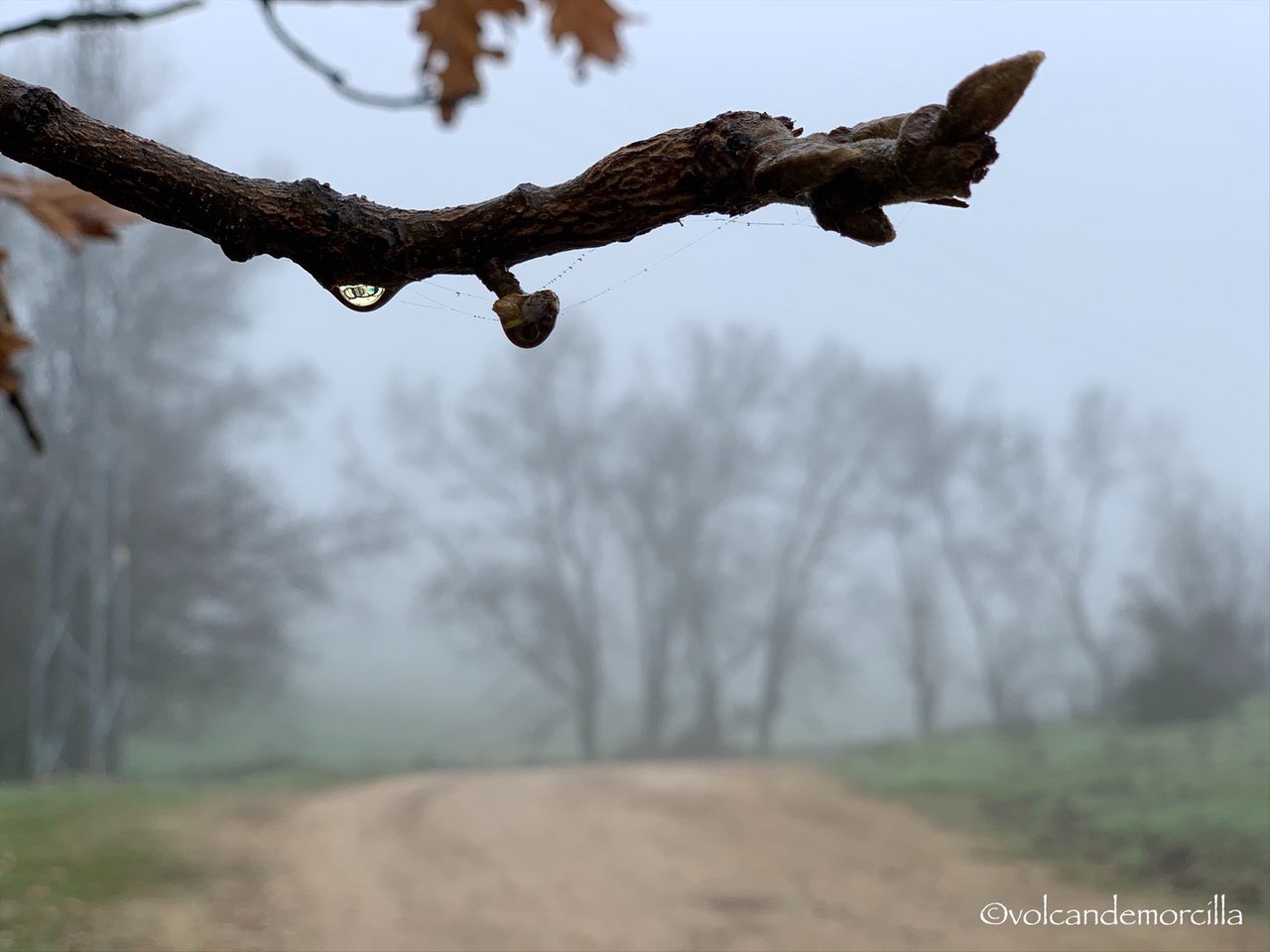 Cómo lo hago
Hice las fotografías con mi iPhone X. Para la edición utilicé la aplicación Snapseed y para la firma digital usé la App Watermark.
Los dibujos los hice en el iPad con el programa Sketches.
For the photography I use my iPhone X. For edition I use the Snapseed application and for the digital signature the Watermark app.
Everything I did on my mobile phone, I did not use the computer at all.
For the drawings, I use the Sketches program and paint them on the tablet.
Si quieres ver como lo hago, visualiza estos enlaces de publicaciones previas.
If you want to see how I do it, visualize these links from previous publications.

Las fotos son mías y originales. También, soy el autor del dibujo separador.
¡Espero tus comentarios!
The photos are originals and mine. Also, I am the author of the separator drawing.
I await your comments.
¡Buen Camino!