SteemitBoard - Catch the Saint Patrick's day award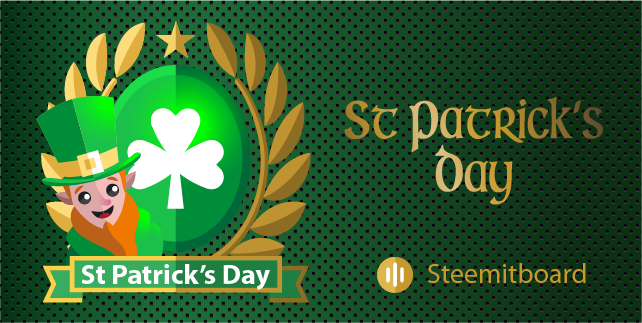 Saint Patrick's day is coming.
Be ready to add the a new commemorative badge to your board!
What is the meaning of Saint Patrick's Day?
Saint Patrick's Day, or the Feast of Saint Patrick (Irish: Lá Fhéile Pádraig, "the Day of the Festival of Patrick"), is a cultural and religious celebration held on 17 March, the traditional death date of Saint Patrick ( c. AD 385–461), the foremost patron saint of Ireland.
Although he was not born Irish, Saint Patrick has become an important part of the Irish heritage, mostly through his service across Ireland in the 5th century.
Why do you wear green on St Patrick's Day?
St. Patrick's revelers thought wearing green made one invisible to leprechauns, fairy creatures who would pinch anyone they could see (anyone not wearing green). People began pinching those who didn't wear green as a reminder that leprechauns would sneak up and pinch green-abstainers
Add a new badge to your board
Steemitboard has prepared a new badge that you will be able to display on your board of honor.

To get this badge, you will have to follow 3 very simple rules before March, 17th at 23:59 UTC time !!
upvote and resteem this post
publish a post using the #saint-patrick tag, where you share your experience on Saint Patrick's day.
Have your post receive at least 10 upvotes


Really easy, isn't it?
Happy Saint Patrick's day!
---
Support the SteemitBoard Project and all Steemit users. Vote for its witness!
Learn more how and why here.
Read SteemitBoard's latest witness report here.
Steemitboard is a project created by @arcange