Blockchain, Credentials and Connected Learning Conference
Part 1
The conference was packed with too many interesting and highly relevant topics to be covered in one post. In this first installement I cover the talks of the first day only partly
Transforming skills and academic credentials in "brain currency"
When it comes to Blockchain, Malta certainly has form. Its star has started shining brightly after pulling the trick of attracting Binance, worlds' most active cryptocurrency exchange.
The conference "Blockchain, Credentials and Connected Learning" has been organized on 17th and 18th of May 2018 by the "Commonwealth Centre for Connected Learning" and brought together relevant actors from the world of education and technology, from countries of the Commonwealth (UK, India, Malta, Bahamas, etc.) as well as from the EU.
The objectives of the conference were to explore and disseminate ideas about how blockchain could positively transform education. Specifically, the focus was on the potential of blockchain technology to improve student mobility and the fraught conversion of academic credentials into jobs.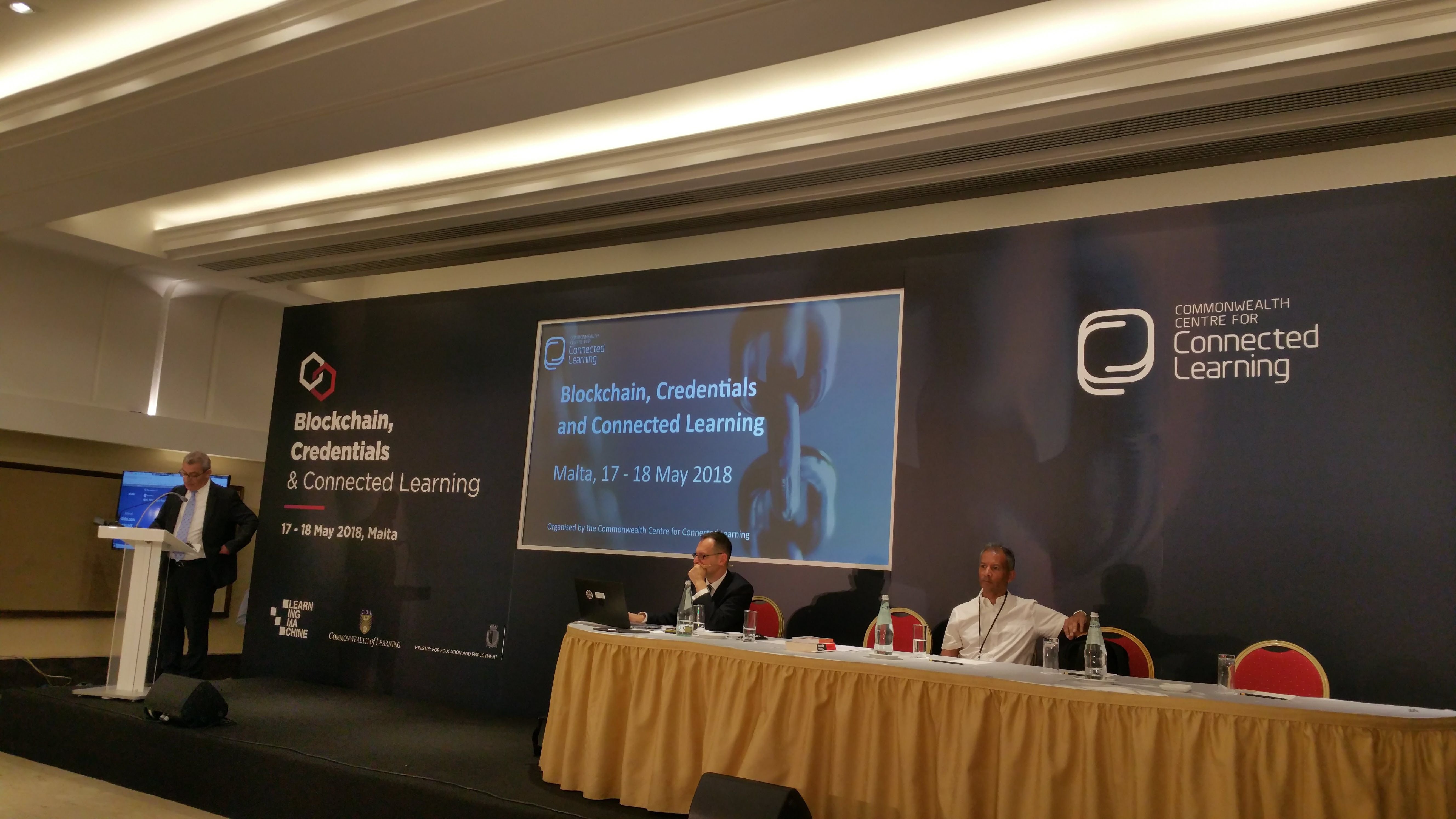 Alex Grech (organizer)
As organizer, Alex Grech opened by stressing Malta's commitement to both digital education - through a National Lifelong Learning Strategy and a framework for accreditation of digital education; and to blockchain technology. He expressed the conviction that small states can and should be bolder than big ones and assume the role of laboratories as decisions are usually easier to reach when the "committees" are smaller. As proof, Malta's Prime Minister has indeed decided to establish a "National Blockchain Strategy"
Malta's Minister for Education
Keynote speaker Evarist Bartolo, Malta's Minister of Education (pictured speaking above) has reminded the audience an important point:
"Blockchain is not going to solve any problems and will not change anything in education, we will! Wherever there is technology there is a human behind."
He underscored the importance of competences, of metacognition and of the personal narrative of every student. To best prepare the next generations, formal schooling is not enough – what is happening in family, society, what happens and what one learns outside the school are of considerable support. He concluded by expressing hope that blockchain will help us capture relevant information about someone's skills from outside formal schooling.
John Domingue
Professor John Domingue, director of the Knowledge Media Institute at The Open University presented a series of pilot projects that the KMI students had implemented by using Ethereum smart contracts to allow participants to assess peers and allocate tokens on the basis of how they fare, later turning those tokens into Open Badges.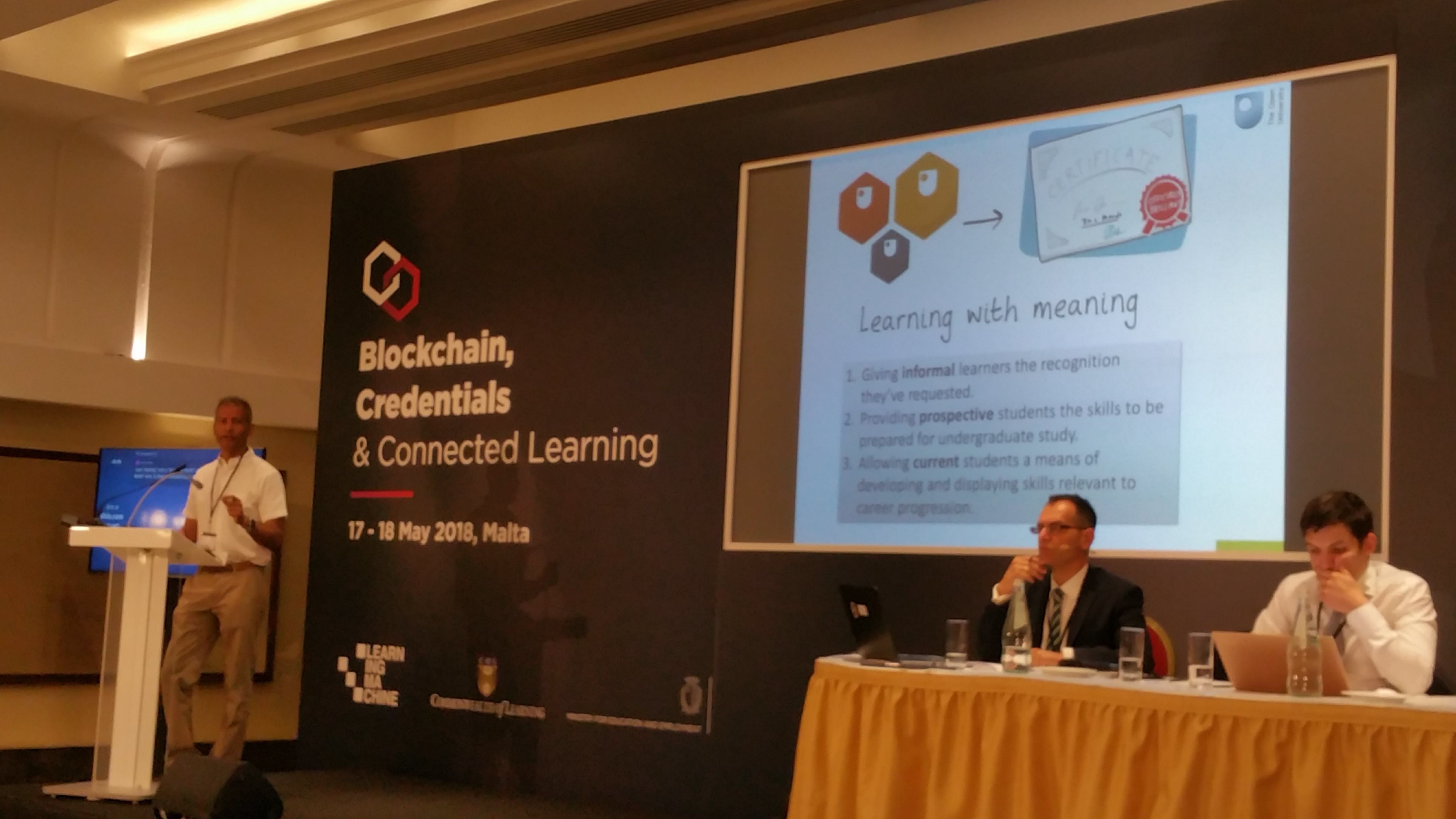 In another pilot, those badges were matched to a database of open jobs across Europe (possibly EURES) and the algorithm was suggesting jobs for which the holder was "almost qualified", given one or two more extra- courses he could have taken.
Anthony Camilleri
A Consultant with the Slovenia's Knowledge Innovation Centre, Anthony had one of the most insightful and visionary speeches. He assessed directly the state of play on the road to turning credentials, skills and qualifications into "brain currency" across Europe
He observed that everything is not yet in place despite the fact that
the Bologna process divides the units of learning into manageable chunks, the ECTS,
that the Lisbon Recognition Convention provides for (semi) automatic recognition of qualifications,
that Directives on Recognition of Professional Qualifications provide rules for transfer of qualifications in "protected" professions,
that the European Qualifications Framework (EQF) describes all qualifications within the context of 8 reference levels, and
that the Europass Diploma Supplement provides extra transparency as to what qualifications from Member States represent.
Starting with the first item in the enumeration above, in the European Higher Education Area academic credentials are described in the same units (the ECTS) which can fulfill the role of "unit of account".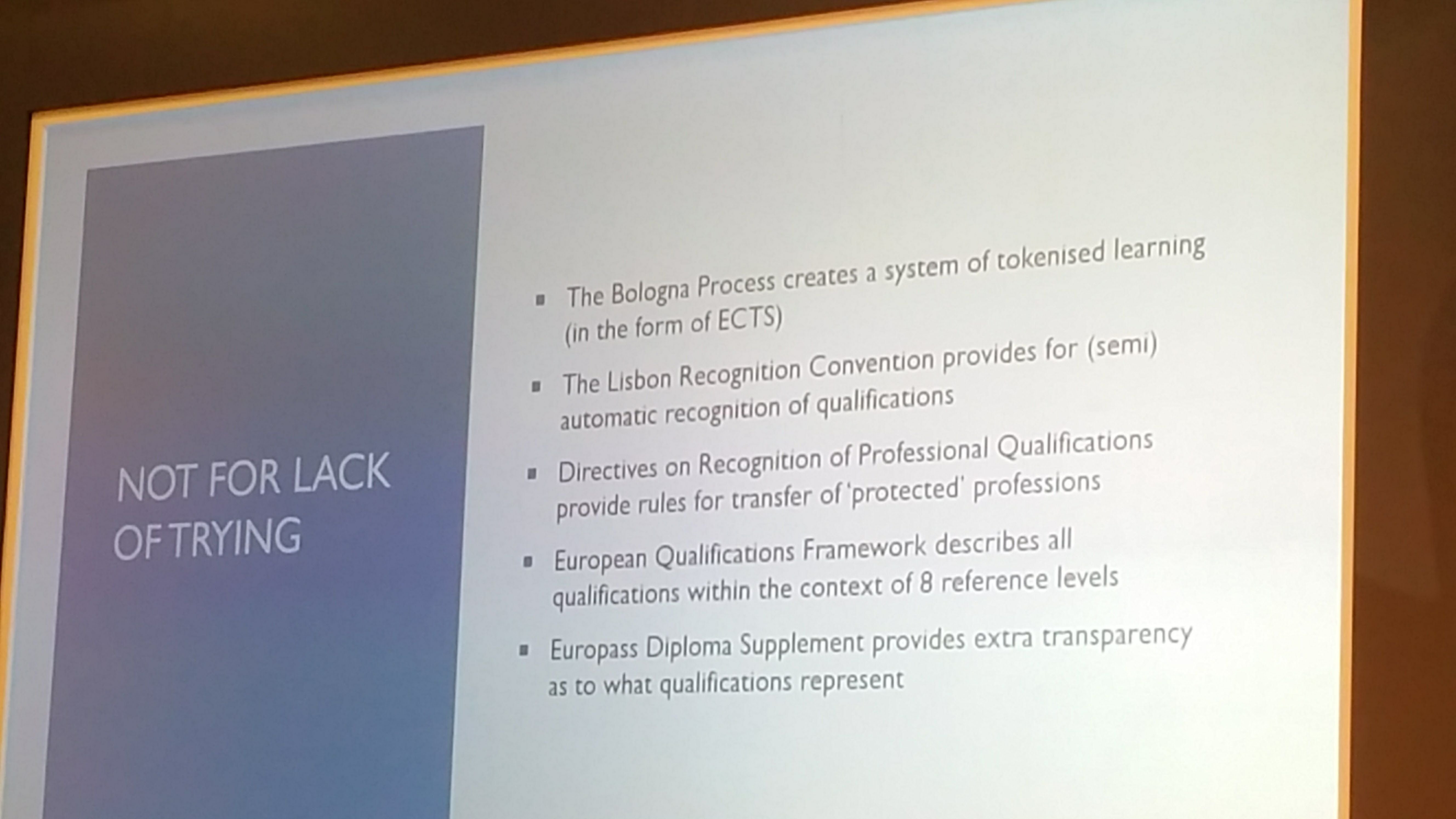 He reckoned that, as the Commission observed in a 2016 Proposal for a Recommendation on EQF, "no common arrangements exist for [academic] credit transfer and accumulation of qualifications related to the EQF, [which] makes more difficult to move from one learning setting to another, both within and between Member States."
Basically, neither the "medium of exchange" nor the "store of value" functions are currently adequately implemented. Here's where blockchain technology could be the missing piece of the puzzle, the enabling technology that could help Europe turn academic credentials into tokens and store the value of learning.
However the ECTS also reflect the value of the issuer, the academic institution which bestows them, not only of the student. And we don't have a commonly accepted system of comparing qualifications from different issuers. Hence the domain is ripe to be disrupted through a decentralized system for comparing qualifications, like the one of the cryptocurrencies.
Dr. Marloes Pomp
A Program Officer with the Dutch Blockchain Coalition, Dr. Pomp recounted the status of the Dutch initiatives in this technology. The Dutch government is the driving force behind a Government Blockchain Strategy. A large series of pilot projects, sponsored by the Dutch government, are detailed on blockchainpilots.nl and their code is shared openly on Github.
One pilot project that caught my attention was designed to encourage behaviours which are neutral or slightly detrimental to an individual but greatly beneficial to the group. Here it was about using ad-hoc truck platoons on highways in order to save fuel and decrease pollution. In a truck platoon, the first truck "displaces the air" for the benefit of all closely-following trucks, but to no benefit for itself.
Therefore, one of the blockchain pilot projects attempted to quantify the savings accruing to the following trucks and compensate the leading truck for its "sacrifice" via a blockchain-based smart contract.
Another interesting pilot used blockchain to triangulate between maternity care providers, parents and insurers: the first would fill claims for reimbursement of services provided to the parents, which would then be confirmed (or disputed) by those. The insurers would then reimburse only the confirmed claims.
A third very interesting project involved using blockchain for Self-Sovereign Identity, something, I am persuaded, would greatly increase the value of Steemit as well, as I have argued in past articles. Under the leadership of TNO (see below), the University of Groeningen partnered with Ghent University in Belgium to implement blockchain-based solutions for improving the student exchange process. This project deserves a detailed treatment and I'll dedicate a full post to it.
Perrine de Coetlegon
Coordinator of an initiative called "Blockchain4Edu" at the University of Lille in France, Perrine talked about ESSEC's (a French Higher Education institution) project which stores hashes of diplomas using the Bitcoin blockchain (similar to known projects from MIT and the University of Nicosia), as well as a newer pilot, BCdiploma which does a similar thing using the Ethereum blockchain. She explained that several blockchain-related initiatives, including one to build a blockchain-based ID system are gradually gathering political attention and are followed directly by the Prime Minister's services
Prof Prabkhakar T.V.
A professor in C.S. and Engineering at the Indian Institute for Technology in Kanpur, Prof. Prabkhakar's talk was one of the first in which a blockchain-based solution was presented integrated as a component in a larger system architecture, alongside classical software components such as Node.js, Drupal, R+Shiny, MongoDB and MariaDB.
The initial solution, MOOKIT, a MOOC platform, has been in development since 2014 using classical technologies and the focus here was on a new pilot looking at integrating some functionalities through a blockchain-powered module.
Student mobility in Europe
In the next installement I'll present the "Studybits" Dutch study as well as talks on ESCO, Europass and EQAR which, taken together, are illustrating the state of play in building a European regulatory and standards framework in which a blockchain-based solution could bring the missing piece allowing the whole system to benefit from incentive alignment.
I close this article with a picture from Malta

Other posts on blockchain technology that you might enjoy:
Other posts on the impact cryptocurrencies are likely to have on our societies:

If you enjoy my posts, please approve @lux-witness as a witness!




Also, why not optimize your own rewards and benefit from my pledge as explained in this post:
Help Yourself! (steemit for dummies) (in short)
and in more detail in this post:
Best way to Grow on Steemit
aussi qu'en français dans cet article :