Steem Think Tank, Steem where Ideas Continue to be Stacked.....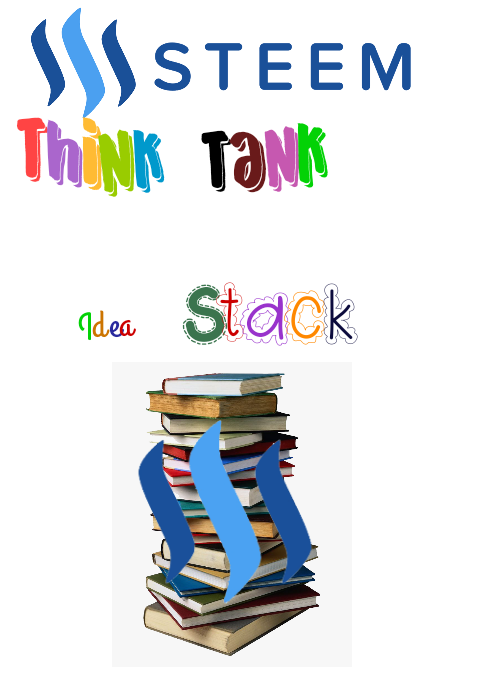 The vitality of Steem continues to grow & expand haven extented its tentacles to "Hive-minded." ideas sharing here have been more proactive & stacked. Thanks to @midlet for also showcased the hive of "Steem Think Tank," that give ideas on lessons of how Steem can be grown and motivated. In this way I see steem as the best place for hodling versatile infotech and ideas that people may need them today, future & beyond. For almost two years of being in Steem, I could see the how valuable Steem post shared in the Steem blockchain. Even when I began, fresh & naive of which I didn't know much stuff about Steem, I kept asking funny questions about why all these info or ideas share here, what do Steem need them for, & how does just sharing posts generate income(Steem tokens), where are Steemit, Inc. sources of income to pay Steemians in the form of sbd, steem & steem power & all that? Not me alone, but some of my colleagues I on-boarded into Steem also showed these concerns in Steem blockchain & I think it is alway good to inquire. "After all if one man doesn't know; another man teaches."
That's one of the features Cryto Blockchain in the cyber Space has over other Network businesses. And with our Steemit, Inc. which is part of Crypto block has peculiar features where ideas share here are voted for as points(tokens). Where this tokens in our Steem block are tradable & converted as "steem, sbd & steem power." Since the whole Crypto World is accepted as a business site with different brands of exchanges which are not controlled by any central bank, steem is part of this broad arms of Crypto exchanges to any currency of choice. It's wonderful to note that in as much as ideas continue to stack in Steem blockchain, points accumulate, then, Steem tokens generate more. That's why we need more & more users to fill Steem blockchain so that Steem tokens can generate more. We need more new users to on-board in Steem, those who are really committed to produce quality posts to achieve more Steem tokens.
I think on like "Google app,Chrome, Mozila, Opra mini, which serve as search tools & other social media such as Youtube, Facebook, Twitter & Whatsapps" where information are shared & products being marketted there, the idea of Steem & Steemit.com is not just sharing information to fetch you points or Steem tokens. We also market some of Steem ideas or posts shared online, that many people who are inforgenic visit our sites & tap them for their dealing. We operate with videos, texts, pictures, artworks, & many varieties of ideas of posts as we already know, involving creativity are all shared here in Steem. So, alongside getting Steem tokens we are also on the move of advertising our products which are the stack of ideas we produce & share on our network. Not just stack of ideas, but ideas which are well sieved, creative ideas, strategic business plans & economic development this World.
No denying the fact that now, Google, Facebook, Youtube,Twitter & others are having names, most of them are well recognised & highly populated. They started building their networks from the scratch with few people operating there. Very soon Steem can top this race, having all the gadgets that many people want-Steem tokens plus stack of ideas arw very great things to catch the attention of the crowds. Many people have been given good response with Steem post, & I see this as good way to keep the name Steem high. I was last search on the current news on Crypto business using Google search tool, & found out that "now Steem & Steemit.com are in partnership with Tron with the takeover of leadership by Justin Sun Tron, the founder of Tron foundation." Following this news on Google, many ideas from our lovely Steemians reactions to changes were quoted. I said wow!, when this happens it keeps the name of Steem trending & growing high to all parts of the World. Steemians, let's keep ideas stack in Steem blockchain, because our good works are bearing good fruits. Thanks for our hustle here in Steem, I know all these would never be in vain!