#cn-voice[Lady Alkaid Music]'The Mountain Friary' --Confession from a Rmantic poet | #好声音【瑶光翻唱】《山鬼》——来自浪漫主义诗人屈原的表白
Hello everyone! I am Alkaid, Today I would like to bring a piece of Chinese folk music to you all. (If there is some mistakes, please just point out and forgive my poor English. Thanks~)
我来啦~ 好声音民歌走一个~ @cn-voice 走起~
大家好,我是萌新瑶光,看到这期好声音的主题是"民歌",有点按捺不住想参加。请大家多多支持我啦~
看中文介绍的小伙伴可以直接翻到后面哦~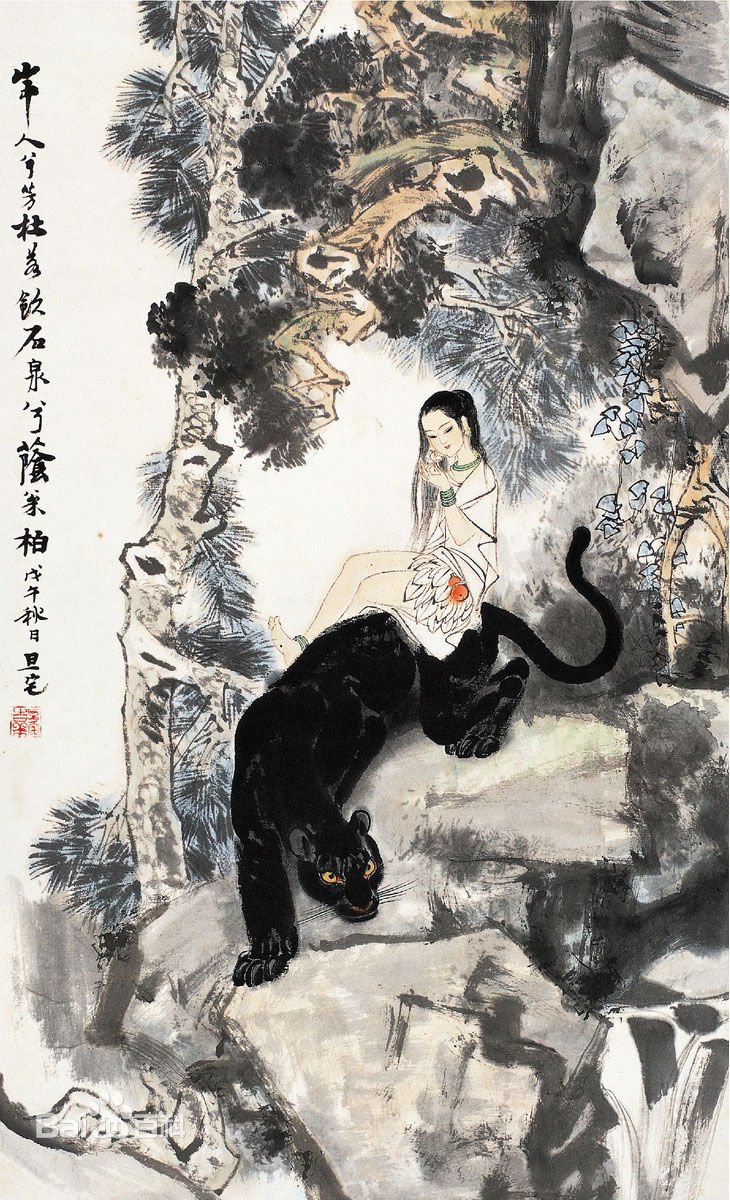 图片来自百度百科
Picture from Baidu Baike
As mentioned the Chinese folk music, many people know a Chinese Song called 'Jasmine'. However, for me, the first scene that came into my brain, as I am a foodie, is a meal called the Jasmine Fried Eggs. That is why I did not choose this song.
I selected a song called 'the Mountain Friary', it was selected from an old book called 'The Songs of Chu' a famous collection of classical poetry in ancient China. Lots of savants research and study it for centuries worldwide.
'The Mountain Friary' described the scene when ancient people doing the ritual for calling up the beautiful goddess(the mountain friary). She came out from the deep valley, riding a red leopard, followed by some colourful foxes. And she has a coach made of magnolia wood, it hanged on a flag made of cassia.
It is a beautiful scene, right? Well, let's back to the music itself, this music was written by WinkySHI and released on 5sing (a website for songs and music). He said when he wrote the melody, he just forgot the other emotion like romantics and sorrows, he seems have seen a graceful female dancing in the mountains under the rains with wearing the white closing.
When I first time listened to the song, I found that it is the feeling that I want to express my emotion to a goddess and pray her blessing. I even feel like something beyond language came into my whole body, I wanna dance with the music just like the friary dancing in the mountain. It seems like this song has a kind of magickal power that makes people feel the goddess will come to you when you sing it.
I sang this song as well, even I planned to make a dancing video for this music, due to some limitations, if you want to see the dancing one, please give me an upvote or reply to this article. I will upload it when I get beyond 50 upvotes and replies.
👆Click here to listen it :🎵The Moutain Friary(Chinese)
---
说起民歌,我最开始想到的是"芬芳美丽满枝芽,又香又白人人夸"的《茉莉花》。可无奈自己是一个吃货,想起茉莉花只能想起一道特殊的菜品——茉莉花炒鸡蛋。索性就没有唱这首歌了,正当我选题的时候,想起了曾经背诵的那些诗词歌赋,在Steem这个平台上,若是想要传播属于中华的文化,也许《楚辞》里的诗篇更有韵味。作为一部传承了两千多年的经典,《楚辞》在国际汉语文化研究中早已占有一席之地。《山鬼》一篇则是屈原所著《楚辞·九歌》的第九篇,《九哥》是他所著记录祭祀神乐的篇目。山鬼则为古时的山神,在屈原描绘的场景中,山鬼似乎是山中女性山神,为人们施雨布云。
山鬼在很多古书中是以山神的形象出现的,于是在写这首歌的时候,我几乎抛开了对词的印象,那些关于爱情、关于哀愁的印象并不是我想要的感觉。我的脑海里只有一个很深刻的画面——在某个古树参天的深山之中,大雨倾盆,一位小麦色肤色有着绝世容颜的女子,身上披着白色的纱,在雨中舞蹈、跳跃,身旁的赤豹和文狸在大雨中发出一声响彻山林的咆哮。
引文出自: 5sing-山鬼
第一次听到Winky诗的《山鬼》这首歌,鼓点和节奏及带动了我身体里不知名的情感,说起来,我相信前世今生的传说,因而觉得似乎这首歌就应当是为祭祀而作。听到这首歌的时候,自己似乎就真的成了那祭祀的巫祝,手持祭祀的法器和草药,隐约在山中见到骑着赤豹身后跟着长满花纹的狐狸,手中拿着随手摘下的鲜花。
正如Winky诗自己在发布这首歌时提到的
对我来说,山鬼这首歌更像是对于山神的祭祀,于是不可少的是郑重,是发自内心的祈求,就像是猎人进山前对于山神的祭祀一样。于是我把歌词中的每一句都当做是可以吟诵的咒语。想象自己在大雨滂沱的时候,在山脚下的某处祭台上吟唱这首祭文。伴奏的不是乐器,而是大雨和山林中的鸟兽之声。
引文出自: 5sing-山鬼
这首歌的编曲恰到好处的展现了祭祀时的郑重,含着敬畏的心情。似乎你在吟唱的过程中,神女随时都会来到你的跟前。本来是想加上舞蹈版的制作,但马上要考试,加上北京的天气和场地的原因,后面会制作成视频发布的。如果大家想看到视频版的,不要忘记点赞我~超过50个赞我就出个MV舞蹈版哦~
小伙伴们快来听我演唱的👆《山鬼》吧~
感觉不够完美,有一点点小瑕疵,下次再努力改进啦~大家有什么建议可以在下面的留言中告诉我哦😀~
Lyrics:
(英文译文选自罗沐,Poem Translator: Luo Mu)

屈原

九歌·山鬼
若有人兮山之阿,被薜荔兮带女罗。
既含睇兮又宜笑,子慕予兮善窈窕。
乘赤豹兮从文狸,辛夷车兮结桂旗。
被石兰兮带杜衡,折芳馨兮遗所思。
余处幽篁兮终不见天,路险难兮独后来。
表独立兮山之上,云容容兮而在下。
杳冥冥兮羌昼晦,东风飘兮神灵雨。
留灵修兮憺忘归,岁既晏兮孰华予?
采三秀兮于山间,石磊磊兮葛蔓蔓。
怨公子兮怅忘归,君思我兮不得闲。
山中人兮芳杜若,饮石泉兮荫松柏,
君思我兮然疑作。
靁填填兮雨冥冥,猿啾啾兮狖夜鸣,
风飒飒兮木萧萧,思公子兮徒离忧。
Lyrics:
(译文选自罗沐,Poem Translator: Luo Mu)
Someone might be there in the mountain nook,
Dressed in fig vines and belted with usneas.
With expressive eyes and sweet smiles,
I had that grace and beauty you adored.
By red leopards drawn and striped civets trailed,
I drove my magnolia coach with cassia flags.
And clad in an orchid dress with asarum girded,
I went to pick flowers for you whom I missed.
Deep In the bamboo forest blind to the sky,
The rugged path delayed my lonely trek.
I stood alone on the top of the mountain,
Watching the clouds flowing below my feet.
So dim and dark it was as if night had fallen,
And the wind drove the rain the goddess made.
I waited for you gladly and forgot to leave,
But time was taking my floral beauty.
To pick magic reishi I went to the valley,
Where rocks piled high amid creeping vines.
I felt so sad for you and forgot to leave,
If you had me in heart but had no time!
The one in the mountain was fragrant as asarum,
Drinking the spring under pines and cypresses.
If you had me in heart, I just wondered!
Thunder was booming and rain was pouring,
Apes were roaring and monkeys were crying,
Wind was soughing and trees were rustling,
While I was here, missing you and suffering.
译文选自:罗沐 山鬼
---
If you want to see the dancing edition, do not forget to give me an upvote and reply to this article. I will make and upload it when I received more than 50 upvotes and replies. Thanks~~
最后如果大家有想看到舞蹈和视频版的请点赞和回复让我知晓,超过50个赞就会开始制作咯~谢谢大家!