Chess Puzzle of the Day (Nov 24, 2019) | Problema de ajedrez del día (24-Nov-2019)
♔♞♙ Chess Puzzle of the Day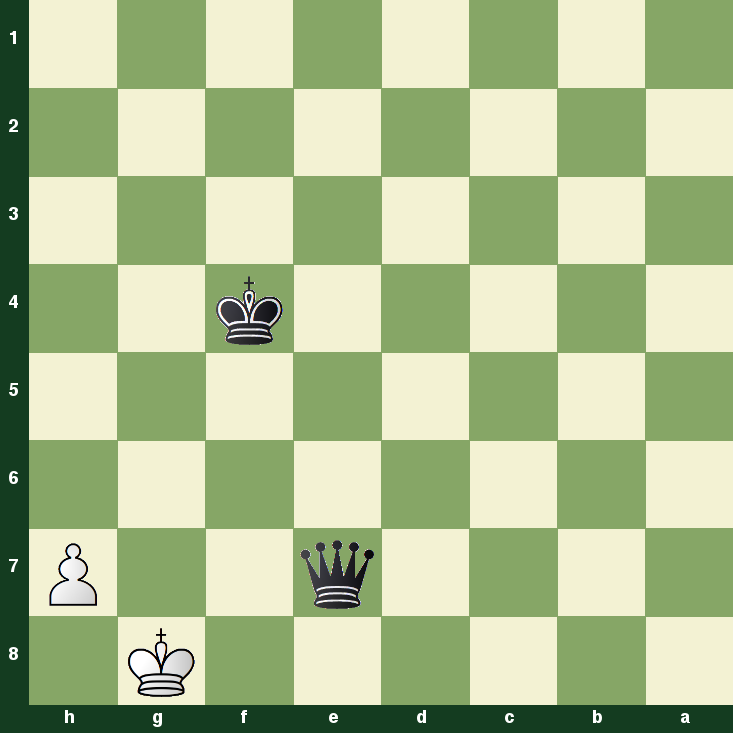 *** Black to play and checkmate ***
This position is a typical case illustrating a winning endgame rule in this Queen endgame where the defending side has only one pawn, but it's a Rook pawn and is on the seventh horizontal about to promote. You can only win if your King is in the winning zone and distance. Do you know them? It's good to know, as it will save you a lot of calculation and avoid losing half points when you're short of time. Find the sequence and, if you want, indicate the winning zone.
Do you want to exercise your tactical skills a little? Then solve this chess puzzle. Indicate the correct move and a full continuation. If you want, you can point out the tactical motives and other patterns present.
I also want to invite you to participate in the weekly #SteemChess tournament, promoted by @schamangerbert and held every Saturday through lichess.org. If you play chess online, join in! Free registration.
More information about this series of posts.
---
♔♞♙ Problema de ajedrez del día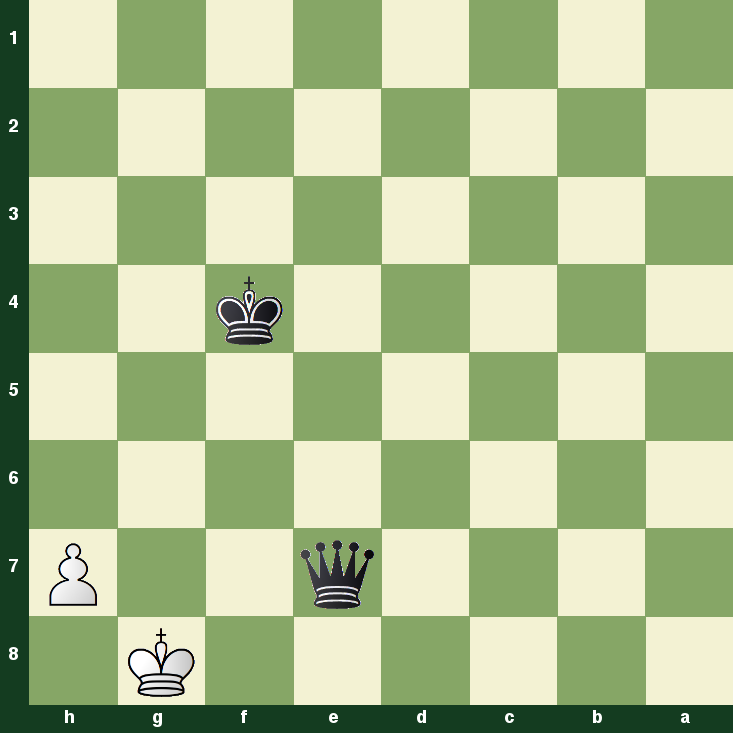 *** Juegan negras y dan mate ***
Esta posición es un caso típico que ilustra una regla de finales ganadora en este final de Dama donde el bando defensor tiene solamente un peón, pero es de Torre y está en la séptima horizontal a punto de coronar. Solo se puede ganar si tu Rey está en la zona y distancia ganadora. ¿Las conoces? Es bueno saberlo, ya que te ahorrará mucho cálculo y evitará perder medio puntos cuando estés corto de tiempo. Encuentra la secuencia y, si lo quieres, indica la zona ganadora.
¿Quieres ejercitar un poco tus habilidades tácticas? Entonces, ¡resuelve este problema de ajedrez! Señala la jugada correcta y una completa continuación. Si lo deseas, puedes señalar los motivos tácticos y demás patrones presentes.
También quiero invitarte a participar en el torneo semanal de #SteemChess, promovido por @schamangerbert y celebrado todos los sábados a través de lichess.org. Si juegas ajedrez en línea, ¡anímate a participar! Inscripción gratuita.
Más información sobre esta series de posts.